December 9, 2003 - January 19, 2004

---
PART 4 OF 5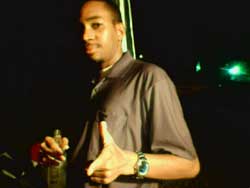 cK's New Years Party in Miami
New Year's Eve (aka Old Year's Night) was spent going over to my cousin, Jolene's house where her parents were having a party. It had a live band and dj, complimentary bar with great mature people. I drove there with Kevin and met up with everyone around 10pm. The music was provided by DJ Duane on the turntables. My friend, Chris was the bartender mixing up some crazy drinks. The party got really bumping about 11:30pm when everyone was anticipating the countdown. At 11:59pm, Jolene's parents turned on the big screen tv adjacent to the dancefloor and had it tuned to Dick Clark counting down in Times Square. I guess it seems more "official" counting along with Dick Clark. So the countdown began, 10......9..... 8......7......6.....5.....4..
3......2......1 - - - HAPPY NEW YEAR!!!!! Everyone shared hugs and kisses. I was real happy to be there amongst such close friends/family. After that I went outside and text messaged everyone I could on my cell phone. When I was outside, I watched fireworks light up the night air. These weren't those little fireworks that you just get at the corner store, these were real deal big ones that people see on July 4th! I don't know where these people got them from! It was fantastic! Well, below are some of the pics I took that night.
Drinks Were Mixed By Chris

One Drink For You, Two For Me!

Party On!!

Kevin, Angie and Janelle

Chris and Marlon

Party Hat for New Years!

HAPPY NEW YEAR!!!
---
New Years Day in Miami
Kevin and I woke up and went to Denny's to have breakfast. Its like a tradition for us everytime we go out. Angie came and met us there and we then planned the day. We thought that a walk to Miami Bayside would be cool, so we did that. We all drove down there and took a nice walk around the place. As we were approaching the main stage, we came by the board that posts all the music acts for the week. There, to my surprise, scheduled to perform on Friday was my uncle, Winston Duggin! That was a trip!!! But it wasn't Friday, it was Thursday. So we couldn't see him perform. We walked around Bayside and saw that there was a carnival happening in Bayfront Park. Ferris Wheels, roller coasters, the works! It looked soo exciting. So we all went for a walk around it and wanted to do one of the rides. Well, more me than anyone, Angie was still feeling the effects of a minor hangover from all the partying the previous night, and Kevin wasn't too much into the really crazy rides. So I had the option of going on them myself, that wasn't happening. I want to do an activity that included all of us. So, we all agreed on riding the Ferris Wheel. That was lots of fun, I took some pictures below of that. After hanging around the carnival eating curly fries and corn dogs for a while, we took a walk back towards Bayside. On our way back, we were passing the Casino Princessa Boat. It was boarding passengers for their 3 hour gambling cruise. As we were passing, this guy with dark sunshades approaches us out of nowhere and asks us,
"Hey!! Do you guys want to go on the boat? I have 3 tickets here --- I'll give it to you for $10 each."
We all looked at each other and thought that it sounded like a good deal. The problem was that Kevin was not too much into the casino boat thing and I only had about $20 left. So we told the guy that we were alright and decided to pass. As we walked away, Angie asked me if I thought that was a legit offer, and in my experience with shady deals, I definitely thought that it was legit. So we continued walking and then the same guy came up to us chasing us down and said, "Hey!! Okay, okay, let me make a deal with you guys. I'll give you all the tickets for $15 total."
So we all looked at each other and we agreed to purchase the tickets. We got on the boat which included a nice meal and a nice view of the Miami skyline. Angie and Kevin found some slot machines and sat by them. They don't turn on until the boat is 3 miles out to sea. As the boat left the dock, it travelled out. We sat there and then decided to go to the top deck which was outdoors. When I got there, the amazing night sky, endless ocean and Miami skyline captivated me. It was beautiful. We chilled there sitting on these patio chairs with our feet up on the safety rails. The ocean breeze was a little chilly, but it was still pleasant. The boat after getting out to 3 miles then parked at sea. It rode the waves and rode back and forth. It wasn't making Angie feel too good, so we went down to a the lounge deck. In the lounge area they had a dj playing some Sean Paul reggae tunes. I went up to the empty dance floor and boogied to the vibes. After a while the night got boring.. you are out there in the middle of the sea -- with no intention to gamble, and you have like hours left until you return back to shore. So I had to make use of my time. Angie, Kevin and I went to a table, put up our feet and tried to sleep. Not only was the boat rocking like crazy, the air conditioning was freezing! The boat eventually came back and docked around 12:30am. I did have some fun, but I guess you need lots of money to have more fun.
| | | |
| --- | --- | --- |
| | | |
| Winston & Co. Performing Fridays | Angie and Kevin | A View From The Ferris Wheel |
| | | |
| Kevin on the Ferris Wheel | Bayfront Park Fountain | cK on the Ferris Wheel! |
| | | |
| Looking Down From the Ferris Wheel | Kevin and Angie chillin | A Sit Down View of the Carnival |
| | | |
| View from the top deck of the boat | Casino Princessa Boat | Casino Worker Actually Sleeping! |
---
>>proceed to PART 5 >...