December 9, 2003 - January 19, 2004

---
PART 3 OF 5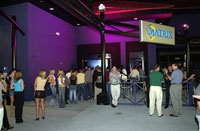 cK Goes Clubbing In Orlando
My cousins and my brother went out to Pointe Orlando where Club Matrix and Metropolis are located. You pay $10 to get into either one of them, and then they give you a wristband that allows you to hop between the two. The music was good, my cousins and I were grooving to the reggae and hip hop that was playing. It was nice to see all of my cousins and my brother in the same place just having a good time. I took a walk to the other club -- Metropolis and noticed that they had a much bigger dancefloor and bar. I chilled in there for a bit with my brother and ventured onto the dancefloor occassionally. After spending some time in there, we returned back to Matrix where the rest of my cousins were still hanging out. As we rolled back into Matrix, I wandered around on my own as I usually do and took some pictures. As I was walking to the back, I saw my brother walking towards the washroom and put his beer on a ledge outside so he can pick it up when he came back out. He didn't see me walk behind him, so I took his beer and kept it with me until he came out.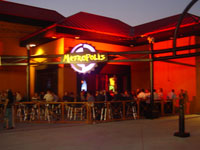 So a few minutes pass, and he hasn't come out yet. I wasn't thinking anything of it, because I was caught up in the music. As I stood there waiting for my brother, a few more of my cousins all walk into the bathroom at the same time. It almost appeared like something was going on... I didn't care.. I just wanted to see the look on my bro's face when he exited the washroom to find his Heineken missing. A few moments later, this tall ugly looking fellow with long hair ran out the bathroom stumbling. He actually zipped passed me. My brother and my cousins come out later and my brother was looking for his beer. Before he could even react, I brought it to him. My cousins ask me, "Did you see that guy all busted up come out here?" I wasn't sure who they were talking about at the time, but I later came to find out it was that tall person.


Apparently, this tall fellow had some beef with one of my cousins. This guy attempted to run over my cousin with his car just about a year ago. So since there was a good 10 of us that night, my cousin by coincidence caught him in the bathroom and draped him up. The guy feared for his life as my cousins droped punches and kicks on him like he owed money. My cousins slammed his head into the urinals and then my brother punt kicked his head into more porcelain. It wasn't pretty. The guy pleaded for his life and my cousins made him not forget their faces. I missed all of that, just because I was outside giggling waiting to surprise my brother. Anyways, the following are some of the pics I took that night.
| | | |
| --- | --- | --- |
| | | |
| Inside Matrix | Matrix Dancefloor | Around Matrix Somewhere |
| | | |
| Guys Chillin | Dance Floor - - Full of Guys! | Guys Drinkin |
| | | |
| DJ Trademark Points At Me | DJ Trademark Gives Us Free CD! | People Smoozin In The Parking Garage |
The night was cool though, at the end -- Matrix's DJ Trademark gave us a free CD of his mixing skills to promote his talents. My cousin took it back to Canada with him.
---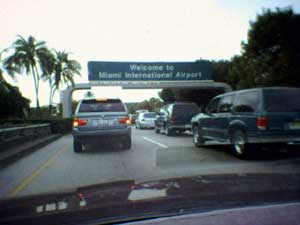 The Drive To Miami
I was spending my New Year's Eve back in Miami so I had to take the 3 hour drive down there. Also, my friend, Cynthia drove down to Miami from Gainsville and I offered to drop her to the airport as she was catching a flight to Nicaragua for the weekend. So I had to be in Miami for around 2pm. I left in the late morning and arrived in the afternoon cutting it real close. I picked up Cynthia in time and zipped to the airport. When we got there, there was lots of traffic -- but this was good enough time for her and I to chat in the car a little. We got to the airport in time for her to check in and have time to relax. We decided we'd find a small place to sit down and chat some more before she boarded her plane. So we found this little bar/grille right before the boarding gate where I could get a small drink. Cynthia got a water while I got a Pina Colada. In there as well, were some British Tourists on vacation just returning from the Bahamas. Somehow we all started talking and then ended up cracking a lot of jokes. They were real nice. Brian, is the gentleman I met, offered to buy me a drink. How could I refuse? His friends were hilarious. Good people. Well, Cynthia's time came where she had to board her flight, and then we all bid our farewells. The following are some of the pics that I took that day.
| | | |
| --- | --- | --- |
| | | |
| 3 Hour Drive Down The Florida Turnpike | Entering Miami City Limits | Miami City! |
| | |
| --- | --- |
| | |
| Cynthia Waving Hello! | Brian Stringer and Friends |
---
>> proceed PART 4...