December 9, 2003 - January 19, 2004
PART 1 OF 5
---
It's time again for my world famous weekly thought. The place where I tell you everything that is going on in my head and stuff thats happening with me.
Scenes From New York
I was walking around New York, got on the 4 Train and headed to the Bronx. I had to walk around 161st Street and I took some pics from my travels with my Palm Zire 71.
| | | | |
| --- | --- | --- | --- |
| | | | |
| 161st St. Station | 161st St. Station Looking at Yankee Stadium | Walking down 161st St | Bronx Courthouse |
| | | | |
| --- | --- | --- | --- |
| | | | |
| Main U.S. Post Office | Looking Up at the Empire State Building | 161st St Looking at Yankee Stadium | House Decorated in Long Island |
---
cK Goes Clubbing With Laura and Giselle
My friend, Laura (yes.. the flight attendant) had a stopover flight in New York City and was staying by the Pan Am Hotel in Queens. She called me and wanted to go out. Her co-flight attendant, Giselle also wanted to come along. I knew that it was cold outside and I had to take them someplace where they would definitely have a great time. Where else? I took them to Club Tobago! My cousin, Jazmine came along and we all ventured to the club. All the girls went in first while I found parking. We all went inside and entered the tropical vibes atmosphere. I was destined to show the girls a good time even though we got there around midnight. The club plays calypso, reggae, indian music and some hip hop.. but all a good mix to dance to. The girls followed me to the dancefloor where we started off grooving to some of the reggae songs they were playing. The girls seemed to be having a good time. The club was handing out free glow sticks so I got some for the girls to play with. We had glow stick sword fights on the dance floor because it just seemed fun to do..
The dance floor got more crowded as the night went on. The club handed out free roses to all the ladies, so both Laura and Giselle got a rose to take back to Miami with them. The DJ later began to play some indian music, and I was showing both girls a general idea of how to dance to it.. I couldn't believe how fast they were learning -- and they were genuinely interested! That was really cool. The dancefloor got more crowded and more guys loomed around my poor friends like vultures. One guy asked Laura to dance, and Laura danced a little with him...I stayed close, dancing with Giselle and snapping pics when I could.
| | | |
| --- | --- | --- |
| | | |
| Free Glowsticks! | Still Early In the Night... | Glowstick Swordfight! |
| | | |
| Laura Having Fun | Club Tobago! | Some Scandelous Party Go-ers |
| | | |
| Laura and Giselle | Giselle Learning To Dance Indian | Giselle Talking With A New Friend |
Overall, my two friends had a great time. They had no idea what kind of night they were in for. At least they can go back to Miami with smiles on their faces despite being in the harsh, freezing cold of New York.
---
cK's Christmas In Florida
It's that time of year, where I go back to Florida and spend time with my family.On the way there, I flew with US Airways -- of course First Class.. because its the only way cK flies! The picture to the left is from a person in the coach seating area. I gave them my camera so they can take a pic at what it looks like to be in coach looking to First Class seating. Ya right.. I'm kidding.. I wasn't in first class...I was in the seat taking that picture. My flight was okay going..
I arrived in Orlando on a late Monday night. The next day my mom and I go to meet this girl named Chandra -- who my mom was introducing me to. This was the most awkward arrangement I have ever dealt with. Having your parents trying to hook you up with someone is very weird. I went through with it just because I was very curious. So I met her the day after I arrived... and then after a little meet-and-greet with the family, her and I arranged to meet on our own terms later in the week on Boxing Day.
So my mom and I drive back home and get ready to go out for dinner. My parents and I go to one of our favorite places to dine. The Bahama Breeze Restaurant. We get a seat on the inside. I think our server's name was Hector, or something like that.. well anyways..the only reason I am even including this little tidbit of a story is because after my parents ordered their food, my mom (as she always does) asks for some hot sauce to go with her food. The server brings (what he claims is) the hottest they have --- Yucatan Sauce (as seen in the picture below). My mom tried it and was very unimpressed. She asked if there was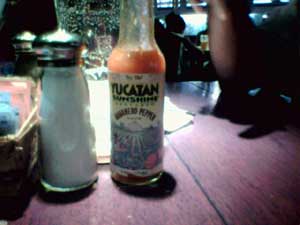 anything hotter that she could try. The server said that he will go to the back and ask the cook to make something up, but warned my mom that it might be really hot...as a precaution. So after about 15 minutes, the server returns with these two little trays that are filled with a deep brown sauce. The chef himself comes from the back and stands beside the server saying, "I have to see this!!"
Everyone around hushed a silence as my mom applied the sauce to her dinner. She tasted it and stayed quiet.. The server asked, "Well, what do you think?" My mom shook her head now even more unimpressed, but trying to be nice saying, "It's alright.. " The cook's eyes bugged out. He said, "There's no way that you just ate that, I mixed all the hottest peppers I have! You should be crying right now!!!" My mom didn't care, she just wanted some hot sauce and this restaurant was pretty much giving her BBQ sauce. We definitely appreciated the effort on their part. That was nice of them. My mom still enjoyed her meal, but only wished she could have had more flavor with it.
>> proceed PART 2...