December 9, 2003 - January 19, 2004

---
PART 5 OF 5
cK Chills By The Lake With Chandra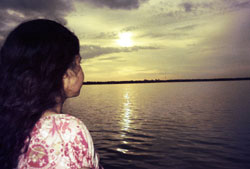 So Friday I left Miami and drove back to Orlando. One of the first activities I did was go and continue chilling with Chandra. We were trying to get to know each other more and talk about how different our lives are. I picked her up and we wanted to go on a little picnic. Not just any picnic -- a Chick-Fil-A picnic! We got some food from there and then searched for a nice park to chill at around the area. We did stumble by this one park that had a place for me to leave my car and walk to the lake -- with a bench and everything. So we settled there. The sun was real nice that day. We both sat on the bench while the cool breeze cooled our skin as the sun attempted to bake us. There was a lot more things I was learning about this girl, Chandra. She's one of those real sweet girls that you can just hug all day and night. Really adorable. She's also very shy, and doesn't like being crazy like me, but can somehow tolerate me bouncing around. That was cool. We both had a good time that day, watching the sun begin to fade in the horizon. Soon I had to drop her home before it got too late.
---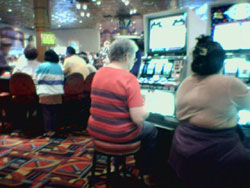 Casino Boat.... AGAIN!??
Saturday night, my parents want to do some activity with me before I went back to New York. So, they wanted to take me on a Casino Boat with them. So Saturday night, we drove out to Cocoa Beach and made it in before we missed the boat. When I walked towards it, I realized that this boat was way bigger than the little boat I was on in Miami. We got in and the first place my parents try and tell me to rush for is the buffet bar. Was the food any good? I wasn't too sure about that. So when we got to the light food bar, it had some cakes, hard boiled eggs, some rolls, cheese, crackers, chips and some muffins. Who goes out to eat hard boiled eggs?? That definitely wasn't for me. I just ended up putting cookies in my plate and going for my free soda. I think I ate just before going out with my parents so food wasn't much of a priority for me at that moment. Eventually, the machines turned on once we were far enough out to international waters. The boat was so full of people huddling around the 25 cent slots and 5 cent ones. The

| | |
| --- | --- |
| | |
| Metal Detectors Before Boarding | Ship's Pilot Jumps Off Boat |
| | |
| Moonlight Sky Over The Ship | Come On Lucky 7's!! |
first place that drew my excitement was this game where this guy spins this wheel on a wall, and people put their money on what they think the wheel is going to stop at. I remember having $20 in dollar coins. I think I lost about $6 before I gave up. I walked around the boat, played some of the 25 cent slots. I think I was up about $25 once, and then eventually lost it. I wasn't going to play with any more. I took my remaining dollars and went to the cafeteria where I bought a pizza slice. There was an outer deck where you can look at the endless ocean and listen to a live band (or dj) play music. Some people danced, while some people just hanged out and watched. I was watching beside the boat where the boat pilot (who guides the boat out to sea) was abandoning the boat and jumping into this little boat to get back to shore. Normally, I would freak thinking that this guy is getting away and he knew something... but my dad told me that its regular procedure.

I was really bored there for a bit.. but I turned my attention to the night sky. The moon was soo nice to look at. The breeze blowing was cool, but relaxing. I guess you don't have much fun on a casino boat if you only come to gamble $20 on the 25 cent slots and then sit there for the next 3 hours wandering the boat. The boat eventually pulled back into the dock around 1am.
---
The Return Home.... To A Surprise.
I drove back to Orlando while my parents dozed off in the car. It took about an hour and we arrived back at the house around 2am. I was soooo tired, and really exhuasted. I parked the car in the garage and we all went in the house and straight to sleep. Around 8:30am, the doorbell rings. One of our neighbours going for his morning jog was passing our house. He asked my dad (who answered the door) if he has been outside yet. My dad asked 'what was wrong?' So the neighbour invited him to come outside and see for himself. The following pictures are what we found:
| | | |
| --- | --- | --- |
| | | |
| | | |
| | | |
| | | Back of Suburban |
Now, you can imagine what was going through my dad's head. From 2am to 8:30am, we didn't hear anything. Not only was the Suburban smashed up, but the house's front window was too -- shooting glass all across the living room, deep into the carpet fibers. Do we have any idea of who did it? Well, I don't think we have to think about it too hard. (see Silent Night Becomes Christmas Chaos) Anyways, the only option we had was to call the police, and thats what we did. A Sherriff came over to investigate and then assessed the situation. He suspected it was some dispute. The police gave my dad his card and said that he will keep in touch. Until today, we have not heard from the Sherriff. Now, I don't know exaclty how to "realistically" handle this situation. Before I could even have time to think about what else to do, I had to worry about packing my luggage, as my flight back to New York was leaving in a few hours. I had a perfect trip to Florida... well.. almost perfect, and now I'm terrified for my parents' safety. I didn't want to go back to New York now.... I have to help them with this. My mom got real nervous about the situation. My dad was suprisingly real calm about it. What it looks like happened was that the person(s) came between the hours of 12am to 1:30am and with a bat or tire iron, smashed the rear, driver's rear and driver's side windows. After there was no response, the person(s) then smashed the front windows on the house to try and call us out. But we weren't home. I just wonder at what would have happened if we were.
---