It has been a crazy and complicated weekend. But all the troubles aside, the real news for me is that I'm going back to Toronto for Caribana 2002! Last year's Caribana was just awesome. I had such a blast. This year I have no idea what to expect. Because this time it is the 35th Anniversary of the whole event! That's right... since 1967, West Indians have been marching and partying in the streets of Toronto creating the largest street festival in North America. Sorry New Orleans Mardi Gras, and New York City Labor Day Parade... Toronto actually has you beat by almost 2 million people participating booking every hotel and motel room solid for the 2 weeks that it takes place.
For those of you who don't know what exactly Caribana is all about let me tell you a little bit about it:
"Caribana was created in 1967 as a community heritage project for Canada's Centennial year. Based on Trinidad Carnival, the Festival now also includes the music, dance, food and costumes of Jamaica, Guyana, the Bahamas, Brazil and other cultures represented in Toronto - the world's most culturally diverse city."
Well, don't think that the whole event is just for West Indians and Caribbean folk alike.. No No.. That's totally the opposite. It's for EVERYONE! That's the beauty of it. People from all walks of life, cultures and backgrounds are partying in unison to vibes from the islands and the cultures within it.
I can't stress enough how much fun you can have there. Even if you can't dance, there is soooo much food and activities to see and do. This years Caribana is from July 19 to August 5, 2002.
One thing that I just glossed over last week was my trip to Walt Disney World's Magic Kingdom. I don't know how I just mentioned it as if it was a trip to the mall, but this week I am going to elaborate more on it.
For all of you who haven't been to this tourist trap, you can expect exactly what you think you would. Lots of fun and excitement for the kids with lots of long line ups and expensive food aromas everywhere.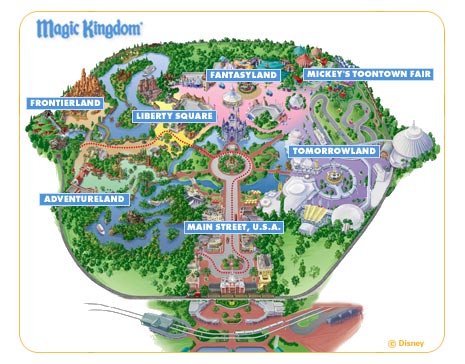 So the day started off around 12pm... we got off the monorail and entered the Magic Kingdom area when the partly sunny sky turned to gray and it rained heavily for a good 30 - 45 minutes leaving us (my little cousins, aunt and grandmas) hiding indoors. Lots of people flocked to the Disney shops to buy raincoats, but no umbrellas. I was wondering why none of the stores sold any. Maybe because they could attract a lightning bolt and lead to a lawsuit or something.. I'm not sure.
Anyways, the rain dries up and we were eating a hot dog, fries and a coke at this place called Casey's Corner. I must say that the fries were amazing! I mean -- they only served 3 things and Fries was one of them. Hot dogs and a coke were the others. I remember paying $4.00 total for a drink and fries. That's pretty much a DisneyWorld bargain if you can find one. [Casey's Corner is right at the end of Main Street USA facing the Walt Disney statue]
Okay, so now we had some food...time to see the rides that will bring it back up! I think we ventured into the Tomorrowland district of the park. I have been on all of these rides when I was a little kid (or so I thought) and was ready for anything. It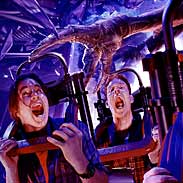 was so cool remembering everything just like when my dad took me many years ago when I was small. The first ride we walk into is this ride I don't remember. I think its in the same place as Micheal Jackson's 3D Movie Captain EO used to be but I'm not too sure. This ride was called "The ExtraTERRORestrial Alien Encounter". It had this little intro about some high tech company that now has the technology to transport people anywhere in the galaxies. Seemed cool enough. We get into the ride and we sit down. Oh wait.. I don't want to spoil anything for you if you are going soon... eeek.. okay.. well let me just say that I underestimated this ride and I got freaked out!!! I'll leave it at that!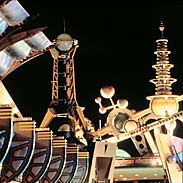 The ride after that was the Tomorrowland Transit Authority. It was basically a ride that toured through the Tomorrowland area and advertised the rides and attractions there. It's a nice ride to just sit back and relax with the family while the breeze blows through your hair. Nothing super or thrill-seeking about it.
I think it was the Buzz Lightyear's Space Ranger Spin ride that we all got into next. I wasn't really expecting much.. just a little kiddie adventure I guess..but I was wrong. This was actually one of the coolest rides in the park. Its actually an interactive ride where you actually have a space gun and get to shoot aliens to earn points. The ride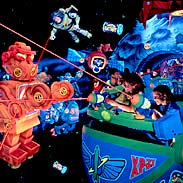 actually stopped halfway and we weren't going anywhere for a good 10 minutes. In that time I was allowed to accumulate 999,000 points! Then all of a sudden the ride restarted and the whole counter was reset so I had to start back from zero. In that little time I still managed to accumulate over 603,000 points! If you ever go on this ride, see if you can beat that!!!
My little munchkin cousins then caught a glimpse of the Tomorrowland Indy Speedway. The "ride" where little kids who don't have driver's license's get their first chance to feel like what driving a car is about. Sure you have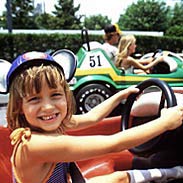 very little control of your destination because the car is connected to a track, but the most fun is bumping the person in front of you and disregarding the road caution signs warning you not to do that. Nobody ever follows it.. I don't think I did when I was small and my cousins sure didn't give me any mercy when I stopped at the end. I sit there patiently when I pulled into the pitstop and all of a sudden I feel a huge !!BUMP!! from the back of my car... I look behind me and see my little cousins giggling away. I wished there was a reverse on those go cart cars and I would have smashed them good!
We took advantage of Disney's FASTPASS option where you don't have to wait in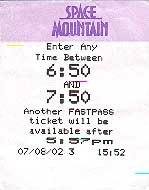 line at all to get onto a ride. The idea works that you go to the ride you want and insert your park admission ticket into this machine that will allow you a line bypass in 2 hours from the time you "punched" your ticket. You then come back later at the time you were given in the tickets that were printed out for you. So we all got some Fastpass tickets for SPACE MOUNTAIN. We have 2 hours to occupy ourselves in the meantime so we go on over to "It's A Small World". I don't know why my parents dragged me to this when I was younger. They always seemed to enjoy this one. Maybe they thought it was real cute or that they like seeing all of the countries represented. Even when I was a kid, I thought that it was really eerie or spooky. I maybe liked it the first time, but the other 40 times got me annoyed. This time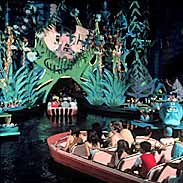 around with my aunt, grandma and little cousins, they apparently enjoyed it. I was thinking to myself how cool all the colours and shapes represented here were in the 50's, but how did it manage to make it into the next millenium? Today when you really look at this ride, all of the cultures are not represented. Just the general makeup of them. Back in the day they created this ride, there were no real half-asian half-black people -- and so they were not represented. Also, if I did see a "darker" coloured little person represented, they were either wearing feathers as a Native American or they were in the jungle playing a drum. The more and more this ride carried on, I thought to myself, "Geez.. this is certainly NOT a small world!!"
Having ventured out of Tomorrowland into Fantasyland, we avoided basically every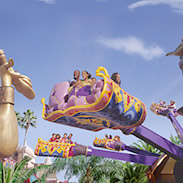 ride there until we got into Adventureland. That's where we went on a ride based on the Disney Movie, Aladdin. Its pretty much a dressed up amusement park ride made to look like flying carpets. It's called The Magic Carpets of Aladdin. I didn't expect much, but then again, I was wrong. It actually was fun.. but prepare to be disappointed because just when you think the ride started, it is actually finished. The kids love it, but even for them, they found it quite short.
The next ride we went on was a favourite for me when I was a kid. The ever popular, Pirates of the Caribbean. Why would I even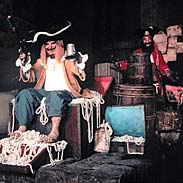 like it? The name alone should shoot terror into me. Well, I remember when I was young, I was scared. I was afraid, but I still wanted to go on the ride. Scary, yes.. there are some surprises and thrills in this that always got me. It was exactly the same for my little cousins. They really enjoyed it. They were scared too with all the skeletons and dead bones around, but they liked the thrill. I guess when I was younger, I tried to associate myself with the ride because the Pirates were from the "Caribbean". I thought to myself that the pirates would teach me something of my caribbean heritage. Umm.. after going through the ride, it wasn't exactly what I had in mind. But it is a ride I can sit in through over and over.
It was just about time to use our SPACE MOUNTAIN FastPASS Access tickets to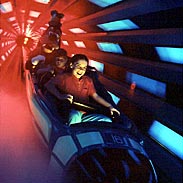 bypass the line. When I was a kid, this was my very first rollercoaster. It was this ride that is responsible for creating my thrill of extreme rollercoaster rides until this date. The amazing idea of having a very fast coaster, but in-the-dark is still such a cool idea until today. I went on this ride twice and the second time I got the front seat. I had a blast on this ride and this is definitely one of my recommendations for anyone who comes to DisneyWorld. This ride is not intended for the weak at heart!
The day at the park was coming to a close... the park closes at 10pm, and at that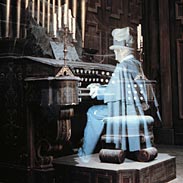 time there is a fireworks show at Cinderella's Castle. So we had to get as much rides in before that happened. The last ride that we got on was The Haunted Mansion. A scary ride even when I was a kid. Designed to at least scare you once even if you are sort of brave. My little cousins liked it and I did too.. On the first run, the ride actually stopped for 15 minutes. I was like, "This wasn't part of the ride before!" We were stopped in the complete dark. Anything could have happened. Even though this ride is pretty old, I am still amazed at the hologram technology that was used back in the day. That really impressed me.
Okay, it was about time for the fireworks, after a little delay wondering when it was going to start, we heard some voices being amplified by the castle. Something about Tinkerbell up on the top tower of the castle was being whispered by the people around me. I couldn't see her, but then when I looked real close, there she was with a little magic wand. She "flew" out of the castle and went somewhere and that commenced the fireworks show. The fireworks lasted about 15 minutes of the basic fireworks you'd see at a city celebration. But I am not saying they were not good. They were very cool to look at. You don't see fireworks everyday.. and this was special.
That about wrapped up our day at Walt Disney World's Magic Kingdom in Orlando, Florida. I had a great time but remember if you go there, to pack a raincoat, lots of bottled water and especially lots of money. And oh ya.. don't forget to bring a camera and lots of film.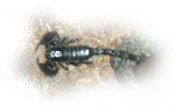 On a sad note, little nWo Toronto member and mascot "number 4" passed away last week. Our pet scorpion died peacefully at the world headquarters in Toronto, Ontario. We are deeply saddened of our loss and would like to remember him like he was: tough, black and venomous.