The following is a recent email I received:
"Hello - my name is Pam. Even though you do not know me, I was wondering if you would do me a favor. My husband and I are considering naming our child Kelvin (for many reasons). But since this is a rare name, it is difficult for us to foresee any potential problems he may encounter with this name choice. I was wondering if you could provide me with any insight into and personal observations about your name, i.e. your likeness / dislikeness towards the name, any problems with spelling, name calling, etc. you may have experienced."
Well Pam, thanks for taking the time to write me. Naming your child after me is such an honour and I'd like to encourage that to other expectant parents who are still deciding what to name their unborn baby. (hehehe)
Anyways, I have always loved my name. Growing up I don't think that I have really received any bad name calling that rhymed with my name. The only flaws that I have had that makes me so angry is that even though my name is boldly written "KELVIN", people will still refer to me as "KEVIN" or "KALVIN" or the most common, "CALVIN". A little fact that people might know is that Kelvin is a scientific measure unit used for light heat intensity. It is actually more precise than Celcius and Fahrenheit. The origin of the name Kelvin has been traced back to Ireland where it is referred to as a small river or stream. That's all I can say about the name, Kelvin.. thanks for asking me!
Lincoln Blackwood

R.I.P Lincoln Blackwood

After this August, Ford will be discontinuing this "sport-luxury-truck". It's one of the shortest production runs in the history of mass-produced vehicles. Debuted this year and halfway was already cancelled. Nobody will miss it. One of the reasons why: It didn't even have 4 wheel drive, and this monstronsity cost over $50,000!
I have been noticing that the latest marketing fad are these "WIPES". Virtually everything has a version of its product in a wipe. I'm sure its a handy idea. I have used a variety of them and wondered why it wasn't done sooner.. but do you think that there was one person that said, "Hey, you know that this product would be better in a wipe?" I'm sure there was and they probably haven't been compensated for that neat simple idea.
Below I have collected a few of the wipes available out there. You can see that they reach all ends of the market. From automotive care through to toilet and bathroom disposable cloths.
The Armor All product is an idea that was long overdue. For years I have been taking that Armor All bottle, spraying it into a paper towel and then applying it to the dashboard and tires of my car. Halfway through, the paper towel would break up and I'd have to double up the paper towel.. or the Armor All would have already been used up. The Shout Wipes are supposedly for stains when they happen. Sounds like a good idea. I mean, how many people carry a bottle of club soda in their wallet or purse? This product seems more portable. The Scrubbing Bubbles Flushable Toilet Wipes appears to be a great idea. I know how I like to clean my bathroom and I have to roll up countless pieces of toilet paper to get behind and under that sink faucet, my scrubbing cloth just can't reach in there. So, kudos to all of them.
Later this month, I will be venturing back to Toronto, Ontario to my home country of Canada. Looking for a job and partying when Caribana happens are the main objectives. If you have NEVER been to Toronto, I suggest that July to August is definitely the time to go. I strongly advise you take your money that will be worth so much more in Canada and see for yourself why I'm so loyal to it. Toronto is actually really HOT this time of year (32 Degrees Celcius - 90+ Degrees Fahrenheit) and every single weekend there is some sort of city party going on. Such an amazing place to be.
All the best,
-cK
click here for Weekly Thought Archives


If you would like to have your question, comment or thought posted, please e-mail me at crazykelvin@hotmail.com.
This Week's
Poll Results
Do You Like Your Name?
Yes - 69%
No - 15%
It's Okay - 15%
Total votes: 13
cK's Featured Female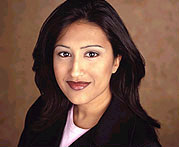 Monita Rajpal
She is the newest CNN Anchor that has Canadian Roots, and that's why she's CK's Featured Female for this week! The former Miss India-Canada who was born in Hong Kong was a news anchor for Toronto's New Channel, CP24 and then in 2001 went to Atlanta to join CNN. She's a graduate of Ryerson University's Radio and Television Arts program (1996). Gorgeous, smart and stunning are just few of the things I can say about her. I wish her all the best in her success and she better not forget her roots!! I would have created a fansite about her, but someone already has! Read more about her here.
Here are some photos of Monita Rajpal: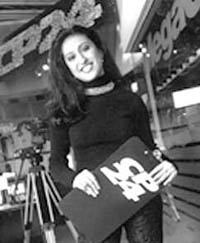 Monita In her early days at Toronto's CP24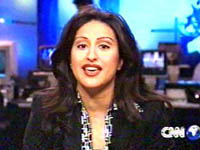 Monita Reporting at CNN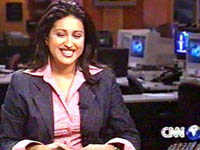 A rare photo of Monita taking a little break!