February 3 - February 17, 2004
It's time again for my
world famous
weekly thought. The place where I tell you everything that is going on in my head and stuff thats happening with me.
---
Letters to cK
Recently I received this email from a fan...
Dear Crazykelvin:
You don't know it, but you made me look like a genius this weekend during a 50-hour marathon trivia contest. For 100 points, listeners of a college radio station here were asked to provide the answers to the six questions Burger King asked on the back of their soda cups about the Simpsons in 2002. Where would I find such obscure information, I wondered as I typed in the keywords into google. Well, from you. Got the answer in less than a minute, and was declared MVP of the hour. Thanks for posting such useless information, and keep it coming!
Chuanpis Santilukka

Test Your Simpsons Trivia! The page that this person was talking about is located here.
---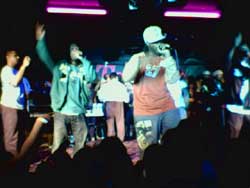 cK Goes To Club Tobago To See T.O.K.
I was amped up as the days drew closer to February 6. That's when dancehall reggae group "T.O.K." came to perform at Club Tobago in Queens. I bought my tickets in advance for $20 each. My cousins, Andrew and Jazmine were going with me, as so was my aunt. Yes, she wanted to come out to a show. I honestly didn't want to go out, because the weather was miserable, but I bought tickets.. so I HAD to be there. When we got to the place, it was packed. Lots of people turned out. I went to the bar with Jazmine and bought a rum/coke for her while I got myself a HPNOTIQ. I chilled around while the DJ spun more hip hop than usual. I don't think the DJ was in their right mind that night, usually the music selection is really good. This particular night, before you could get into the groove of the song, the DJ would cut it and put another song in --- don't you just HATE THAT?? Well, I didn't venture to the dancefloor yet.... I walked around a little and got into the vibe that was in the club. Eventually some guy on stage comes on and says "T.O.K. will be coming out in a few minutes.. " So I go right onto the middle of the dance floor and near to the stage.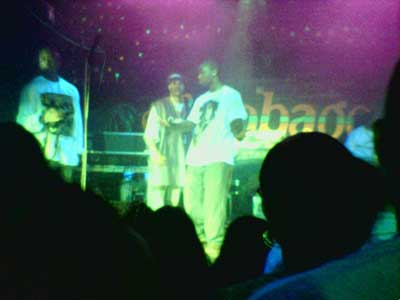 So I'm packed in between all these people, and we are there awaiting the main act to come on stage. Instead, we see a lot of wannabee thugs dancing it up as we all came to see them. The picture above is the 2 main guys that should have been broomed off the stage from the beginning. They were not DJ's or part of an act, I don't even know who gave them permission to be up there, but they were there dancing to all the tunes the DJ was pumping out. If they were the people to get the crowd hyped before the act came out, then they were horrible. If I had a tomato, I would have tossed it at these guys for sure. The crowd was getting very impatient and started booing these guys. Eventually I started chanting out, "T.O.K.!...... T.O.K.!...... T.O.K..!!"
That caught on! People started following me. Then some guy came on the microphone and told us, "Yes... T.O.K. is here and will be coming out in 5 minutes." We booed him too. Because they kept stalling us with 2 bit acts and pathetic people on stage.
So eventually, around 2:30am to 3am, the main act finally came out. T.O.K. jumped out on stage hyping up the impatient crowd.
They did all their songs, like "CHI CHI MAN", "GYAL YUH A LEAD", "EAGLES CRY". They definitely impressed me with their vocal range and talents. So during the on stage performance, they had this contest where they picked two random girls from the crowd and made them dance to their music So it was.....
VERSUS

This Girl

This Girl

(I apoligize for the poor picture quality)
I wish I had some downloadable clips of how this contest went. It was a complete controversy. The first girl started dancing and she gyrated like she didn't know what she was doing. The crowd was cheering a little only because the males in the crowd were excited to see a female shaking her groove thang.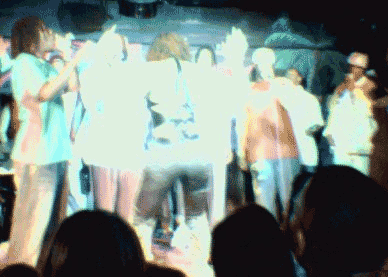 This is pretty much ALL this girl did!
This girl was given a golf clap by the crowd. I think I felt sorry for her, because she didn't know any better. It might have been her first time at a club or something. Maybe she was sheltered by her parents all this time and she didn't know how to dance. Or maybe she just was naturally a bad dancer.
The second girl came up. She seemed real sweet and shy. You could see her telling her friends that she shouldn't be up there, but she got ready to dance when T.O.K. came with the music.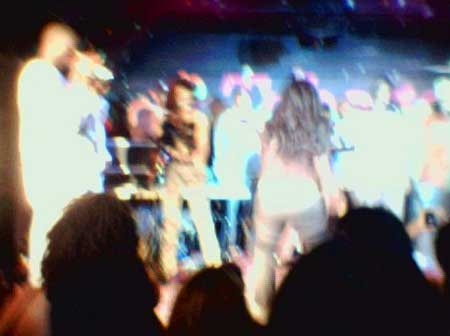 This girl brought the house down!!
Its too bad that I didn't get more pics of this girl. My jaw dropped and I forgot to take more pics. This girl was shaking it ('like a Polaroid picture')! The crowd reacted with cheers and whistles. This girl made the previous girl look like Seinfeld's Elaine doing a jig! It was crazy. Later, after the competition came to an end, one of the T.O.K. guys wanted a crowd reaction to show who they think should win. It was obvious who won when he pointed to the first girl and all you heard was the bartender in the back of the club coughing. There was silence. When the second girl came up, the crowd (and myself) cheered out for our chosen winner. Later on, after I was leaving the club, I actually bumped into the girl that won! Her name was Julie, and she told me that it was her first time out at a club. She claimed that she usually just goes to bars. I told her how great she was. Julie was so modest and bashful. It would be nice to see how she can compete against the reigning champion bubbler! (me) Good going, Julie!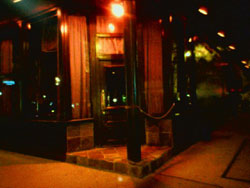 cK and Evil E. Stroll Soho
It has been quite a long time since I've seen my friend, Evil E. So him and I had to catch up on things. He is now working in Soho and wanted to take me around to the usual places he goes for a drink. Him and I met at Penn Station and then took an A train to lower Manhattan. When we were walking out of the train, we noticed this lady standing on the other side of the entry/exit bars looking down. We looked to where she was looking at and there was this little cat sitting in the corner. It looked very out of place. When I thought about it, I never saw a cat in the subways before, not even a stray one. I see rats, yes.. but not kitties. This cat also looked very clean and was just sitting there. We tried to pet it, and it wouldn't move. When we looked closer to its eyes, we saw that it was sick or something. It didn't look well. Anyways, we left the lady there who was staying by it. She was very concerned. Evil E. and I journeyed up to 203 Spring St. (That's the name of the place as well as the address) The bartenders there knew Evil E. by name and welcomed him. While I was there, I had a Waltini. One of the lounge's special drinks. I thought it was real good.
| | | |
| --- | --- | --- |
| | | |
| Cat in Subway | Waltini at 203 | Christina the Hostess |
After chilling at 203 for a bit and catching up with Evil E, we went outside and walked around. We found ourselves across the street looking into another bar/lounge type of place with this real cute girl at the front. We both decided to walk in and see what was going on there. The sweet looking girl greeted us with a smile and hello. Her name was Christina. After a little chit chat, she was telling us that the lounge was closed (which was obvious since the place was empty). Evil E and I carried on and found this Oyster Bar. We just wanted to drink some something and have a snack. So we ordered two drinks and asked the bartender what he recommends as a good finger food to go with our drinks. He told us the "Snow Claws" or something like that. The guy beside us sitting at the bar added his 2 cents and said that it was good. So, we thought, okay, we'll order that. When you think about finger food, you kind of imagine things like hot wings, mozzerella sticks, nachos.. you know, food that you just pick at. What did the guy bring us?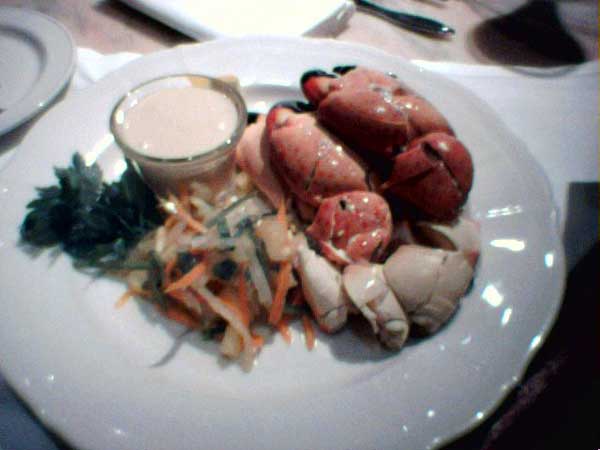 Now, I don't know what the hell this was, but I'm always willing to try anything. When we started eating it, we realized that it was COLD!! Like un-cooked! What kind of finger food is this? Since we starting eating it, it was too late for them to send it back. So, we finished it as much as we could and then decided to leave. We asked for the bill and for 2 drinks plus this crazy appetizer, the bill came to $48!
What?!? Come on now.. thats ridiculous. We were not impressed at all.
On our way home, we took the subway. As we walked down the stairway, I noticed this fantastic mural on the wall.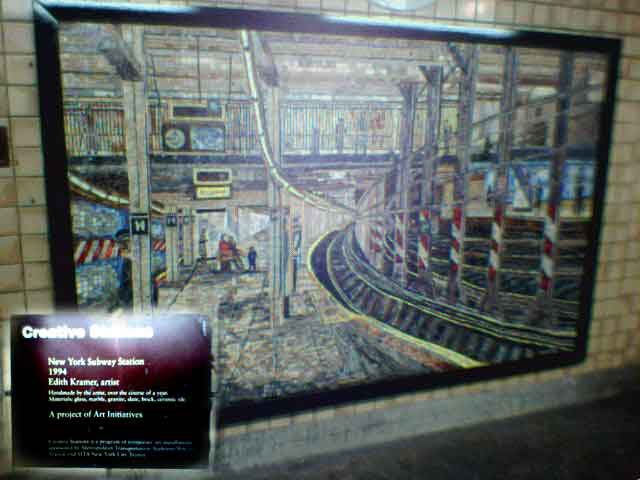 Created by Edith Kramer in 1994 as the sign says to the left of it. I was totally impressed.
---
If you have any questions or comments, please email me at crazykelvin@hotmail.com