If there is such a thing as a "BLACK cloud" that follows a person to give them bad luck, then that was definitely the case with my boy, n8 dogg last week. I already mentioned in my last thought that he was in a car accident that totalled our signature ride, nWo 2.. but following that event, just 3 days later.. n8 was in his rental car driving home from traffic court and with one more exit to go.....he is pulled over by the police where he was given a speeding ticket for going 140km in a 100km zone. Don't think that's the end of the story...
Then the following Thursday, n8 is coming out of class when he sees a note attached to his windsheild saying:
"Your Tire Is Low On Air"
When n8 looks at the tire, its already flat. He changes the tire to a spare and figures he can get the tire repaired. When he takes the tire in, the tire is deemed unrepairable. There were 2 nails puncturing both sides. So he's left to replace the tire (a $190 value). Talk about a bad week... You can read more of his misery here.
- - - - - -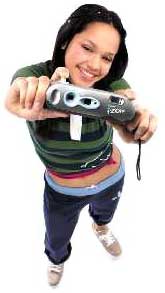 More and more as I write this column every week, I feel that I could so use a digital camera. That would save cK so much time. I'd have so many pics of my crazy adventures up the same week I speak about them instead of waiting for my film to develop and then the painful labour of scanning them. Of course digital cameras don't exactly come cheap -- especially for a guy that is desperately looking for work. So my other alternative is this new Polaroid I-Zone camera.
It seems inexpensive, the pics are instant and just about the right size to scan for this page. Also, if you have seen the latest commercials where you can take "fortune" I-Zone pics. Where you take a picture, and before it develops, you see a fortune -- then it fades into the pic you took. Seems like a cool idea.. fun for lots of friends on a road trip or generally around school. We'll see if I can get that..
- - - - - -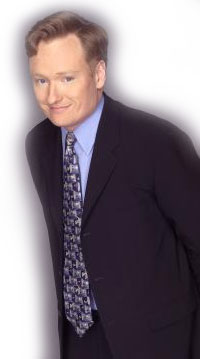 One of the biggest announcements in cable television right now for me is that Comedy Central will now be playing
Late Night with Conan O'Brien. This show is usually on NBC at 12:30am right after Jay Leno. If you haven't had a chance to watch him because he is on too late, then Comedy Central will be showing the show played the night before at 7pm! This is great and also the FIRST Late Night show to ever do this (that I'm aware of). Conan, who has written for The Simpsons and Saturday Night Live, has a very different style of comedy compared the other Late Night shows. He was at one time, unrivaled in his timeslot until CBS put on the Craig Kilbourne Show. I do have to say that show is still quite funny, but not up to the level where Conan has me literally laughing to tears. Conan originally had a "sidekick" on his show, Andy Richter. Andy left the show to pursue his own acting career. He did suceed with a hit sitcom on FOX, but for some reason I don't see it on anymore.
- - - - - -
Earlier this week, I was given a link from a friend to check out this site. It's a DJ from Brampton, Ontario, Canada who is slowly building a fan base before he takes over the airwaves on the big radio stations and Toronto night clubs. I took a listen to some of his mixes and they were really good. If you are into r&b/hip hop remixes, then you should definitely check out: http://www.soulextremist.net.



He just might become a household name in the coming years, so don't get on the bandwagon when its too late. Feel free to email him and sign his guestbook. You could avoid long lines at the club and tell the bouncer, "MAN, I know the DJ!!"
- - - - - - -
On a final note: I'm finding it more and more frustrating to get a job out here.. With only $50 left to my name -- I have to leave BORElando before I am killed by my family. What I'm talking about is that my dad has had enough of me not being able to find a new job and not being in school. Just for the record, I'm still paying the $25,000 I owe for student loans. How would I afford to get another education with no job or no money? So his exact words were: "I'm tired of you "playing" on the computer all the time. You are doing nothing with your life. I'm gonna put rat poison in your food and blow your ass up!!! I'd adopt two girls from Guatemala, get rid of you and put them through school.. and they will amount to so much more than you'll ever be!!!" So much for tough love, right? Obviously that nice country drive I took him and my mom out on this weekend wasn't pleasing to them. I somehow have to get out of here. I keep holding my rage in because I have nobody else to go to if something happens. I'm on my own here. I have to find a job SOMEWHERE -- just anywhere BUT Orlando. Next month will be an exact year I have been out of work. How sad.. how sad.