[ Thought for August 1 - 14, 2002 ]
Hey CK Fans...
I'm finally back in Florida from my super Toronto Tour.
Man, am I exhausted!
By far the best trip for the entire year next to my Wrestlemania X8 trip in March, my visit to Toronto was a blast.
One thing I learned for sure is that you can't please everyone. So I will get that off of my chest right now. Everyone who knows me knows that I make every effort that I can to see them. When I can't see you, you know that I should have a really good reason. So for those I didn't get to see, I sincerely apoligize. It's not that I wasn't too busy to see you, its just that I didn't have the resources to see you or get in contact as when I lived in Toronto.
I only had the transit system for my transportation. I only had limited finances. I only had a phone to use at certain times (it wasn't my phone) and I could not dial long distance.
So if you are bitter that cK didn't call you or came to see you, just wait for the next time -- just like all the other actual blood relatives who didn't get to see their own cousin. Don't take it too personal, I missed each and everyone of you, but if I couldn't see you, just be patient. I'll be back... and when I do return, set a date with me so there will be no disappointments!
Now.. since I have gotten that out of the way -- I can talk about my trip.
I have to continue all of my adventures from Toronto's biggest weekend of the year, CARIBANA! Or.. as I found out once I got there, its the Toronto International Carnival. Different name, same show, right? So I hoped.
"Caribana" Saturday (Aug.3) was a blur to me. All I remember is waking up and rushing to get ready to head downtown to participate in the parade. When I was at N8's house, we didn't eat anything. N8 made some specialty drinks and we took them to the parade.
Once arriving downtown, all I remember was drinking some of N8's drinks (on an empty stomach) and then meeting some friends.. The whole parade and the day just blurred by. There are some extremely rare photos circulating the internet where you can actually see me in my intoxicated state.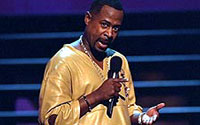 So the next day, Sunday was all about recouperating. N8 and I went to see a movie so I could get back into CrazyKelvin mode and be all hyped up for the night parties. We went to go and see Martin Lawrence: LIVE - Runteldat. If you haven't seen it, and you are a Martin fan, you'll be laughing so hard, you'll be crying by the end of the movie. Its just a stand-up show he did, but still.. it was great. He comes clean about all the controversy that has been around him throughout the years.
After the movie, N8 and I went back to the PHATCAVE and got ready for the annual *TIMES SQUARE REUNION JAM*. Every year, Caribana Sunday, there is a huge group of people that always return to the Howard Johnson's Hotel at Keele/401. But this year, the hotel was the same but they changed over to Travelodge.
Anyways.. we get there!! The line is super long and its $40 at the door! I expected that. So I get in and the party is just kickin!! I'm seeing faces here that I only had seen the year before. Lots of friends, cousins and just people I never met until that night! Even my group of girls that came to visit me in Miami was there!
N8 and I were just jammin until we met up with the SUSHI Twins! That's right.. that's the name we gave them. My friends Christina and Drew. They were our main dance partners for the evening. I have photos, but their agents (yes.. its true) would not like them to be posted online.
At about 2am, they bars were shut down. The over sweltering humidity was getting to everyone and there was no air conditioning whatsoever. Shortly after 2am, in one of the lower rooms where the party was, someone was stabbed and the police decided to lock off the jam. So they cleared out the party.
Caribana Monday: N8 and CrazyKelvin head out to the Toronto Islands with special guests -- the SUSHI Twins! You might be wondering why we call them that. Well, they are 2 both very exotic Chinese-Trinidadian girls that were catching the attention of some guys at the Times Square Jam. In order to gain their attention, one of the guys shouted out, "Hey Sushi!" The name has stuck ever since.
The Toronto Islands was just spectacular. We arrived there at around 4 or 5pm. It cost us $20 to get into the island and hear some good soca tunes. It wasn't as organized as previous years, but it still was entertaining. Lots of food to eat, lots of people jammin... By 8pm, people were having a great time.. Around 8:30pm the party closed and everyone was lined up for hours waiting for the next ferry boat to take the masses back to the Toronto mainland. I think we arrived back on the mainland just after 10:30pm, and back at the PHATCAVE shortly after midnight.
During the week, I took a long full day walk down Toronto. I had lunch with my friend Sondra, and then we both took the TTC (Transit System) to downtown. From there we departed and I went to the Art Gallery of Ontario. I chatted with the kind security guards and met some of the old friends there that I worked with when I lived in Toronto. I didn't get a chance to take in the Surrealism Show that was going on, but maybe I will another time.
After seeing my old friends there, I bumped into my cool friend Anna who was riding a bicylce on Dundas Street carrying some heavy parchment paper. I assisted her all the way to Queen Street where I departed and I went on to meet Mrs. Lee at the Royal Bank of Canada office on Wellington Avenue. She's another dear friend of mine that always keeps my tummy happy. After seeing her, I had an appointment to meet the BIG BLACK MACHINE at the Paramount to see the movie, SIGNS.
I haven't seen him since March, and it was so cool seeing my best friend from high school. We both really enjoyed the movie. After the movie, we all went uptown to the RAGING BULL's house where he had some exciting news to reveal to us.
Can you guess what he is going to tell us? Is it:
a) That he finally got a job
b) That he is going to be a dad
c) That he won the lottery
d) That he is moving to Keswick
Well, the answer will be revealed after you view the following picture that was taken that evening.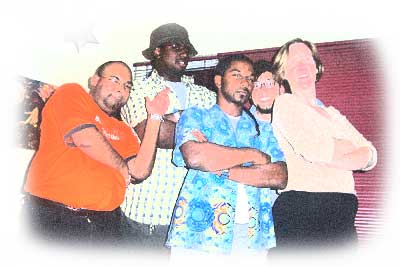 The answer is b.
The whole nWo Toronto would like to congradulate RAGING BULL on his news and we wish him all the best. And, oh ya.. it does take 2 to make this happen.. so special shout outs to you too, Rachel!!!
After a hardcore match endured between N8 and THE BIG BLACK MACHINE, we all went back to our homes. Well, I travelled back to the PHATCAVE with N8.
The next day I went to see a Toronto Blue Jays game in the best entertainment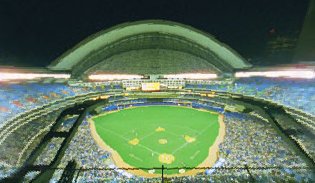 complex in the world -- Toronto SkyDome. The seats were really high up, but it was the first time I really had ever been in the stadium with the roof open and I could look right up to the CN Tower. We (meaning N8's dad, and N8 and Rob) all went to see a very boring and dull game versus the Seattle Mariners. The previous games leading up to this one, the home team Blue Jays were really stirring things up with homers and 10 digit leads. But at the game we went to, the Jays got trounced. It was embarrassing. But nonetheless, a very memorable moment for me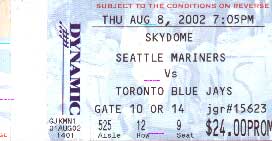 that I will always cherish. It appeared like the was only about 10,000 people present, but they mentioned around the 7th inning that the attendance for this game was over 25,000. I think someone added a zero. During the game, my "ex" girlfriend, Glycerine called and was also in town visiting from overseas. She wanted me to go and see her. So promptly after the game was over, i took the transit and met up with her. I actually spent the next few days just chilling out and talking. It was very therapeutic for me. I had such a good time.
Glycerine and I actually made a time capsule to mark our little event and hid it in a secret location. Maybe us or some archealogists will discover it years from now learning about our little stamp in life.
The last weekend was spent jazzin' it up at the Oakville Jazz Festival and partying at some underground night club in the club district of Toronto. It was me, N8 and the SUSHI Twins!!! I wasn't really feelin' it much. I actually wanted to be with Glycerine.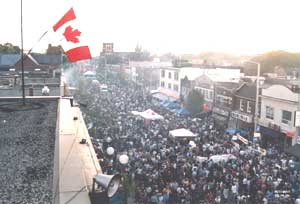 The last SUNDAY I was in Toronto I went to the annual event -- Taste of the Danforth. Now what that actually is, is the Greek Food Festival of Toronto. It's a 3 day event that celebrates the Greek culture and definitely the cuisine. So with about $20, N8 and I ate 2 GYROS, 2 SOUVLAKIs, and 2 of these honey puffed things with ice cream on it. Trust me, it was REALLY good!!!! This place was packed with people!! Only in Toronto where I could be at the Greek Food Festival and on the way stumble across the Scarborough RIB FEST on the way to it! So much food and cultures -- just amazing.
Well, I guess that about wraps up my trip this time. I'd like to thank each and everyone that made it special:
Nathan, Ron, Dolly, Selena, Samir, Chris, Rachel, Rob, Veda, Kenny, Shelley, Andrea, Lori, Larry, Gabe, Gillian, Glycerine, Keith, Neil, Anna, Vicki, Kerri, Janna, Robin, Fiona, *the Sushi Twins*, Jerome, those hippies, Renee, Dana, Gina, Trish, Sophie, Dennis, Angus, Freda, Joanna, Darcy, Pearl-Leah, Sondra, Deonna, Tasha and many many more....
I wish to see you all again soon and thanks again...
All the best,
-cK
click here for Weekly Thought Archives


If you would like to have your question, comment or thought posted, please e-mail me at crazykelvin@hotmail.com.