Well I'm back from the big trip to Toronto where I met the nWo Toronto Massive and viewed a moment in history where the origin of our group was formed. I had a blast of a time and there are LOTS of photos. But I'm waiting for nWo N8 Dogg to send them to me. As for our bout against each other on the 17th, I was ready... I came to take the nWo Toronto Hardcore Championship back to Miami with me.. but N8 refused to take it to the SkyDome. He agreed to fight, but didn't put the title on the line. If the belt is not present, the title can't change hands. N8 knew this. Even though I had a secret surprise to ensure my victory. Yes... from the past, I brought back the BIG BLACK MACHINE! He was released from the Ministry in which he was taken away from us many years ago. He came back to aide me in the defeat of N8 Dogg. The RAGING BULL was also present to call the match fairly and determine a winner.. but that didn't happen.
So, whenever, wherever....N8 DOGG... just bring the belt and let's settle this.

Just so everyone knows how the events of my trip took place... I recorded it below:


March 14, 2002 I tell my friend to pick me up at 10:30am for my 12:05pm flight. He gets to my place at 10:30am but on the way he stops off for gas and food. We arrive at the airport at 11:35am. At this time, the check-in counter has stopped boarding for my flight. They said that I have to get a thorough check by security that I'll miss the plane anyways. They would not listen to my plea that I have to be on this plane although it has not left the gate yet. I have no bags to check in, just carry-ons. So they tell me that I can board the next plane that leaves the next day at 12:30pm for an extra $100 more. So.. I sleep at the airport to make that flight. I'm not missing that one.
March 15, 2002 I get through the check-in. Once I get to security, they took each and everything out of my bags. They even confiscated my hair trimming scissors from my shaving kit. After that humiliation where they even checked my shoes for bombs, they checked me AGAIN just before entering the plane. I arrive in Toronto at 3:30pm and then go to Markham where I'm staying at a friend's house. We later go out to Yonge and Hwy 7 to see the movie, The TIME MACHINE. My friend THE BIG BLACK MACHINE also met up with us there.
March 16, 2002 Saturday I was with two other friends at the CNE's Automotive building to participate in the WWF's Fan AXXESS fair. It was really cool and packed with people. In the evening, my friend and I met up with my sisters who visited me a few weeks ago in Miami. Lori, Andrea, and even Veda was there to greet me at Everest Lounge across from City TV. We jammed until the lights came on. We definitely had a good time.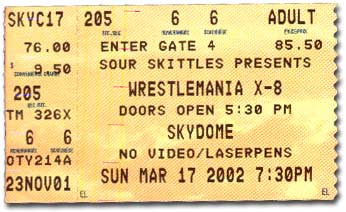 March 17, 2002
Sunday was the big WRESTLEMANIA day at the SkyDome. We joined 68,267 other people to witness a crazy mix of a male soap opera and acrobatics. I apparently lost my voice shouting that night. The Big Black Machine was there too.
March 18, 2002 I went downtown to see my old boss. We met at the BANK NOTE at Bathurst and King. It was nice to see him and then talk about possible opportunities if I came back to Toronto. It was quite interesting.
March 19, 2002 Left Toronto sadly and returned back to the 26 degree weather.


All the best,
-cK

If you would like to have your question, comment or thought posted, please e-mail me at crazykelvin@hotmail.com.