I was in Orlando last Friday for a job interview for a web designer position. When I got to the interview, the meeting didn't have a computer so I could show my online work or at least display any of the URL's that I have worked on. I had to represent my work by my visual art portfolio and screen captures of some of my websites. The guy interviewing me didn't have much of a reaction to my work. I'm not even sure if he knew what a "web designer" even was. The first question he asked me was, "Do you know CGI?" He had to repeat himself a few times before I understood exactly what he was trying to say. "Do you know RML? Do you know MySQL?" He later asked me. Now for all you people who have no clue what he is asking about, neither do I!
You see, all of those cool computer jargon phrases he was asking about are for web programmers. Not a designer. A web designer is the person who creates the visual interface that you see and use. It is just ridiculous to just try and combine the two jobs. You would NEVER ask an artist to also take on the accounting duties or programming duties at on office. Those are two different jobs.
Anyways, on Saturday I was jammin' at Liza's 21st birthday party. I had such a good time. So much songs that I couldn't stop dancing to. Its a shame that the party had to end at 4am. My friend, Marlon and I tore up the dance floor when the reggae music hit... truss me.. it was serious!!!!
So the news is out. People have been constantly asking me and now it is confirmed:
CrazyKelvin is moving to Orlando
This weekend is when I will move my stuff from Miami up to Orlando and relocate. Orlando will not be my permanent residence. It will be where I will decide what will be the next chapter in CrazyKelvin's life. That's all.. nothing big.
Lately, I have been watching this new cartoon called Jackie Chan Adventures that stars... you guessed it, Jackie Chan. I can't believe how much I'm into this show. It's like the cartoons I used to watch when growing up in the 80's. Silly plots that always had a lesson to teach the kids that watched it. When Jackie was asked about having his own cartoon show, he said,"...there are so many things that you can do in a cartoon that you can't do in real life. I always dreamed of being a cartoon because cartoons are ageless, and many years from now, people will still see me..."
Now the biggest news of the week for me as of late, is that I got a phone call from my dear friend, Nayana in Boston. Her and I have a little history together, but to sum it up, we remain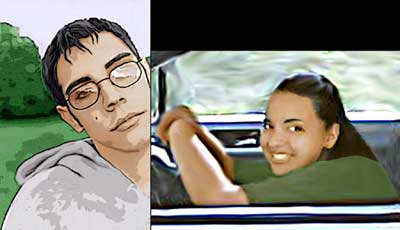 quite close. Anyways, she told me that she got engaged to her sweetheart, Mike. So Congradulations you two! I wish you the best of luck!! Now this is like the second of wedding engagements that I have been notified in weeks! And surely the list is growing. I wonder if I'm getting too old now. Shouldn't I already have found Miss Right? Come on.. I'm CrazyKelvin! Chicks dig me... right? Well that is the question for this week's poll. No.. Not if Chicks dig me... but the question is if you believe in marriage? In this day and age where 50% of marriages end in divorce (the percentage could be higher since Iast checked), do you still think that its worth it to get married. What do I think? Well... I think that one day I will get married. I just have to find the right person. And that is looking to be the hardest part!
All the best,
-cK

If you would like to have your question, comment or thought posted, please e-mail me at crazykelvin@hotmail.com.