!-[if It IE 7]> <![endif]->
CK is an inspirational speaker that has mentored to teens and youth. His vibrant personality has made him a notable guest on talk shows as well as hosting city sponsored events, weddings, parties and fundraisers. If you are interested in booking radio and television personality, 'CK' to emcee your event or be a guest on your show then inquire at:
Did you have a comment or question that you would like to add? Or perhaps you just wanted to share a recipe for that amazing potato salad that your friends go crazy about? Send it to: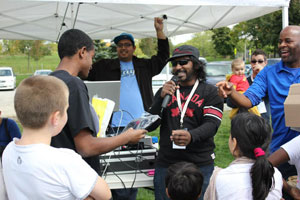 CK hosting a city sponsored event, 2012.