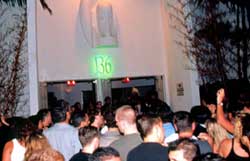 This past weekend was spent partying it up. CrazyKelvin was jammin' at the very exclusive Opium Garden on Friday night. Admission and open bar was kindly sponsored by Sobespots. Special shout out going to Tommy from Sobespots that hooked up my admission at the door. Even when it looked real bleak about getting in at 12:30am, he still pulled through for me.
Thanks to all the people who voted on the CrazyKelvin Web Poll last week and and voiced their opinion. It clearly showed that there was a very even cut crowd that voted 33% that CK was wrong in making a poll about his friends getting engaged, 33% voted CK wasn't and 33% voted that he meant no harm. So what does one conclude from that? The numbers were so evenly matched that one CAN'T say that majority rules. This is the second time since the inception of this subject that the poll has not had a clear victor.
Speaking of the poll, and the comments that came with it, I'm so glad that so much people are so passionate about what they write. People who got each other's back, and those defending friendships, etc.. A special mention goes out to ~Day-v-n~. Not only did he relentlessly post a message to virtually everyone who made a comment, but he was also very kind to bring this subject up with his peers in Tampa. Thanks for doing the groundwork for me. But let me discuss a little something with you. In one of your comments, you stated:

Posted By: ~Day-v-n~

Posted On: Apr 12th 2002
01:21:45 PM

Views: 25

Subject: RE: But wait

Machiavelli- lover of freedom (just a quick correction).

That's it folks, I'm audi, no more comments from me. Just a quick thought, in the first discussion box "interesting" about polls, I wanted to quickly share this with Kelvin. Most education majors who I have spoken to and have taking the poll (social science & english), seem to think Kelvin was wrong for polling in the beginning without initially talking to to Brian and Liza, while the minority felt he meant no harm! Interesting corellation huh?


~Day-v-n~
So what does it mean now since the poll has ended and from the people who participated, it was a dead even tie? Do your "education majors" overule my poll? What if I went into a supermarket right now and randomly asked 21 people the same question and explain the story that I already put here, should the results from that poll be taken into consideration too?
Also, in regards to your discussions with RC and da Bull, you have to realize that they and myself are nWo Toronto. These guys are virtually family to me. If anyone insults one of us, we all take offense. So when you had seen any responses regarding them "having my back", its not just a regular aquaintance or friendship deal here... these are my brothers. I love them to death and will always have their backs. I'm sure you understand that. I just had to state that for those who are not informed. You seem like quite an intelligent character. I can't wait to meet you (in combat) someday. I'm very sure that we would have so much to talk about.
The following was the e-mail of the week: > > >
"Oh the drama that one question has created.If you are in love and feel secure in your relationship then do the results of this poll really matter? Is there a need to justify the reason or the background of your life in order for us "internet" people to believe that you are doing the right thing. NO, it shouldn't. When I read cK weekly thought, I actually believed that this could have been a hypothetical situation. Instead of wondering whether Brian and Liza (not exactly rare first names) were a "real" couple, I reflected on what I was doing when I was 21 and whether I felt I was ready for that type of commitment in my life. Did Kelvin some how infringe on anyone's privacy, no he didn't. Frankly I enjoyed the ignorant bliss of believing that his question was meant for his readers to self reflect. But instead it became a platform for young lovers to defend, justify and discredit opinions, beliefs of others. Congratulations Brian and Liza."
- Ginger,
Not that I am just acknowledging the e-mails that "support" my position in this. This was the only e-mail sent. Everyone used the "comments section" instead. Which is totally okay. Anyways, this subject is now over with. I still maintain my position as not doing anything wrong. Like I said, I'm sure that I may have offended some people, but there was no intention to. Would I do it again? Probably not in the same way, but I would do it again.
As for the person who called herself "Shantay", I'm assuming you were directed to my website by Day-v-n. Thanks for taking the time to contribute. But calling names won't get you anywhere. I may come off as egotistical and rude or maybe obnoxious, but that's easy to say all the way from Tampa. Why don't you just come here to Miami and tell it to my face.
(hahahahaha) I was just kidding. Really!! What I meant was that you don't really know the REAL me. As much as I don't know the REAL you. I encourage you to check out the rest of the site so you can learn more about me rather than just what you "heard". Who knows.. maybe you'll learn something new! The reason I didn't say I was sorry or apoligize was because that was not the issue. I am always a very sensitive and passive person. I never attempt to offend and I'm the first one to apoligize, even if its not my fault. But this matter was something I truly believed I should stand firm about. "If we don't stand for something, we'll fall for anything." I can't remember of the top of my head where that quote is from, but I really live by it.
Since last week, Liza has accepted the fact that I meant no harm. She wants this over with, as so do I. So it is finished, right?
If it is finished, then where do we go from here? Since this site is having a growing number of readers and participators, then I will bring up a subject that was not polled the last time it was my Weekly Thought. I'm talking about my thought for January 29 to February 4th when I discussed religion. You can go here to read what I "thought" then. What do you think? Express your view in the poll and comments section!
Also, my good friend in Toronto, Nadia, recently had her pre-wedding ceremony. Below are the following pics that she sent me. GOOD LUCK TO YOU NADIA and LOMESH! See you at the wedding in October 2002.
Lomesh and Nadia doing something

Nadia in some cool dress

Nadia and Lomesh chillin'

Nadia dressing up

The legit henna (aka Mendhi)
All the best,
-cK

If you would like to have your question, comment or thought posted, please e-mail me at crazykelvin@hotmail.com.