September 15 - 27, 2003

Why CrazyKelvin...WHY?
The response to my new hair is mixed. Many people like it and many people still can't believe I even went through with it. But, I personally felt that it was time to let go. When I started growing out my hair back in 1994, it was definitely not in style. Everyone was kicking fades and short cuts. I always liked being seperate from the norm, and apparently today's trend is the long hair and cornrolls. If I were to continue this look, I feel I would just be blending in. So, that is one of the main reasons. Sure, some people will take some time getting adjusted to it, but that is okay. I never grew my hair to impress anyone in the first place. Do I ever think I'll grow it back? Well, as of right now, I am certainly enjoying my new look and do not plan on bringing my hair back to the length I had it once before anytime soon.
---
Have You Ever Seen A Hurricane Up Close?
Thanks to one of my friends for sending me the following pic of Hurricane Isabel. Could you imagine being the captain on this ship knowing that you have to be going into the storm?? I think I would be terrified even if I was just a stow-away!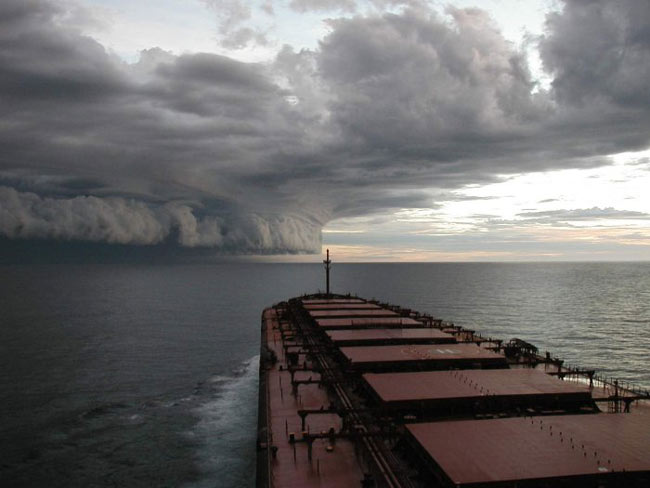 ---
CKNY: One Year Later and Favorite NYC Things
This week marked the one year anniversary of me moving out of Florida to New York City. I only planned to be here for just about a year, and it has been quite a journey this far. It was on September 25, 2002 where I got on a JetBlue plane leaving from Orlando and arriving in JFK Airport in New York City. All I came with were just a weeks worth of clothes in my suitcase. My parents were supposed to drive up a few weeks later to drop off my computer. That never happened, I'm still waiting for my machine to find its way up here! So, what were the highlights of me being in NYC? There are soo many, you might as well go through my archives section to find out. I can definitely say however I do enjoy being here. This is the only place that exceeds Toronto in family parties. Virtually every weekend here, I'm invited to a family party or get together. There is still so much to see and do. I think in one years time, I have figured out how to get my way around the transit system, I can drive here and know where to go for a drink. I have seen the Empire State Building, visited Ground Zero and been to Madison Square Gardens. I saw a NY Mets baseball game at Shea Stadium and attended the Macy's Thanksgiving Day Parade. I have been to a good number of clubs and night spots, but still so many more to explore. I have not been lucky enough to go to the Guggenheim or the Museum of Modern Art as of yet, but those are items next on my checklist.
New York is a city that is hard to compare to the others I have lived in. Its huge, astronomically expensive and filled with people that will step over you just to get a dollar. You meet people who are so fake that you can see right through them. But thats what makes New York what it is. The city has grown on me as of late, but unless I really start getting a larger piece of the big apple I will move my show elsewhere.
Personal Recommendations / Favorites:
The following are just a list of some of my favorite places and things to see that I have discovered after being in New York City for a year. These can all change tomorrow, but as of right now, this is the list I have come up with.
Favorite Romantic Spot: Brooklyn Heights Park overlooking the Brooklyn Bridge
Favorite Hair Salon/ Barber: Canas - 170th/Jerome in the Bronx
Favorite Scenic Bridge: George Washington Bridge
Favorite Latin Night Club: Johnny O's - Castehill area of the Bronx
Favorite Dance/Trance Club: Centro-Fly - Gramercy Park, Manhattan
Favorite Calypso/Reggae Club: Club Tobago
Favorite Pub: Harp Bar - Across MSG in Manhattan (132 W. 32nd St.)
Favorite Arena/Stadium: Madison Square Garden
Favorite Sit Down Restaurant: Virgil's in Times Square
Favorite Airport: JFK
Favorite Subway Line: 4 Train
Favorite Car Rental Company: ZipCar
Favorite Karoke Bar: The Parrot - Liberty Ave, Queens
Favorite Lounge: Tapis Rouge - in the East Village (9 Avenue A)
Favorite Place To Shop: Canal Street - Manhattan

---
Subject: You credit card has been charged for $234.65
No, I didn't make a mistake. That is exactly how it was written in the subject line: I received this email message this week and hoped that nobody would be stupid enough to fall for this blatant scam. If you are foolish enough to enter your credit card information and send it to them hoping that they deposit over $200 into your checking account, you deserve to lose your money! Whoever wrote this obviously cannot speak English too well, and probably hopes you cannot either! Please be on the lookout for this as it could be in your Inbox right now!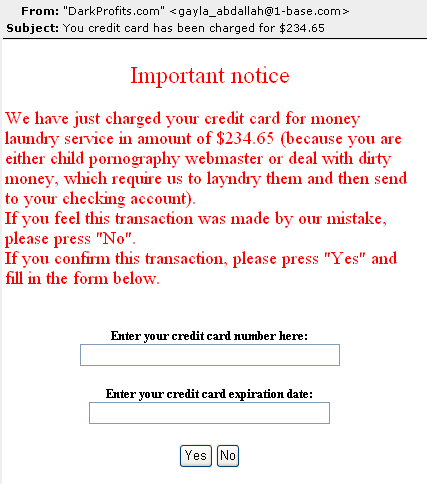 ---
CrazyKelvin Goes To Tapis Rouge Lounge
I was invited kindly by the TAG:NYC people to come and party with them at the East Village lounge called "Tapis Rouge". If you don't parlez en français, that means Red Carpet in French. I was put on a special guestlist by DJ Beta, where I was allowed free entrance along with open bar from 10-11pm. To get there, I took the "F" Train to the "2 Ave" station and walked about 2 blocks east to Avenue A. At the door, I was greeted by a girl named, Tyra. She found my name under the "designer list" and allowed me in. I went down to the lower level of the lounge where the trance and electronic beats were playing. I walked to the bar where DJ Beta was conversing with 2 other guys: Sam and Bacchi. DJ Beta introduced me to them. Sam is a web designer and Bacchi is a music producer. For the rest of the night, I chilled with them drinking white wine and dancing a little. Bacchi was definitely out of control on the dancefloor, he was crazy! But still real fun to be around. Sam and I went to the upstairs lounge briefly where they played hip hop / r&b vibes. I noticed this one girl that was sitting down dancing while her friend was dancing with some guy. She looked lonely. I approached her and asked her to dance. She didn't hesitate! We danced for a good part of the night and then departed later with her friends. As I danced a little by myself on the dancefloor, I noticed this real fine girl dancing on the side in between some guys. As I looked over at her, she smiled and pointed her finger calling me over to come dance with her. This time, I didn't hesitate! Her and I danced for a bit while the 3 o'clock hour approached. She then later left with her friends. I went back down to the lower level, talked to some girls sitting on the plush couches and then decided it was time for me to start my trek home.
Before I went to the train station, I was passing by this little east indian restaurant and thought that I should get a quick snack. I go inside the tiny establishment and order a samosa. After eating and realizing it was so good, I ordered another one. While sitting there alone at my table watching some indian movie on TV, a gentleman with two east indian twins walked into the place. Somehow, we just started chatting and he introduced himself as Jayson, from Permission Magazine. He was really cool and even offered to share some of the real hot food he ordered. The two girls with him were real cute. Anyways, we all finished eating and got on our way exchanging business cards before saying goodbye.
I walked over to the "2nd Ave" Station and was waiting for an "F" train where I would later transfer to an "E" train. At that time of night, the "E" train runs along that line! So I got that instantly which took me all the way to "Jamaica/Parsons" Station. From there I waited about 10 minutes and caught the Jamaica Bus home. From what was supposed to be a 25 minute ride, turned into over an hour ride! For the first time in New York, I fell asleep on the bus and travelled virtually to the end of the line! I got up and asked the bus driver if he will be going back and he told me he would, I just have to get off and wait at a bus stop while he circles back in 20 minutes. So I did that. In about 10 minutes, he circled and then let me on the bus NO CHARGE. That was so nice of him. I eventually arrived home watching the morning sun after 7:30am.
Tapis Rouge - 9 Avenue A (above Houston St.) in the East Village
New York City, NY 10009 - 212.358.1440
Every Saturday Night is Code:Red Night at Tapis Rouge.
$5 admission for you and whoever you want to bring!
Includes Open Bar from 10-11pm!
Click here to get on the guestlist in advance!
If you have any questions or comments, please feel free to email me at: crazykelvin@hotmail.com