September 1 - 15, 2003
It's time again for my world famous weekly thought. The place where I tell you everything that is going on in my head and stuff thats happening with me.
- -**NEWSFLASH!**- -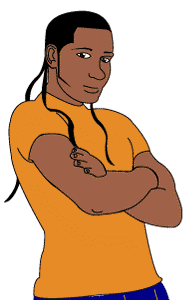 CrazyKelvin Cuts Hair After 9 Year Reign!
ORLANDO, Florida - What many people thought would be cK's eternal image, CrazyKelvin went and chopped the over 3 feet long locks that he was famous for. A brief business trip to Florida became a pinpoint in cK's life as he decided to freshen his image and retire the lifestyle of long braids. What made him do it? Was it an impulse decision? Well according to cK, he was in Orlando and his mother made a deal with him that if cK cut his hair, she would pay for whatever style he preferred. CrazyKelvin had been thinking about cutting his hair for a long time, but never had the nerve to let go. The haircut happened at a place called "Fantastic Sams", a chain of independantly owned salon/hair cutteries in Orlando. The hair stylist that was blessed with the big responsibility of creating a new cK was Andrea. A cute girl that knew exactly how to handle the very delicate situation. When it was all said and done, cK's long locks were gone and what remained was a neatly spiked and gelled haircut with blonde highlights. CrazyKelvin was heard saying shortly after getting up, "...the Legend is now over...", where another gentleman in the salon replied, "...not really, the Legend has just begun."
| | | | |
| --- | --- | --- | --- |
| | | | |
| The last pic of my long hair | My hair is getting prepped for coloring | Precision detail to get the right hairs | and... VOILA! |
Fantastic Sams is located at 7649 W. Colonial Drive in Orlando, Florida. (407-253-2400)
*Special Thank you going out to Andrea and all the staff there at Fantastic Sams. They did such a great job and really took care of me. I recommend anyone who needs a haircut or style and is in the Orlando area to check them out. Ask for Andrea -- tell them that you heard about them on this site --> www.crazykelvin.com!
---
cK's Return To Miami!
I was put on a plane by a client to come to Miami and update a website I worked on back in 2001. It was a sweet deal. I flew out of New York via Spirit Airlines. It was my first time on this airline, and I was a bit sceptical. I mean, what do you really expect for $57 one way to Florida? When I got on the plane, there was no movie, no tv and no drinks. (Well, there could have been some drinks, but I was asleep the whole flight) All we got were some pretzels in a bag. But, the seats were real comfy and I have to admit, the flight was pretty good. I would definitely do it again if their price is lower than the same flight with JetBlue.
So I arrive in Orlando, and pick up my '02 Chevy Impala and drive down to Miami. I meet up with my good friends, Kevin and Chris. They were really nice to put me up in their place for the night. We played Super Smash Bros. on their Nintendo GameCube and also watched the premiere episode of Jake 2.0 on the UPN Network. Besides being a cool but predictable show, I noticed that the backdrops were all shot in Toronto. Also, I saw that one of my friends from high school, Lilette Wiens played an on camera role! She was also in NARC (2003) and American Psycho (2000). I was so excited to see her on screen. I didn't get to see if her character developed into more because I went to sleep shortly after that.
The next day I meet up with the clients who arranged for me to be there. It was a good and productive meeting. After the meet and greet was over I spent some time seeing my little sister, then went to see my dear friend, Sarah. Sarah introduced me to a secret park in Miami Isles that was a perfect getaway from all the crowded parks. It had a gorgeous view of Biscayne Bay and Miami Beach. The perfect ocean breeze made the hot and humid day so pleasant to be in. I have to say, it was definitely the main highlight of my trip down there. I couldn't spend too much time as I had to get back to Orlando. So I dropped off Sarah and then drove up Interstate 95. Thats where I made a pitstop in Coral Springs to see my friend, Theresa. Theresa is this very sexy Italian girl I met up in New York, but has since moved down to Florida to live a better, less stressful life. She treated me to an iced cranberry juice and then I was on my way again.... only to stop off a few more miles up in Lake Worth to see my friend, Regina. Regina is a girl who I never met until now. I have met her wonderful parents in Bermuda (Aunty Jenn and Uncle Bill) and had to make some time to see their daughter like I promised I would. I met her at her student dorm and she treated me to some delectable chocolate cakes she made in her culinary arts school. They were very rich and almost sinful to eat. Before I knew it, I was on the road again headed back to Orlando.
---
cK's Night In Orlando...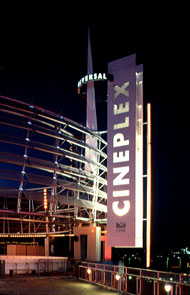 Universal Cineplex 20

I only have one friend in Orlando, and her name is Deidra. A funny but spunky girl that is fun to be around and always makes things interesting. She lives a charmed life, but insists she deserves it. Well, Deidra took me out along with her friend, Casey to go to the movies at the Universal Cineplex. We originally wanted to see "One Night In Mexico" but due to the time, we ended up seeing "Jeepers Creepers 2". We knew that we wouldn't be scared, but expected to laugh a lot, and that is exactly what we did. I don't know what you are supposed to expect when you go to see this movie, because its not horror, it is more suspense than anything. It was quite fun to watch and did not have any bloody gore that you might see in a "Scream" movie. Poor Deidra was still stuck on seeing Johnny Depp in the movie that we missed. Oh well, Casey and I had a ball laughing at the poor highschool kids who just happened to be stranded on the lonely country highway as the "Jeeper Monster" eats them all one by one.

Well, after the movie was over, Deidra was driving me back home so I could pack for my flight the next morning. But I got a call on my cell phone. It was my cousin, Rich inviting me to come out clubbing with him. So Deidra dropped me off and I met up with Rich and.... the TAZEMASTER!!! I couldn't believe it! I haven't seen him in such a long time! We all rode in the '99 Caddy Escalade and went to downtown Orlando. We ended up at a club called Cairo. It was a nice club and nothing what I expected. I was impressed. The TAZEMASTER actually bought me drinks, I was so happy to see him. We all went up to the top level where there is an outdoor patio that plays reggae. So naturally, thats where we chilled. As I was dancing in a corner, I noticed my cousin talking to this huge guy. When I got up close, I realized it was my legendary cousin from the Bronx, BOLO. He was there that night celebrating his birthday! What were the odds?! I haven't seen him in ages as well. This was a great unexpected reunion. The odd thing was that the club actually CLOSED at 2:40am. Can you believe that? I found that ridiculous. Anyways, I had a great time, and can't wait to go back again.
---
cK's Invitation Back To TORONTO
I returned back to New York and waiting for me as soon as I got back, were my dear friends: Shelley, Andrea, Anthony and yes, my evil nemesis - N8 Dogg. They actually drove about 9 hours down from Toronto to kidnap me and take me back home with them. But before they did that, we had to go out and party! So where did we go? Club Tobago in Queens, of course! This is now my 3rd time coming to this club. We go in there and all the guys in our group seperate while the girls go and do their own thing. Later in the night we all reunite and then start dancing. It was crazy, at the door, the bouncer would not let us bring ANY cameras in. How am I supposed to capture our moments there if we can't freeze it on film? Shelley brought her digital video camera and got it in... we got to use that and made sure we captured some memorable moments. Andrea and I rocked the dancefloor while N8 and Anthony realized a little too late that all bars and clubs in New York City have banned smoking indoors. Overall, we had a great night. We left after 3am and Shelley dropped me back home. She actually told me that she was going to wait for me while I get my luggage so she can take me back to Canada with her. She was serious. I can't tell you how in my mind I wanted to go. I really did. But it didn't feel like the right time, I had some more things to finish before I leave the Big Apple. So much more to see and experience. I told them that I'll see them off tomorrow, and I will come and see them at a later time. Just not tonight.
The next day I took a 2 hour subway ride to see my friends off before they begin their journey back to Toronto. You really don't know how much people care about you until they are gone. I had that real bad sinking feeling when I saw my pals hit the highway and drive back to Canada without me. They didn't come to New York to see the sights and stuff, they came specifically to see me and take me back with them so I can be happy once again where I came from. These are really truly golden friends. I appreciate each one of them. I miss them a lot too and will make it back one day... Thank you my Toronto family. I will see you all again soon. Much love...
---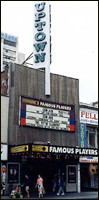 Uptown Theatre
Uptown Theatre - Now Just A Memory
I'm a little saddened to hear about the closing of the Uptown Theatre in downtown Toronto. It was one of the great theatres that made the movie or live stage show a great experience. I remember going to the Uptown to see The Cell starring Jennifer Lopez and Vince Vaughn back in 2000. Watching the movie was good but being in that theatre was even cooler. It was like stepping into history. I couldn't believe back then that the theatre was still around.. and today it has fallen prey to the ever popular need for condominums. I can't say that I will really miss the Uptown, but walking by Yonge/Bloor just will not be the same without it. I remember back when the 400 Drive-In was bought over by Famous Players, and they built the ever huge Colossus. I still enjoy going to the new and amazing megaplex, but the nostalgic feel of going to a drive-in is gone. Click here for an article from the Toronto Star discussing this issue.
History: The Uptown Theatre opened in 1920 as a movie theatre & live stage show theatre. In 1960 The Uptown was damaged by a fire, which gutted the main auditorium. In 1969 The Uptown then split into (5) screens (2) in the Backstage (2) on the main level & (1) in the balcony which is now cinema (1) the big auditorium of them all with 922 seats. Cinema (2) has 604 seats & cinema (3) has 404 seats. In the Backstage area, there is (2) Screens cinema (1) with 170 seats & cinema (2) with 140 seats. .
If you have any questions or comments, please feel free to email me at: crazykelvin@hotmail.com