A very special thanks to everyone who called and e-mailed from the world over to give me encouraging words regarding my present situation. It was your uplifting and kindness that has kept me staying positive. Thank you...
- - - - - -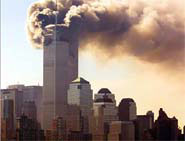 This of course marks the one year anniversary (if you want to call it that) of the day that changed the United States -- September 11, 2001. In the next following days that will lead into weeks, you are going to see the ugly side of the media again giving you "inside scoops" and "LIVE Coverage" regarding anything about the World Trade Center attacks. They will be justifying it as paying tribute to all the lost lives of those in New York, Washington and Pennsylvania. The families and friends of those who were lost will have to be reminded again of the trauma anytime they turn on the radio or television - I can't even imagine what everyday for them must be like to go through. I agree that we should take a moment to remember and pay our respects to the tragedy, but we do not need CNN giving us the "inside" story on EVERYTHING...
I was stumbling across the channels one night, and low and behold I see the WTC towers crumbling to the ground. I stayed to watch a little on what the story would be more than what we already *supposedly know already. They showed exactly where the President was and what his procedures were when the terrorists struck. I could not believe what they were showing the general public. They actually showed the "secret" bunker in Nebraska where he went. They showed the inside and everything. Shouldn't all this be a secret?! Then they go on to discuss major places in the US that would be devastating if they were direct hits of an attack. Is it all really a surprise to the US when foreign terrorists have so much information? It shouldn't be... all they have to do it just watch CNN!
It was just weeks after where I collected photos all over the internet of the WTC incident and posted them here. You can view the disturbing pictures yourself in this cK WTC Section. Please be cautioned as some of the photos may be disturbing.
You are encouraged to participate in the ::cK Web Poll:: this week where I ask, "Have You Been Affected By The Events of Sept.11, 2001?" Once you actually vote, you can make a comment discussing your experience or thoughts in the section provided below it.
If you are curious to know how my life has changed since a year ago, you can just look through my weekly thought archives. But I can tell you exactly what happened on that dark day, just one year ago:
It was a bright and sunny Tuesday morning in Miami. I was driving my brother to a government job training class. I think the time was about 9am. We were listening to Howard Stern on the radio. During the program, one of Howard's on air assistants comes on the air and tells Howard that he just got word that a plane "accidently" crashed into the World Trade Center. At this time, they were not sure what size of plane. They were thinking something like a small charter 2 passenger plane. But then as time progressed, more information came through and it was announced that it was a commercial passenger plane. I remember turning my radio up, listening very closely as the cast of the Stern show was trying to figure out what was going on... then they announced a second plane has hit the World Trade Center. Then I totally got scared. I remember them saying that we are under attack. I think to myself, "I wish I was back in Canada right now!!"
I dropped my brother off and then drove to my work. They had gotten word on the radio that there was an attack on the Pentagon. Now I really began to flip out. Nobody is supposed to penetrate the Pentagon!! That's like the main building of U.S. defense! As I was still driving, the words of Howard Stern's assistant saying that one of the towers has just collapsed, instantly crushed me. Its almost as if I could hear the cries from the people in the building all the way to Miami. I wasn't sure if I could continue driving to work. I have lots of family and friends in New York. Including a friend that works for Morgan Stanley - a company whose main office was in the WTC. (they lost about 300 employees that day) Well, I was devastated and scared. I came into work kinda late, I saw my co-workers all glued to the television in the office. I went into my office an put on my tv where Fox News was giving live coverage. Every channel was giving coverage. You couldn't find anything else. I saw that one tower was gone, and the remaining one was smoking. I watched in utter horror as the second tower came crumbling down. It was beyond horrific. Beyond.
Well, the rest of the day, the tv was on and we were learning everything bit by bit. About the plane in Pennsylvania, and the Pentagon and the WTC. I remember they were grounding all planes still flying over the US. Airports were closing and diverting planes to land in other airports. It was very scary. Later, as my work day came to an end, I drove home very uncertain of this day in history. What would the next day be like? Should I expect more devastation? One of the freakiest things I've seen was on my drive home on Interstate-95 (I-95) in Miami, I was passing under the digital traffic report signs and it read: "No Outbound Flights from MIA"
That was scary. Anyone that had to leave Miami was stuck. The airport was closed. They wouldn't let any planes leave the airport. All flights were definitely grounded. Well, the following days we learned more about what happened, but I was not at ease. Dangers of anthrax and bio-chemical attacks were warned across all the media. I really didn't want to leave my apartment. The following weeks I saw that the Florida economy just plummeted. The company I was working with had to lay me off. Once where I could find another job in an instant - took weeks, days and months. Has Sept.11 affected me? Yes it has.
*you can never believe everything you hear in newspapers and on television.
- - - - - - - - - - -
People know how I like to talk about new drinks that are out. One drink that I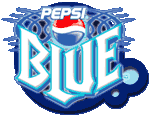 found kind of odd, was this new Pepsi Blue drink. First thing was that I found that it was released kind of late. I didn't hear about this drink way until late August. That's pretty much when summer is over. Or maybe that was Pepsi's intention. To target everyone after the Vanilla Coke hype has died down. Okay, well what exactly is Pepsi Blue? From what I gather, its a blue coloured cola with blueberry taste. I could be wrong.. but I think thats what it is. Why are these classic drinks changing their colour? Does a BLUE Cola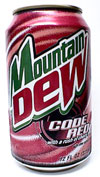 seem more appealing to you? One of Pepsi's other products, Mountain Dew came out with its Code Red brand a while back. As if the "liquid green sunshine" colour similar to certain types of anti-freeze used in automobile radiators wasn't appealing enough. They had to make a red one. I think I tried that once, and it was just the same as the original Mountain Dew. No difference. Was their any real purpose - marketing wise to make it red? Maybe the same question can be applied to Heinz' new ketchup colour of green. They said that they introduced the green ketchup to appeal to a younger demographic. Since when have kids stopped using ketchup? Even when I was a kid, I had no job, no money, but I always used ketchup. Why would they want to appeal to kids if they already have them?
- - - - - - - - - - -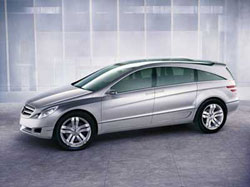 Mercedes Benz has announced it will build a vehicle called the GST around 2005. (To Canadians, those are not exactly the best three letters you could use) The GST - which stands for Grand Sport Tourer, is designed to take on the sport-utility-vehicle. Mercedes is putting $600 million towards this car and building it in Tuscaloosa, Alabama. Now get this...Dr. Joachim Schmidt, Head of Mercedes-Benz PC & smart Sales & Marketing actually said the following, "As a touring car, station wagon, large-capacity vehicle and sport utility vehicle rolled into one the Grand Sports Tourer is primarily geared to the needs of the North American market." If you can see what I see there, all I see is a hyped-up station wagon with a Mercedes-Benz badge. You know that yuppies are gonna get sucked into buying this car for $60,000. They are like lemmings.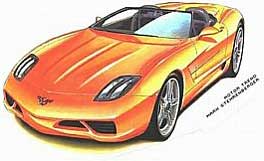 Long before there was a Dodge Viper, or even a Ford Mustang -- there was only one true American Sports Car... the Chevrolet Corvette. And this picture might be what the 2005 Corvette might look like when it debuts later in 2004. The designers wanted to break more into the European market, so they made a lot of changes with the body styling. There are some insiders that say the next Corvette could look similar to the new Cadillac Roadster that will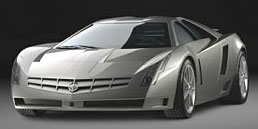 be built in the same Bowling Green, Kentucky plant. The Cadillac sportscar is another story.. already Cadillac has made home run hits with the Escalade, and CTS.. will the roadster be as successful? We'll see.. as long as its priced right and has enough power to keep its name prestigious.
- - - - - - - - - - -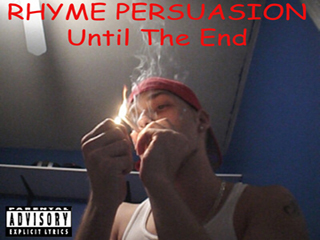 I had the opportunity to talk with "Rhyme" from Rhyme Persuasion. A hip hop act coming out of the southwest end of Toronto. I listened to some of their samples and I could totally understand where they were coming from. The samples used in the tracks are pretty good. It has a very underground feel.. nothing commericialized. Only if that's what you are into. You can check out their website at: http://www.rhymepersuasion.com You can listen to some of the music samples here at: http://www.newmusiccanada.com/genres/artist.cfm?Band_Id=7812
- - - - - - -
As for my current situation, I have an opportunity to work in Sacramento, California - I am still finding out more details about that. I also have some big leads for positions in Miami, New York City and Toronto. In about 2 weeks time, I will have made a final decision and I will finally be out of BORElando!