October 6 - October 31, 2003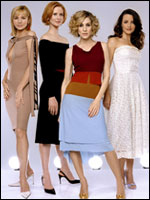 cK Meets the Cast of Sex & The City
CrazyKelvin Meets The Cast of Sex And The City!
I know I haven't been updating as much as I should have been, but I assure you that I have been real busy! First of all earlier this month I was lucky enough to meet Sarah Jessica Parker, and Kim Cattrall -- both major stars from the HBO tv series, "Sex & The City".
It all started when I took a trip to Manhattan to visit the Universal Television office to find out when my 5th Wheel episode was scheduled to air. As of that time they told me that it was still in post production and wouldn't be ready until January. However I did get an episode number -- > # 549.When I left the office, I had the whole day to myself and wanted to walk down to the Brooklyn Bridge and cross it. On my journey there, I was walking by W 10 St where I saw that the street was blocked off halfway to shoot some movie or show. I wasn't sure. So I went over to see what the crowd of people were gathering to spectate. When I joined a group of people across the street, I could clearly see that they were pointing into a restaurant where "Sex & The City" was being filmed. So I decide to watch a little filming myself. I've been in New York for a bit and I haven't really seen any shows.. this would be my first.
I realize that I had a picture of Kim Cattrall in my book bag from the National Enquirer. I figured maybe I could get an autograph. So between the takes, Kim Cattrall is rushed to her trailer by her bodyguard and doesn't have time to give out an autograph. I saw her pass this one girl on the corner and she said something to her. I walked over to the girl and asked her, "What did she say to you?" The girl replied that she was about to but her bodyguard pulled her away. I then began to chat a little with the girl. Her name was Joanna and she moved to New York City from London, England just because she loved watching "Sex & The City" so much. Sarah Jessica Parker is her idol. Joanna was actually taking a 3 hour lunch break from her alloted 30 minute one to be there.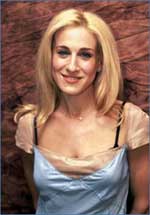 Sarah J. Parker Meets cK!
I chilled at that corner and chatted with Joanna for a bit as she waited for Sarah Jessica Parker to leave the set and walk to her trailer. This is where she would ask her for a picture and an autograph. Time kept ticking away as she was getting more and more late for work. Joanna finally decided to just run back to work and come back after she was done. She took my phone number to call me and find out when Sarah left the set or not while she was at work. So I chilled there since I had nothing else better to do. Lo and behold, while Joanna was gone, Sarah did leave the set and was escorted by a bunch of crew and bodyguards. The mass of people surrounding her along with herself approached my direction. I didn't want to move, I just stood there. Sarah and her entourage came within an arm's length of me --- I couldn't just let her not notice me.. so I kindly said, "Hi Sarah!"
Sarah stopped for a step, looked at me and said, "HI!" Then she was escorted to her trailer. No autographs, no pictures, nothing. For some reason, I felt that was cool... nobody got even that close to her and got to speak with her. I remember how vibrant her perfume was. It was very strong, yet pleasant. I wish I knew what it was. I had a great opportunity and I spoke to her like I knew her. It was a little thing, but I can say that I did lock eyes with Sarah even if it was just for a second!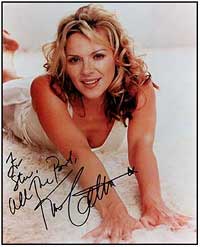 Kim Cattrall Meets cK
So Joanna calls me, and I tell her that Sarah came out and I saw her. Joanna was excited and disappointed at the same time, but I calmed her down after learning from security that they will be filming all up until midnight. Joanna will have lots of time to meet Sarah afterall. As I was chilling there, I saw that Kim Cattrall had left her trailer and went to film a scene. It was about 30 minutes later where she was walking back and security was escorting her back to her trailer. I had previously spoken with security about getting an autograph and they actually gave me the heads up on when she was set to come out. So when that moment arrived, I approached Kim and held out the picture of her in the National Enquirer and asked her if she could sign it. She took my pen, and signed her name and smiled at me. After doing that, she was rushed to her trailer, not being able to do anything more for the other people who where there to meet her. I was again, a lucky one who actually got an autograph!
I had enough for one day.. I could go home now, but I did promise Joanna that I would wait for her after she finished work. In the meantime while I chilled by my corner, leaning on the wall, I happened to meet 2 other women who were looking to get an up-close peek at the celebrities. They were both from Virginia on a visit to New York and leaving the next day. Their names were Becky and Rupali. Becky is a nice lady who watches the show religiously. Rupali is an flight attendant for US Airways and doesn't watch the show at all. As I got to ask her more questions, Rupali gave me the following information about herself:
Name:

Rupali

Birthdate:

September 20, 1981

Occupation:

US Airways Flight Attendant

Sign:

Virgo

Known to Say:

"Comfty"
"Oh Whatever"
"Don't even go there... HELLO?"
"You're all about BIG LOTS!"
"You're irkin' my last nerve!"
Rupali was supposed to send me a picture of herself, but I haven't received one yet to put up. But I can say that she was cute! She also insists that the word "comfty" exists. Around 6pm, Joanna arrives after work and we meet up. We wait a

| | |
| --- | --- |
| | |
| David Eigenberg | Evan Handler |
little for Sarah Jessica Parker to get out of her trailer. Joanna brings a camera and a little envelope to give to Sarah. She handed it to the security guard outside and then waited patiently. While we were waiting, we happened to meet David Eigenberg and Evan Handler who play Steve Brady and Harry Goldenblatt. They chatted with all the women, stopped to sign autographs and take pictures. They were pretty cool. Then just as it was approaching maybe 8pm, the security guards told us that Sarah would be coming out soon. So Joanna gave me her little flash camera and I was armed, poised and ready to take as much clicks as I can. Suddenly, the tralier door opened, and Sarah came out. Joanna went beside her and I flashed away. Sarah paused for a few pics and then proceeded towards the set. Joanna was so excited. Her dream came true. Joanna waited for her roomate and they figured they'd stick around until midnight when the filming was over for the day. I was going home, forget that! But before I did that, we all went to the restaurant beside where they were shooting (the Asean Cafe) and had a pint of beer.
---
cK's Hallowe'en In Massachusetts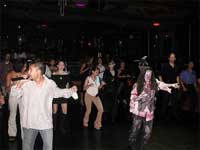 Hallowe'en Costume Party at the HIPPODROME:: Springfield, MA


I took a weekend off to retreat from the chaotic life of the Big Apple. I went to Penn Station and ran to get the 6:40pm Amtrak train leaving New York and heading for Springfield, MA. I was going to meet my dear friend, Janet who was going to pick me up and we'd drive up to Salem, MA for Hallowe'en. The train was scheduled to arrive around 9:55pm in Springfield. When I arrived to the level where they list all the trains and departures, it clearly stated that my train was "DELAYED". I went to the customer service counter and they said that the scheduled train had a mechanical failure and would not be departing until after 8pm. This sucked, because now I would arrive too late to venture to Salem. So the train did arrive and I got on it. It left around 8:30pm. The ride was very pleasant. I arrived in Springfield, MA where Janet was waiting for me. We were wondering what we'd do since going to Salem was out of the question. We drove around a little bit and thought to get a drink. We stopped at this club called the HIPPODROME. It's a classic movie house turned into a nightclub. We walked in there and it was Friday's Copacabana Night -- and a Costume Party! Janet and I both get some traditional martinis. Her's was dirty while I

got a chocolate one. We took our drinks and moved closer to the dancefloor. Janet doesn't dance... so I went on the dancefloor myself and grooved a little. I saw these two girls who were sitting at this table the whole night and it looked like they were just waiting for someone to ask them to dance. So I took it upon myself to do so. The look of excitement on their faces was like Christmas! They were so happy -- this one girl was latin dancing with me and I could NOT keep up!!! Well... it got late and Janet and I had to get back to Greenfield. So we left and did the drive home.

On our way back, we stopped off at Janet's friend's house. The same people who were all going to drive to Salem with. Apparently everyone was sleeping except one guy who stayed up with the cases of beer. His name was Shawn. He was watching "The New Guy" on DVD. We sat down and got into it, when the others started waking up. They started a mini-celebration that I even arrived! Shawn's whole plan was to get me drunk. I had 2 cans of BUD ICE beer and then I was falling asleep. I went to a couch where I pretty much passed out.The next morning I met everyone. There was Justin and his girlfriend, Suzanne. There was also Ben. All of them were really courteous to me. Apparently the song for the moment was by "Fountains Of Wayne" called "Stacy's Mom". When I was on the train ride there, in the car ride with Janet and now at her friend's house I couldn't escape this song. Justin even had the video on his computer! No matter how sick we got of it, we still wanted to hear it. Janet slept well into the afternoon. In the meantime, Justin and Suzanne had to run out. Ben was watching "The Matrix 2:Reloaded". I joined him. For a brief second, Suzanne and Justin came back with box of KFC for us to munch on while we ate. That was really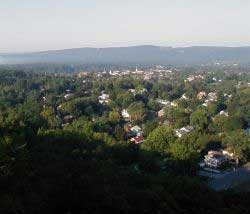 On top of Poet's Seat Tower - Greenfield, MA

sweet of them. Then before we knew it, they were gone again. Ben and I watched the movie through its entirety. Then when Janet woke up, we went back to her place where we planned out the rest of the day. One of the things that we had to do that day was definitely visit the famous Poet's Seat Tower. Its like tradition everytime I visit Greenfield. So we set out to do that. The beautiful autumn air was crisp and it was a little chilly. The overcast sky hinted of rain to soon come. Janet and I climbed to the top of the tower and looked down on Greenfield, MA. Just as we were beginning to get adjusted to the nice spectacular view, rain drops started to fall. We had to walk back to the car. We went to the video store and rented "RODENTZ" and "MILO". We originally wanted to get a classic horror flick to watch for the Hallowe'en weekend, but the favs like "Exorcist" or "The Ring" were all gone. The "Rodentz" movie looked good from the box, "Milo" seemed to interest Janet. So that's what we got. We were going to watch the movies after we got home from having dinner. We went to our friend, Nayana's restaurant where she worked called The French King. Named so after the historic French King Bridge that it was located beside. It was nice to see Nayana again, this is the first time I got to see her as a married woman. As she took our

orders for tea, soups and rolls, I noticed that she was wearing little snaredrum earrings. I asked her about the earrings and she told me that Jefferson Starship was at the bar and she was planning on being around them so they can strike up a conversation with them. I wanted to see that for myself. As Janet and I finished our little dinner, my friend Nayana was perplexed because she promised that she would pass her husband's demo CD on to one of the band members, but wasn't getting a chance. I suggested to Nayana that she should chill out a little while I handled the situation. I went over to the bar where nobody else was. I strategically made Janet sit beside one of the band members at the bar. I was thinking of how I would strike up a conversation. I order a Smirnoff Ice and look over. They are all munching snacks and drinking Heinekens. I see that one of them has a pack of Marlboros and the other has some purpled box of cigarettes. Now I don't smoke, but I am willing to pose like I do in order to talk to the band if I have to.

So I yell over to the guy in the middle with the purple boxed cigarettes, "Hey! What kind of cigarettes are those?" The band member replied, "Why these are Clove cigarettes from Indonesia." I then asked him for one but he showed me it was the last one in the box. I then went on to tell him that he hides the others in his jacket so whenever someone asks for a cigarette, he points to the one remaining. He enjoyed that. It seemed like he was very interested to talk, I wasn't expecting that, but I did go along with it. He introduced himself to me as Chris. He's the keyboardist, and beside him was Slick, he plays the guitar. I then asked Chris (playing stupidly) what does he do? He told me that he's in a band called "Jefferson Starship". I then asked him if he is like a cover band or something, and he insists that they are the real deal. So I told them that I am familiar with their songs. Its before my time so it was expected that I wouldn't know anything abou thier music. I then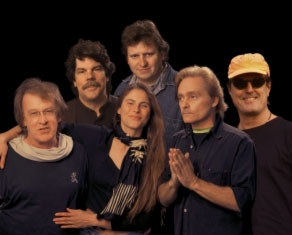 Jefferson Starship Met cK in Greenfield, MA

went on to tell them a little bit about myself and how I'm just visiting out here from New York. Chris then told me that the band would be coming to New York to perform on Tobacco Road, and would like me to be there. I told them that I would love to. Just as we were getting into more conversation, Nayana quickly took an opportunity and introduced herself to Chris giving him her husband's CD. Chris actually took it and said that he would give it a listen. We spoke for a little more and then the band had to head off to a private party that they were performing at. Chris told me about the band's website located at: www.jeffersonstarshipsf.com and I gave him my card. As Chris was leaving, he said he'd look out for me on The 5th Wheel! (yes.. I told him about that too)

The next day Janet drove me to Springfield and bid me farewell as I boarded the train back to New York City. I had a fantastic time in Massachusetts!
---
If you have any questions or comments, please feel free to email me at: crazykelvin@hotmail.com