Last week my thought was delayed because I was up in Connecticut away from any uploading access. Thank you for the latest new visitors to my site. In the coming weeks, you will be able to see more "cK Stuff" as I now have access to a digital camera! (more about that later)
Connected To Connecticut
( Say that five times fast ) Last Tuesday I was travelled from Long Island, New York all the way into North Brewster, New York where I would be meeting my long time friend, Kristina. To get there, I hitched a ride with my uncle who works in Brooklyn. I had to walk through a little portion of downtown Brooklyn where the scenery amazed me. The buildings and all just all seemed so unreal. It just looks like a big painting. I had to stop in my tracks and really convince myself that the buildings were real and not on a canvas.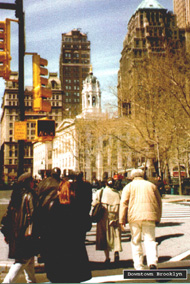 Well from Brooklyn I caught a number 4 subway train to Grand Central Station. I actually got lost on the subway, but eventually I found my way. I arrived in Grand Central and hopped aboard the Metro-North line. About an hour and a bit later, I ended up in North Brewster to meet Kristina. Kristina took me to her home located deep in the forest. I mean DEEP. You drive up and down hills passed the deer and wild turkey until you arrive at her hidden home in the woods.
When I arrived at her house, she introduced me to her grandparents - "Nan" and "Pop". These two individuals are such nice people. One of the first things that overwhelmed me about them was their kindness and generosity to me. "Nan" is Kristina's grandmother who is of Italian descent. "Pop" is a descendant from American pilgrims and Native Americans. "Pop" is an army veteran that was an appliance salesman 30 to 40 years ago. He loves to talk. I enjoyed listening to him. He taught me so much stuff on refrigerators, dishwashers, faucets.... I definitely enjoyed his company.
"Nan" is a sweet woman that also seemed to like my hair. I didn't get too much time alone with her because "Pop" was trying to hog me all to himself, showing me family photos and his video tapes from his travels to South Carolina and Italy. The first night, Kristina and I just relaxed and watched Gilmore Girls and Smallville on the WB Network. I never watched Gilmore Girls before, but I didn't find it to be a bad show as I originally conceptuallized.
The second day, we woke up and went to Denny's for a pancake breakfast! Mmmmm!!! After stuffing our tummies, we went to the only thing to do in Ridgefield, Connecticut: Go to the Danbury Fair Mall. It's either the mall or go to the Danbury Airport and watch small charter planes land and take off.
So the mall it was. I did have a good time there. I'm not much of a mall person, but it was a good and fun activity to do. Later in the evening, Kristina took me to a billiard hall called "Boston Billiard Club". It was a nice pool hall that wasn't rough.. it was quite preppy if anything. I met Jason, Kristina's boyfriend who is also a real cool guy who kept convincing me that Connecticut is nothing more than a state of yuppies. He sure convinced me when I walked into the parking lot and I saw him get into his brand new '02 Mitsubishi Eclipse Spyder Convertible. Yep, the one from the commercial with the Dirty Vegas soundtrack. Jason did admit he liked the song, but said he would not be caught at a traffic light playing it.
After the pool hall, Kristina stopped off to pick up some groceries. I waited in the comfort of her car listening to her Eminem CD ( The Eminem Show ). While I was waiting in her car, I noticed that it was beginning to snow....and it was some huge snowflakes. I got out of the car and looked up into the night sky. Stupid me gets snowflakes landing in my eye. But this was really cool for me because I haven't seen a snowfall since I left Canada 2 years ago. We get back to her place and I go to my guest room. My guestbed was a "CRAFT-MATIC"! Yes! The one from the commercial. This was an older model, but it was actually pretty cool. It had the up and down controls like a hospital bed and a low massage control for your back.

I laid down to rest and I put on my walkman headphones and listened to some radio vibes. Just about 10pm I think, maybe later, a dj comes over the air to announce the tragic news of Run D.M.C.'s Jam Master J's shooting in Queens, New York. That was some hard hitting news to the world of music. Definitely one of the main pioneers in making rap mainstream was RUN DMC. It was reported that Jam Master J was in a Queens recording studio helping out when some guys came into the building unauthorized and shot him point blank. That's just messed up.
The next and final day in Ridgefield was spent doing last minute touristy things around the area. Kristina took me sightseeing. We went to an old Native American Trading Post that was closing down after 50 years. We walked into the little broken down cabin and was greeted by an old woman. The items in there were mostly of anything that you could find at a flea market. There were some rare native american things that were of value, but I wasn't there to buy anything. Just to browse. When I asked the lady why was she closing the place down, she replied that she didn't want to sell anything anymore. I told her to hire someone. She still replied with a blank look on her face that she won't. After leaving the little place, I did take a picture of it on my 35mm camera.
Kristina and I were real hungry, so she wanted to take me to this restaurant called India Kitchen. The lunch special was $7.95 for an all you can eat buffet. I tell you, the food was fantastic! The main guy there goes by the name of "Jimmy". He was so cool. Besides the great food, the service was excellent. I totally recommend you go there. (the address is in the right column)
After eating, Kristina took me to a nice drive along the countryside. The day was very sunny and our sunglasses were required. We drove aimlessly as she followed road signs leading to a State Park. When we arrived there, we found a beautiful park that looks like it would be a very popular swimming hole in the warmer months. Right now it just seemed out of season. I walked up to the lake and the water was crystal clear. Maybe I will return in the summer. That was the last journey Kristina and I did excluding her driving me back to the train station. I had a great time with her that was long awaited. (thanks Kristina)
cK Gets DIGITAL?!
Okay so here I am back in New York! Saturday arrives and after coming back from work at Costco, I get home and my aunt tells me all excitedly that she "won big". I'm thinking to myself, "Maybe she won the lottery or something..." Well, earlier that day she was at church and bought a raffle ticket for a dollar. At the end of the raffle, she ended up walking home with a brand new toaster, pillows, toys, and... a brand new Argus Digital Camera!!!! Now you all know how long I've been wanting needing a digital camera...and just the other day I was telling my aunt that I could so use one. Well, I wasn't exactly thinking that she was going to give it to me to keep. I just hoped that I could borrow it every now and then when I went out. Originally, my aunt told me that she has a Barbie digital camera that she bought for her daughter, but was never used. I still wouldn't mind using it. My aunt told me that I could have that one. She's still looking for it as I write this.
Anyways, I did get to use this *new* Argus camera. It's nothing special. Just a basic digital camera with a 1.5 inch LCD screen and 2.1 Megapixel resolution. Its runs on 4 AAA batteries that it uses up really fast. Later in the evening, my little cousins came over for a dinner. I figured I could test out this camera. So I told them all to sit quietly on the couch while I took a picture of them. These darn kids (as you can kinds of see in the picture below) wouldn't listen. But kids will be kids and these little ones made a great pic. They were cute, though.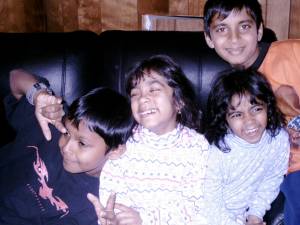 From left to right are my little cousins Sunil, Emily, Isabelle and Dhanpaul.
CrazyKelvin Goes To Lily Flanigans - Long Island
Just as the night was dwindling down, my older cousin, Rosi, asks me if I want to go out later in the evening to go for a drink or two. Of course I jump at any opportunity to go anywhere, she mentioned that we'd be meeting up with some of her friends. When there were no female names mentioned, I was a little disappointed, but I still wanted to get out of the house. So we ended up going to a local pub and hangout called Lily Flanigan's. Going there we met her friends, Chad and Keith. Noticing that I was virtually the only guy of any shade of skin colour there besides the guy behind the bar, I felt a little out of place. But that quickly evaporates once I drank my Smirnoff Ice. We were all celebrating something that night. Chad was celebrating a new job that he started Monday. I was celebrating my first paycheck since living in New York.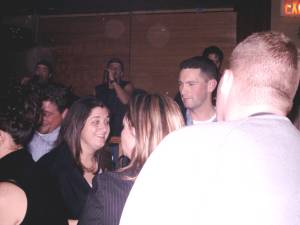 There was some cover band playing and then after a few sets, a dj would come on and play some tunes. The vibe fit every crowd. They played music from AC/DC all the way to ABC-123 from the Jackson 5. I did have a good time there. I have no compliants. The girl to guy ratio was pretty much even. So everyone was happy. I spent the majority of the night on the dancefloor to whatever music they played. My legs are still feeling it until now. I haven't been out dancing since I got here! Which is a big shock. Even when I moved to Miami, I already went to a club within weeks of living there.
Okay, a cK Story wouldn't be complete without some odd incident. As I was dancing on the dancefloor with my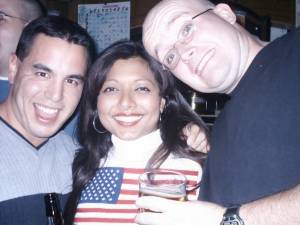 From left to right: Chad, my cuz Rosi and Keith

group, I suddenly felt this hand grasp my butt real hard. I instantly thought to myself, "Oh no.. not again..." ( Yes, this has happened before ) So I turn around to see who it was and it was this really cute blonde girl --- and a guy! Uh oh. The girl is smiling and so is the guy. She comes over to my ear and tells me that she would like a picture of me. So I went with it. Her friend took a picture as the girl posed with me. After the picture, her friend (the guy) tells me that she's not from here and wanted to take a picture of "people from New York". Well, I was flattered, but I am not from New York. I didn't tell them that and just let them have fun with their camera. The odd thing is that I didn't see them taking any pictures previous to mine. Oh well. I hope they have fun developing the film.

cK's Weekly Thought
One of the most popular questions that people ask me at my job at Costco is:

"Are you married?"

Now, I don't know what a married person "looks" like, but is there a label on my face that says I'm married? I'm only 24 and still single. I don't know if that is a good thing or bad thing. But for now, I am content. Another thing about my job is that I get to meet a lot of people. I get to see lots of little kids and parents and babies. After a while, it begins to grow on me. I work during the day seeing little kids and then come home and babysit my little cousins. I wonder what it will be like when I have my own children. I hope that I am a good parent. My parents did their job and brought me up without any instruction books, I'll have the luxury of being able to ask them for advice. I don't want to have kids too late, I want my children to grow up with my friend's kids too. Well, I'm not seriously thinking about having kids now, its just something that is on my mind lately.

The second most popular question that I am most asked is:

"Are you Jamaican?"

Well, unfortunately I'm not. But revealing my true ethnicity here would spoil the mystery, right?