November 1 - 24, 2003

Finally, cK Gets A Palm Pilot!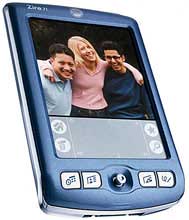 Palm Zire 71

It all started when I saw my cousin, Jazmine come to work with a new Palm Pilot she received recently as a gift. It was the Palm Zire 71. I was never really into the whole Palm Pilot thing, but I always thought that they were cool. What really caught my attention about this portable device is that its not only a Palm Organizer, but also an MP3 player, and had a camera in it too! Now, I've been looking for a slim digital camera for the longest time, and also an MP3 player as well. If I were to get this, it would be less to carry around and also probably work out cheaper, right? Well the Palm Zire 71 retails for $299.99. I searched all over ebay.com and the palm website to find the cheapest prices. Then after hearing a radio advertisement, I went to this site called Overstock.com. I found the same Palm Pilot for $159.99! The Palm is listed as "blemished". I didn't care...as long as it works! So I placed an order. Shipping only cost $2.95! Can you believe that?? So a week later a box arrives with a free gift included. The Palm Pilot is in amazing condition. I can't believe that its listed as a refurbishment. It works so good that I feel almost as if I got away with something! I had to go and test out my new toy. So with the recent nice temperatures in the weather, I decided to take a walk down Manhattan on a Friday night. I called up my friend, Tracy and we decided to meet up and walk around. I took the subway and surfaced at 42nd / 8th Ave at the Port Authority. The following are some of the pics I took:
Arriving at 42nd / 8th Ave

Walking through Times Square

mtv store
I was such a total tourist. Pointing and clicking almost everywhere, trying to capture whatever slice of the Friday night Times Square vibe I could. My friend Tracy was having a ball calling me a tourist. Well, I admit it, I still am a tourist. I think I can live in a place for years and still be a tourist. I just love to explore all that is around me.
Mr. Peanut!

Bicycle Stunt Guys in Park

Asylum Lounge
Tracy and I end up in the Village around NYU. She wanted to take me to a place called, ASYLUM. That sounds fitting for "CrazyKelvin". I wanted to see what she was so excited about. We arrive there and there is like a $2 cover charge. After Tracy took care of that, we walk in. We see the following sign:
That's right --- if you can read it, it says: "We Do Not Have A Cabaret License - No Dancing Allowed". I had to get a picture of that! Isn't that crazy? Well, I still went in anyways, and sure enough, I saw some people dancing to the eclectic mix of rock, hip hop, 80's and pop music. We didn't stay there too long. We just wanted to go for a walk and then go home. I had a Samuel Adams while Tracy had a Cosmopolitan. We drank our drinks and jetted outta there. Tracy went back her way... I went back on the subway. Which leads me to the next and final picture:
This lady playing the keyboard in the subway actually had a decent sized audience at 12am! I remember taking my walkman's headphones off just a bit so I can hear what exactly she was playing. I think it was alright. Anyways.. these pics were slices of New York. There will be lots more in the coming weeks as I explore more!

Don't forget to check out Overstock.com. I guarantee you will find an amazing deal on something. Anything -- even bed sheets!! And shipping is only $2.95!!
---
HAPPY BIRTHDAY To My Brother aka "THE TAZEMASTER"
cK wants to wish a very special birthday out to the TAZEMASTER who is celebrating his 24th birthday. The Tazemaster was one of the original members of the nWo Toronto gang and is currently on location in Florida. Have a great birthday, and many more to come!
---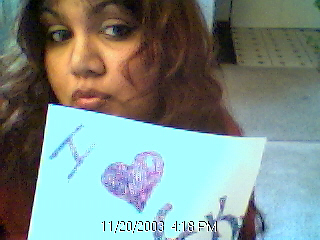 Anni - Brampton, Ontario --- Another cK Fan!
Send In Your CK Fan Mail!
I'm calling everyone who has got a webcam or a digital camera to send in your cK Fan Signs! Kinda like what you see in the picture to the right. Anni, a friend from Toronto is among the first to show her support of CrazyKelvin. Be as creative as you like. Pretty much anything goes as long as its *family friendly*. Thank you all so much for your support and for taking the time to read my site. You don't even have to show your face with your fan signs... it can be totally blank. The main message is your contribution to the "I LUV CK" campaign. If you have a picture, please send it to here.
If you have any questions or comments, please feel free to email me at: crazykelvin@hotmail.com