SHINOBI's BACK!!! - - - Have you seen the latest commercial for the PS2 version of the hit 80's game from SEGA? This is one of the biggest catchphrases of this week. I can't get enough of that kid in the tv commercial.
We Are Doomed
I recently received the following photo from my friend, Dexter in Oakville, Ontario. We all are aware that the current U.S. President, George W. Bush isn't exactly the sharpest knife in the drawer, but for goodness sakes...does he really have to keep giving us reasons to believe that? Look what he's done now...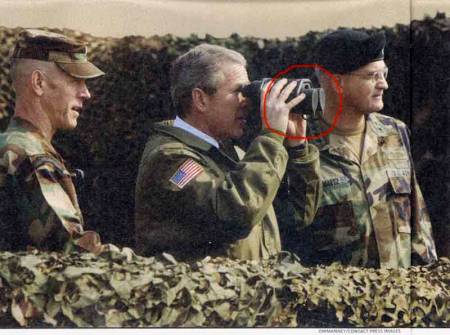 cK Goes To Madison Square Gardens!
On November 17, 2002, I was one of the lucky ones to obtain tickets to the sold-out WWE (formerly WWF) event being held at MSG. As you know, I'm trying to do anything and everything I can here in New York, and since New York Rangers and New York Knicks tickets are next to impossible to get, I tried seeing the next best thing at the world's most famous arena. Which was the WWE's Survivor Series. Along with me was Tony & Serena and also coming with us was Mike aka "BIG BLACK".
The seats we got were in section 343, row J. We didn't know how far we'd be up, but we knew that for $75, these seats better be good! Well, when we got to our seats, we were more than pleased. It was up there on the 300 level, but MSG is a round arena making our view pretty good! Plus, our row "J" was along the wall allowing nobody to be sitting behind us. There was even enough space behind our seats to rest our jackets and cameras. We all got excited as the event was commencing at 7:45pm and went live to air on Pay Per View television at 8pm. One thing about going to a wrestling event is that it brings out all kinds of people. Now, I'm not talking about fat people and little people, I mean people from all kinds of incomes and intelligence levels. People came to the event dressed in costumes of their favourite wrestlers -- some who haven't even been in wrestling for years. I guess its okay to do it, you just can't help to laugh a little when you see it. If my digital camera was working properly that night, I'd have more than enough examples to display.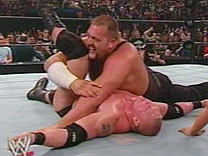 The Big Show pins Brock Lesnar

There were many big "surprises" of the night and all were very entertaining. One of the big matches was between the WWE Champion (of UPN's Smackdown) Brock Lesnar versus The Big Show. I'll let you go to the WWE website to read up the profiles on these guys. But basically, Brock Lesnar is a 25 year old beast of a man. He stands about 6 feet 5 inches and weighs about 275 pounds. He is the latest sensation since the ROCK has been absent filming movies. The BIG SHOW is as big as they come, standing about 7 feet 4 inches and weighing easily over 500 pounds, he towers over anyone who dares to enter the ring with him. The match didn't go over 6 minutes but ended with a huge twist, where Brock Lesnar's manager assisted the Big Show to win and walk away the new champion.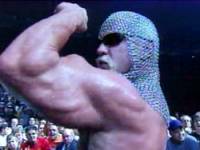 Big Poppa Pump Returns

Another big surprise was the appearance of Scott Steiner. Also known as: The Genetic Freak or Big Poppa Pump or even Big Bad Booty Daddy. Last seen almost 2 years ago, Scott Steiner was recently signed to the WWE after long negotiations. Underneath the obvious steroid enhanced body lies an actually really good wrestler that was at the top of his game many years ago. Since then, he has totally revamped his image and focused on adding more bulk to his frame. Certainly very entertaining to watch, Steiner made his appearance interupting 2 other wrestlers who were bashing the intelligence of New Yorkers in the ring.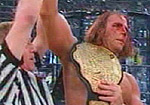 HBK Is Victorious

The main event of the night was decided in an 12 tonne steel cage dubbed the "Elimination Chamber". The match consists of 6 wrestlers all fighting to decide who will be the WWE Champion (of TNN's RAW). The wrestlers were: Rob Van Dam, Booker T, Kane, Shawn Micheals, Chris Jericho, and Triple H. The idea was that in this cage, 4 of the wrestlers were locked in seperate cages while 2 of them fought it out. After 2 or 5 minutes, one of the cages will be randomly selected to open freeing another wrestler to add to the fight. The match would continue until everyone was pinned except one, and that one remaining would walk out the champion. Sounds easy? It was. The match was very entertaining with a lot of blood and visually cringing moments. Booker T, the only black person in the match at one time had the crowd chanting, "FREE BOOKER T!!" while he was locked up in his cage awaiting his turn. In the end, Shawn Micheals aka "the Heart Break Kid", walked out the champion.

This was my second wrestling event since Wrestlemania 18 in Toronto earlier this year in March. That was held at the SkyDome, a magnificent facility for any event. My impression of Madison Square Gardens was that it is a good arena. I think there can't be any real bad seat in the place, you can see pretty much everything wherever you are sitting. I found the audio system to be pretty bad, it wasn't as loud as I anticipated it to be. I tried out the food at the concession stand. I bought onion rings, 2 orders of large fries, 2 large cokes which amounted up to $19.25. The girl, Fatina who got my food for me was real cute and definitely hooked me up. The food to me was surprisingly good. The fries were salted just right and the onion rings were actually "ONION" rings! I was impressed. The only bad thing that I didn't bother to try was the beer. I think they only were serving Bud or Bud Light on draft. I can't be bothered with watered down American beer. They were charging $4.75 for a cup. I passed on that.

cK's Weekly Thought
Lately I was asking, Mike aka "BIG BLACK" about his hometown, The Bronx. I was wondering why it was called "the" Bronx instead of just Bronx. Mike gave me a little history lesson. Apparently, "the Bronx" all used to be farmland owned by "The Bronx Family". He also told me that the Bronx is all made up of swamp, and its sinking every year. The Bronx is the only part of greater New York's five boroughs that is actually on the continental United States. All the others: Queens, Brooklyn, Staten Island and Manhattan are on islands! Isn't that cool to know? Like Mike said, "You have to know about where you come from."

Speaking about where you are coming from, what is going on over there in Toronto!?!? Why is there so much shooting and killing going on? I thought that happens more during the warmer months when people had nothing else better to do. Gosh, please stop the violence! Or maybe the Toronto gangs are trying to make their quotas before the year ends. Whatever the deal is, just keep the violence off the streets, and keep them in our movies and video games where they belong.

Remember in the 80's when someone remade the 60's song, "Locomotion"? Well, that someone was Kylie Minogue. The same girl whose latest album, "Fever" has already had 3 chart topping hits. Her latest one is called, "Come Into My World". Not only is it another catchy tune like her previous songs, but the video is definitely something to talk about. The video features Kylie walking around somewhere in London and by the end of the video, there are 5 Kylie's walking around. It's something that you have to see for yourself. Pretty cool.

A special shout out to my good friend, L.A. who is out there in Tennesee. Both of us had our own adventures living in Miami and are now starting our own lives elsewhere. Speaking of Miami, what do I miss about it most? Well asides from the amazing beaches and nightlife, I guess I miss my friends the most. Going over to Angie and Jolene's house just to be "BORED" was fun enough for me. Or chillin with Marlon and going to Monty's. Yep.. good times.. New York is quickly becoming a memorable place in the few weeks I've been here. So much to explore, and yet I haven't even started! I still have yet to go to a REAL nightclub!! Hopefully I can do that before the year ends. Which brings another question to mind... where will I spend this new year's eve? Last year I was supposed to spend it at a hotel party in Miami, but was bed-stricken in Orlando. Should I stick around here and go to Times Square, or should I return home to Toronto and bring in the new year at Nathan Philips Square? I guess I'll have to wait and see!