It's time again for my world famous weekly thought. The place where I tell you everything that is going on in my head and stuff thats happening with me.
cK in BERMUDA!


I was very priviledged recently to head down to Bermuda and visit the "Jewel of the Atlantic". I stayed with my friend, Selica and her wonderful family. They treated me like one of their own and definitely showed me a great time.
On my way to Bermuda, I flew with American Airlines. They claim that now they have MORE ROOM in coach. I have flown with AA before and its always a horrible experience flying with them. I got a window seat, but was unfortunate to have the guy next to me fall asleep on my shoulder. The seat was so small and tight, that the 2 hour trip was very uncomfortable. I couldn't wait to land.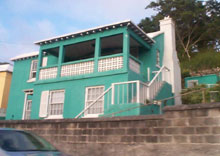 Some Bermuda Blue House
Upon arriving, I was greeted by my friend, Selica at the airport. She had the afternoon off, so she spent it touring me through downtown Hamilton. I was fascinated at all the old architecture. It definitely had a lot of British influence.
I chilled out that night enjoying my little ocean view room. I went outside and relaxed on the hammock gazing at the jewelled night sky, listening to tree frogs sing and the ocean waves crash beneath me. I waited until I saw a shooting star, and of course I eventually did!
The next day I took the pink Bermuda bus into Hamilton and toured around for myself. It wasn't long before my little playtime ran out and I met up with Selica and her fiancee, Trevor for lunch. We went to this Chinese/Thai restaurant called Chopsticks. The food was very good, and like everything in Bermuda, quite steeply priced.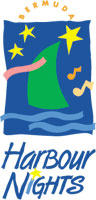 Every Wednesday night, for a certain season, the city of Hamilton has a little touristy thing called, Harbour Nights. They throw a little street party where there is lots of food, song and dance with a live band to entertain the crowd of people who are visiting from off of the cruise ship that has docked. So naturally, I hear FREE PARTY, FOOD?? I'm there!! It was pretty good. I had fun dancing to the basic calypso songs they played. (Dollar Wine, Hot Hot Hot) There were even some tourists who I found taking pictures of ME when I was dancing. Later, they would come up to me and say how much they enjoyed watching me. Since when was I part of the act?!?!
Later that evening, we got home in time to catch Rueben win American Idol. The whole season I didn't watch, but that particular night I did. It was cool to see the big guy win.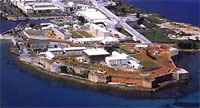 Bermuda Royal Naval Dockyards
The next day was spent visiting the Bermuda Royal Naval Dockyards. Wow! That was a trip! This place is like a hugh military base from back in the day. It was one of the main defence points of the island that dished out a lot of heat in time of war. Besides all the island history stuff, there was a Dolphin Quest part where you can swim with the dolphins! That was too cool for me to participate on my own. Maybe next time.
In the daytime of Friday, I wound up going to the National Gallery of Bermuda to see the photography work of Lee Miller. It was very fascinating. I had a very cool experience viewing her stuff. Your eyes are opened to the still moments that she captured during World War II. On my way out, this really nice lady by the name of Joice would not let me leave. She kept talking to me and trying invite me to some other art premieres! Man, if I only had more time! I couldn't go with her because I was already going out with Selica to see the Matrix Reloaded. So I had to pass.
So yes, I went to see that movie. I found it blah. I mean it was entertaining and all, but I think it was wayyy overhyped. I did however, enjoy the car chase scene. That was actually quite original. Everything else just seemed so fake.
After the movie, Selica, Selina, Trevor and I are tired, but still want to catch a vibe or two at a nightclub. So they take me to a place called "Spring Garden". I let the outside appearance fool me. It seemed like a small and shady establishment. But once I got inside, I was totally wrong. The place was packed and was an open air bar/nightclub. They were jamming some reggae dancehall tunes and the crowd was bouncing. I think it was just my luck that when we all arrived, the dj flipped the set and put on 50 Cent! Blast!! I could hear him anywhere in the U.S.!!! I just wanted some reggae vibes!!!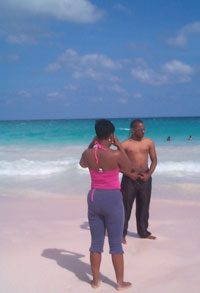 cK Photo Shoot, Horseshoe Beach
Saturday was spent at Horseshoe Beach where I finally got a sample of the world famous pink sand.The water is crystal clear. Truly tropical. I met some really cool people there as well. One guy I met was now a resident Bermudian police officer that grew up in Jane/Finch area of Toronto! It was soo cool to meet another fellow Canadian. The other guy who I met thought that I was an entertainer. (I think it was the hair) The only problem that day was that a little rain rolled in and cooled the water down, so it wasn't up to real swimming conditions for me. This is the actual official day that resident Bermudians go for their first swim of the summer. (The Bermuda Day weekend) I stayed about an hour before we retreated back to the house so I could get ready for the evening plans.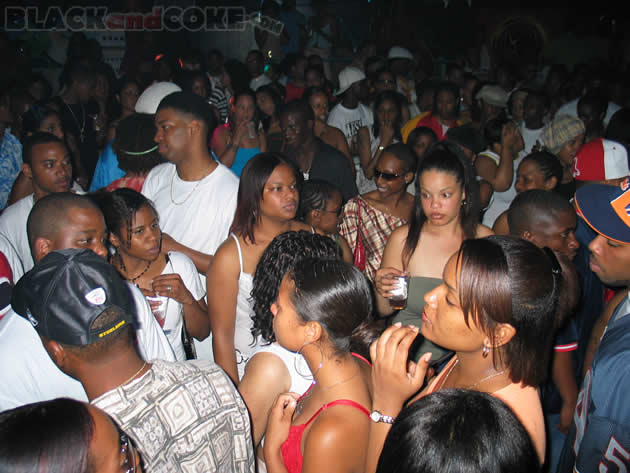 Club 40, Hamilton, Bermuda

Saturday night, I went out with Sabrina and Kenrick. They first took me to a place called the Captain's Lounge. Apparently, the drinks are cheaper there and its wise to get loaded here rather than when you get to your next destination. And, I also learned that you don't ask for a RUM and COKE, you ask for a BLACK and COKE? Why so? Well the rum in Bermuda is called Black Seal. So you are asking for a Black Seal mixed with Coke. I do admit, its quite strong. So after getting our buzz started from the Captain's Lounge, Sabrina and Kenrick take me to a place called Club 40 on Front Street in Hamilton. When we got in there around 12am, the place was dead. There was like 20 people in there. Then all of a sudden, about 12:30am maybe 1am, there was this huge mass of people that just came in at once. The majority of them being a marching band flown in from Norfolk, VA for the Bermuda Day festivities on Monday. The place was happening and those step marching guys really put on a show. I noticed that some of the guys were wearing GAMMA GAMMA PSI on their shirts. I could be wrong, but that's what I saw in the club lights. I had an okay time there, I just wish that the music wasn't all "American".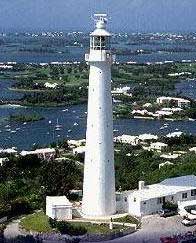 Gibbs Hill Lighthouse
Sunday I go to Selica's church. That was quite different. There was not more than 6 of us in the sanctuary. It was very intimate and I think the smallest crowd I've ever been with in a church. That was really cool. After church, I went to see Aunty Jenn and Uncle Bill. I stayed with them to watch the cricket match playing on television. It was the West Indies team vs. Australia. It was very exciting and I watched until the 50th over. Then Aunty Jenn and Uncle Bill took me for a drive. The main destination was to visit the Bermuda Aqaurium and Museum. When we got there, I saw sooo many types of exotic fish and animals that I was breathtaken. The amazing colours and shapes, you wonder how all of these creatures were ever created! I had a real good time with Aunty Jenn. Uncle Bill then took us for a drive to a point on the edge of St. Catherine's I think, where at exactly 4:30pm every Sunday, the cruise ship is passing through a tight little channel. Its a majestic sight because you are right beside the enormous boat as it cruising out to the Atlantic. Uncle Bill also took me to the Gibb's Hill Lighthouse. Its like $2.50 to go in, but once you get a view from the top, you can see the ENTIRE ISLAND. Its crazy, but amazing. I totally liked it.
There were so many things that I had to make a list of things-to-do-next when I return with Aunty Jenn and Uncle Bill. They were so much fun!
The next day was MONDAY... the actual BERMUDA DAY. I woke up early in the morning with Selica's mom so we could catch the runners in the Bermuda Day Marathon. Its an annual tradition that takes place every Bermuda Day morning. After the marathon, then the annual parade commences. Today was the only day that it rained heavily, therefore making the day's festivities vulnerable to being cancelled. But, they made the show go out. People prepare all year for it, so it would be real tragic to cancel it just because of some measley rain!
I had to go out to the parade. Of course I'd be comparing it to the Toronto Carnival, or the Miami Carnival, but I knew it wasn't going to be on such a scale only because Bermuda isn't that much populated. I saw about 2 floats and about 2 marching bands out of the 12 floats and bands. All of them performing in the rain as spectators looked on under umbrellas along the sidewalks. I took a lot of photos and definitely had fun there too.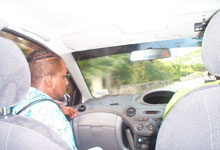 cK in car en route to St. George's
Tuesday was my last day there in Bermuda, so I had to do something cool. I ended up going to the town of St. George's where they have their "Harbour Nights" on the Tuesdays. (how convenient!) So Selica, her mom and I all went together to listen to a live band and eat food. The night was beautiful. There was a large number of people present there. St. George's is an old world city. You can see the history there in the town square area. The architechture of the buildings and the cobblestone sidewalks emulate old British rule. Speaking of, there was a part of the night where they demonstrate what the people of St. George's used to do back in the day when a citizen does an evil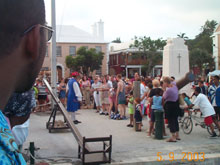 Onlooking a dunking in St. George's

deed. (such as gossiping, being drunk in public, etc) They actually sit a person in like a see-saw chair, and dunk them in the water until the crowd says stop! Isn't that crazy?? I don't really know what it proves, but I know that if I was mad, I'd cool off real fast in that water!! (hahahaha)

Anyways, my time spent in Bermuda was too little. Even though I did so much, it still wasn't enough. In 7 days, I was able to do a lot, but there's still more to do.

I can't wait until the next trip! Thanks everyone who made my visit special. Make sure you clear some space for me again... cK is definitely coming back!!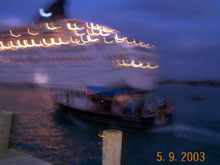 Cruise Ship, St. George's