Welcome to 2003 and my weekly thought. Where I have a lot to say about pop culture and state my world famous opinion on life.
Where Do I Start!!?
After missing St. Patrick's Day festivities, I really had to ask myself, "Do I want to drink GREEN Beer?" Sure! Why not? Everyone else is doing it!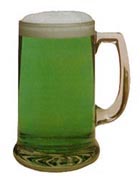 I don't think that I have ever had the priviledge to partake in this one year event. I have had the McDonald's green milkshake in my time, but not green beer. I think if I did make it out to a local pub here, I would have just drank pints of Guiness Extra Stout.
cK...In Broadway!?!??
It definitely is a possibility. I was called back for a casting call in an off-broadway play here in Manhattan. I was totally shocked! Me? On Broadway? Nah!!! Well I went in for my interview and met some real cool people. I met with the director and the writers of the play. The part was still in the works, but they kinda knew what they were looking for. The group asked me to improvise a skit where I would just be coming home from a long day and talking on the phone. "Just be yourself..." they said. So I was. By the end of it, they were clapping and telling me that I should have my own television show. I told them that I'm not sure I could be fitting for the part, but if they have other things in the future, keep me in mind. They were real cool and gave me a great experience.
Walking In NYC
After my off-broadway audition, I took a nice walk back through the NYC streets. Mainly around the Penn Station / 34th Street area. On a beautiful Tuesday afternoon, I was overwhelmed by the amount of people that were out walking that day. Tourists upon tourists filled the streets taking pictures and getting on those tour buses to see more of the Big Apple. Of course I'm always finding myself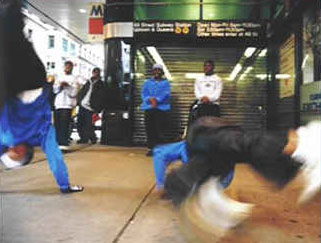 Breakdancers In NYC Subway

looking up at the tall buildings as if I just came in from the midwest. New York is such a fascinating place. I was a little hungry and I stopped in a Burger King to get a quick bite off their $0.99 menu. The line was ridiculous and there was no place to sit and eat. So I walked out of there and found McDonald's. As much as I hate going there, I still find myself submitting to the Golden Arches just to buy something off their tempting dollar value menu. I found comfortable seating in there and relaxed a little. After eating, I had to return to the Bronx for work. So as I walked into the NYC subway system, I saw a crowd of people gathering. I came to see what all the interest was about. Tourists and regular subway commuters were standing around a group of 5 young guys who were breakdancing to a boom box. I was a little skeptical at first, but as I was watched, these guys were fantastic! I didn't get their names or where their next appearance was going to be, but I was very impressed.

CrazyKelvin and Evil E. Find Secret Restaurant!
It was Friday night where my co-worker Eric and I were looking for some place to drink after a hard week. We usually get something right around the Bronx area, but it slipped our minds as we already got on the subway. When we arrived at Jamaica Station, Eric would take a dollar cab home while I would get on the Long Island Rail Road. The area used to have some nice bars, but they apparently closed down. So Eric and I decide to walk a little to see if we can find a bar, ANY bar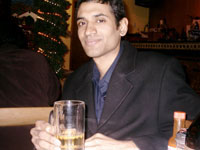 to get a drink. As we were walking down Sutphin, we heard some music and seen a lot of cars parked near this little restaurant that was tucked away behind some buildings. Eric and I decided to check it out. The name of the place was called Rincon Salvadoreno. As we walked in, we noticed it to be a lively family restaurant serving food from El Salvador. The lady at the front told us to pick any table to sit at. We sat down in picnic like tables and thought of what to get. The waitress (a fine looking woman from El Salvador) recommended that we try the Regia Extra Beer. Its big enough for both Eric and I to have 2 drinks. So we ordered one of them. Wow! It was great tasting and smooth. Another cK Recommendation!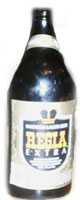 As we were drinking and chuckling about life, there was a guy singing songs the whole time.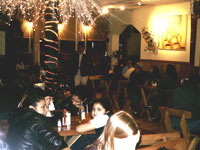 You know, as if you were on a nice romantic date with a person, you would pay this guy a little something to come and serenade at your table while you drank fine wine? Yep, this place had that too! The atmosphere, the people and even the cuisine that we observed from other tables was good. As much as we wanted to get another Regia and order up something to eat, we couldn't. We had to get home. So we decided we'd come back every Friday when leaving work to get a drink here and talk.
SHELLEY-BEAR's Visit to Trinidad Carnival
My dear friend, Shelley went to this year's Trinidad Carnival earlier this month. I was supposed to go along with her and jam, BUT I had 2 job interviews that week. I couldn't risk it. So I didn't go. Of course I regret it, but oh well, such is life. Anyways, Shelley sent me some pics that I can share of her excursion to one of the wildest parties on Earth.


| | |
| --- | --- |
| | |
| Shelley Swimming | Shelley With Some Guys |
cK's Best Rated BBQ in New York City!
It has been quite a while since I was out with my friend, Bronwyn. Her and I haven't talked in weeks since her phone was broken and we lost communication. Anyways, she contacted me recently and vowed to make it up to me by taking me out to dinner. So, who was I to argue. She invited me to meet her at this place called Virgil's in Times Square.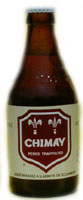 She met me at the bar and treated me to this beer called, Chimay. Now the first thing that caught me offguard was that the bartender opened this little bottle and poured the Chimay beer into a wine glass. C'mon!!! A WINE GLASS?!?! Why?? Well, the beer itself is unlike the Budweiser's and Miller's that many are used to here. Chimay is a Belgian beer that is brewed by monks. That's right, MONKS! So there is a different process their beer goes through. Even on the Chimay Bottle label it instructs you not to serve their beer in a beer glass, but a fine wine glass. I guess the Belgians are used to serving this beer in goblet style glasses, and want to keep the tradition. Okay, well after I drink 2 of those, we go and order some food. Bron recommends that I get the "PIG OUT" order where we will have so much to eat and not finish. Sounds like my kinda (free) meal! So that's what we order. Prior to that, we get some salads. Now, I tell you this. On the record, I have NEVER had a better salad than what I ate that night at Virgil's BBQ. It was unbelievable. Some people just rush to conclusions that some food tastes amazing only because they are starving and haven't eaten in days, but I assure you, I was not too hungry and I was just awaiting my dinner. This salad had a real sweet taste to it and was highlighted with pecans. PECANS! I'll go back to this place JUST for the salad!! Well, the meal came up and it was huge. I managed to eat a good percentage of it, but I didn't finish it. I was full. After, Bron treated me to an ice cream and some FRAMBRIOSE. This was a raspberry wine that was great to have after dinner. All in all, I enjoyed the evening. I totally recommend this restaurant too.

Are There Any Places That cK DOESN'T Recommend??
I know that many of you who read with this probably think that everywhere that cK goes, he enjoys it and recommends it. Well, thats definitely NOT the case. I did go to another place here in the Bronx called, Crystal del Mar. I do NOT recommend this place to anyone. I did go there one time with a friend. We had a Corona and a Margarita. I had a good time because I was there only to chill with my friend. This time, I go there with Eric after work, and we did get good service at the very beginning from this very energetic Dominican girl. She brought us 2 beers. As Eric and I chilled out and noticed the plethora of women coming in around 9pm, our waitress grabbed her jacket and left abruptedly telling us that she'd be back in a few minutes. She actually told us to wait for her. So like fools, we did. We finished our first round of beers and waited for her to come back so we could get a second round. The place was empty except for these girls that seemed to be the entertainment for the evening once 10 o' clock hit. They were all going to the upstairs lounge to do their hair, makeup, etc. Eric and I waited for about 30 to 45 minutes for our waitress to return. We could have left and nobody would have noticed. But we stuck around. Like fools, we sat there. We complained to ourselves and then one of the ladies sitting nearby who looked like she was another customer got up and served us two more beers. That was weird. We were getting hungry so we told the lady at the same time that we'd like something to go with our beers. She told us about a roast pork and fried plaintain appitizer. We ordered one of those. ANOTHER 45 minutes passed as we waited for our appitizer. This was ridiculous. We were furious the lax and horrible service that we had. For some reason, this restaurant does not look like its even in the restaurant business. Honestly. Something was shady about that place but we didn't know what it was. Anyways, we eventually received our appitizer, it was almost good enough for us to forget about how long we waited for it. But it wasn't. I totally DO NOT want anyone to go here unless you want to experience the horrible service yourself. This restaurant is located at 170th and Jerome Avenue in the Bronx.

Bad Luck Comes In Three's...
I remember the early morning when my mom called me. I already knew it was bad news because she usually talks to me in the afternoon. The only anticipation was wondering who is was about. She called to inform me that my Uncle Charlie in Guyana had passed away due to a stroke. I didn't know what to say. I was in shock, as we always are when we hear that someone dies. I knew my Uncle Charlie a little. When I was about 2 I remember him having this huge afro and lived near a Kentucky Fried Chicken. His time in Canada was short lived and he returned to Guyana and had a family. I met him one more time in 1994 where I got to meet that family. My cousins and my aunt. My dad was the only one of us to fly down there for a week for the funeral arrangements. His other brother, (another uncle of mine) died of a heart attack 3 years ago. Death always seems to be that one thing that I can't ever figure out. It comes without warning and then leaves everyone behind in disarray. I heard once that death is nature's way of telling us to slow down. WHAT? If anything, it makes me think my time on earth is running out and I should be running around trying to experience more before its too late! While my dad was in Guyana for a week to handle the funeral arrangements, I get a call on the following Wednesday from my friend, Kristina in Connecticut. She called me in the morning to inform me that our friend, Jason was killed in a car accident. I was once again in shock. Jason was a 27 year old guy from New Milford, Connecticut that was one of the people that really welcomed me when I visited there. The last time I saw him in December, he got a brand new Mitsubishi Eclipse Spyder (the convertible one). Little did we all know the future that car had for him.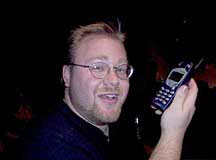 Jason Rothe 1975-2003

Jason was such a cool person. I am very honoured to have met him and wish that it didn't have to be like this. I remember that day of the funeral, it rained the hardest I've ever seen in the tri-state area. Thunderstorms and all. Truly, a good man was taken from us way too early. There was a story in the local paper about him here:



By Joe Hurley
THE NEWS-TIMES
2003-03-18

Jason Rothe of New Milford was killed Sunday when the car he was driving hit a utility pole on Route 202 in Litchfield. NEW MILFORD — When Jason Rothe died Sunday, a piece of New Milford — a bit of the town's passion — died with him. Whether he was rooting for the New Haven Ravens, helping his family or befriending a child in need, Rothe lived passionately, his sister, Laurie Swett, said Monday.

The 27-year-old New Milford High School graduate died early Sunday after his car hit a utility pole on Route 202 in Litchfield.

"It's completely devastating to us. He was the best brother anybody could ask for," Swett said. "His whole life revolved around his family."

Lately, that family included Brooke Brogis, a young girl being raised by a single mother who was a co-worker of Rothe's. Although he was not related to the little girl, Rothe took it upon himself to make sure she would not miss out on life's opportunities.

"He was always there for her. It was funny. He had this nice sports car with a child's seat in the back," said friend Chris Peterson.

Laurie said Rothe was thrilled when he was recently asked to be Brooke's godfather.

Rothe died before that happened, but now his entire family will become Brooke's godparents. He leaves his mother, Donna, his father, Harry, and sisters Amy and Laurie. They have asked that in lieu of flowers, donations be made to the Brook M. Brogis Scholarship Fund.

Rothe's other passion was baseball — minor league baseball. He was a devoted New Haven Ravens fan. He and Peterson visited more than 20 minor league ball parks around the nation.

"We started with the Ravens, then we wanted to see the different teams and the different leagues," Peterson said.

Rothe lived on Summit Drive in New Milford and worked at Cyberian Outpost in Kent. His sister, Laurie, also works there. A decade ago they both worked at the IGA on East Street, as did their mother.

Tom Mitchell of M&B IGA recalls them as a tightknit family and said Rothe would often help his mother.

"They were a good family — a hard-working family. Everyone looked out for each other," he said.

Rothe would have taken that as the highest compliment, his sister said. He was devoted to the family and proud of his work ethic.

Despite Rothe's sometimes biting wit, he had plenty of friends.

On Sunday, more than two dozen of his companions came to see his family and offer their sympathy.

"It was very reassuring. It was the best medicine we could have had," Swett said.

Police said Rothe was driving south near Looking Glass Hill Road when his car went off the road.

The accident remained under investigation Monday, and memorial arrangements were incomplete.