Welcome to 2003 and my weekly thought. Where I have a lot to say about pop culture and state my world famous opinion on life.
JANETPLANET Visits cK!!!
This past weekend, cK was graced with the presence of his friend, "JP" which is short for JanetPlanet.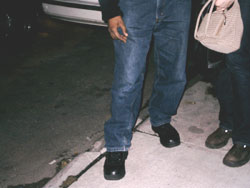 cK and JP - picture by cK's little cousins

She drove in Friday night and after getting lost in the Bronx, I eventually drove up and met her at a gas station there. We started off the night going for some sour apple martini's at a place that my friend, Eric and I went the previous night called, The Parrot. It's on Liberty Avenue and the bartender did a real nice job. We were impressed. It was my first time drinking one, and it was something. Right after that, we headed out to Strike. It's a combination nightclub, bowling alley and indoor go-kart track with a sushi bar. We had a blast drinking sour apple and chocolate martini's. After that, we bowled the night away drinking Killian's beer. We stayed there until the place closed at 4am! Sure both of our bowling scores combined didn't even add up to 100, but we had a blast! That was a night.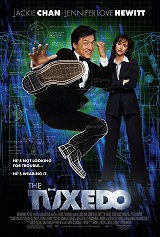 The next day, we wanted to see a movie and decided that it was best if I rented one. So I went to Hollywood Video and picked up "THE TUXEDO" starring Jackie Chan and Jennifer Love Hewitt. I figured that my little cousins would enjoy that movie too. So that's what we watched. I really wasn't expecting much from it. But it was actually quite entertaining! I'll tell you this, you won't look the same way at drinking bottled water after seeing this movie.

After that, JP and I took the Long Island Rail Road and headed into Manhattan. I took her to a little restaurant called "Panchitos" in the Village nearby to W. 4th Street Station. It's a Mexican place that's a very nice place to chill. Total cK recommendation. I was brought to this place by my cousin Serena and her finacee, Tony. Anyways, we drank sangria, and munched on some neat food. After that, we headed to Times Square and took tonnes of pics like the tourists that we are. We roamed around and as we were walking, we were passing this little theatre. We saw a line of people behind a gate that looked like they just got out of a show. They had some programs in their hands along with pens and appeared to be waiting for someone. As we stopped walking, we found out it was a show starring Rosie Perez (White Men Can't Jump) and Joe Pantoliano (The Sopranos). We figured that the people there were awaiting an autograph session. Soon, Rosie Perez comes out with some entourage and starts signing programs and taking pictures with people. I thought that this was great! A real live "celebrity" in front of me. I could get a cool cK Photo Op! So I told JP to load the batteries in my camera quickly. By the time I was getting a pen ready for Rosie to sign a piece of paper I had, JP dropped the batteries! So now I had to forget the autograph and pick up the batteries while JP panicked. When we were ready, we heard one of Rosie's entourage or someone say, "Okay, thanks everyone!" as he ushered RosIe away. We missed the photo op!! Oh well. Who says that Rosie Perez is a star anyways?

So after that, JP and I walk around a little more until we decide to see a movie. We went by the AMC in Times Sqaure. We saw that the movie "OLD SCHOOL" starring Will Ferrill was playing at 11:45pm. We went in and got two tickets. Going into the theatre, we discovered that there were no seats. We requested to see the next show that was at 12:45am. In the meantime, we went to the TIMES SQ CAFE that was located in the theatre. It was a real snazzy bar/cafe. It closed at 12 but the bar was still open! That meant some MORE martini's for us! We met the bartender there who was pretty cool. His name was, Dave. We told him to fix us up something good. He made us two PEACH Martini's. He did it real nice. They were superb! Shortly after we decided to get an early start to get some prime seats so we wouldn't end up requesting an even LATER show. When we got in the theatre, we got the two centre top row seats. Perfect!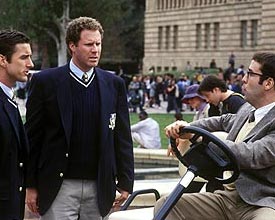 Luke Wilson and Will Ferrill in "Old School"

So now we get to see the movie, "Old School". Man.. I tell you that this has got to be one of the funniest movies I have EVER seen!!! I didn't (again) expect too laugh this hard, but I should have known better once Will Ferrill is in the credits. The movie is all about guys in their 30's who start a fraternity in order to recapture their days of early 20s. The rest of the people in the theatre were literally CRYING from laughing so hard. I couldn't contain myself either. Its just too bad this wasn't one of the movies I got to see with N8 DOGG like I usually do. Maybe I'll see the new Chris Rock/Bernie Mac movie, "Head Of State" with him.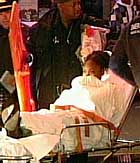 8 people wounded by gunfire,
2 stabbed in Times Square Arcade

So after the movie, we exit the theatre and right on the street we see a whole commotion happening. People fighting and blood and all that kinda stuff. Then police cars upon police cars roll up into the scene. There were cops on mounted horses and patty wagons arriving as if it were a riot. Apparently something happened directly across the street at the video arcade. You can read the full story here, but from what I saw was mad crazy. It pretty much looked like the cops were having a field day just loading anyone they saw that happened to be in the area into patty wagons to be taken away. There were so many cops there you thought that Bin Laden was dancing up in the club or something! They blocked the whole area off so no cars or any sort of traffic could pass through. JP was very interested into what was going on and wanted a closer look. I had to literally pull her so she could leave the scene. I saw the mounted police coming our way and I had flashbacks of last week!!! I wanted to high-tail it outta there before they picked me up! So we bounced!! We caught made it back to Penn Station and got on the next train back to Long Island.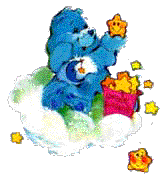 The next day, JP had to go. But the silly girl did something so sweet that I had to mention it here. Before she left, JP gave me a little Bedtime Bear. A few weeks prior to her coming down, she asked me if I sleep with any little stuffed animals. Of course I told her I don't, but I did mention that if there was one, it would be one of the Care Bears, and Bedtime Bear is the one I would sleep with.

I had a great time with JP and I hope to see her again soon!! JanetPlanet ROCKS!!

Pryncessa and Her Drag Queen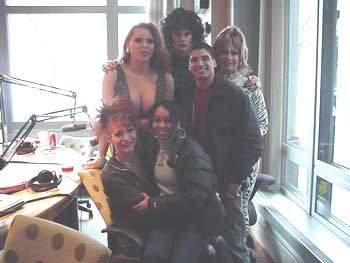 Can You Pick Out Who Is Dressed in Drag?

CrazyKelvin's Indianapolis Affiliate, Pryncessa was recently involved with the local radio station there, 93.1FM's Drag Queen Contest. Apparently, her boyfriend had to dress up in drag for the whole day and at the end of the night, they would go to a all male review bar and sing, while in drag. Pryncessa's boyfriend didn't win the $500.00 cash prize that was offered. But I guess it was an experience they won't forget. (note: Please don't send me any drag pics of yourself)

The NEW World Trade Centers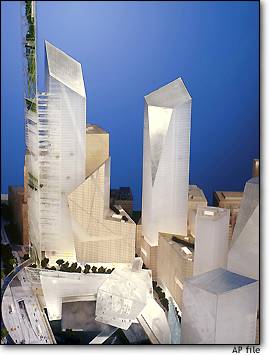 NEW YORK, Feb. 27 — An urban complex of stylish, jagged buildings accented with a 1,776-foot spire designed by architect Daniel Libeskind will be the redevelopment template for the World Trade Center site. The spire is planned to be taller than the former WTC towers, which briefly stood as the world's tallest at 1,350 feet, and also would surpass Malaysia's 1,483-foot Petronas Twin Towers, the tallest buildings in the world.


Okay, I have been wanting to talk about this story for weeks. They really are going to build a BIGGER World Trade Center! Is it an ego thing? Destroy us and we'll keep building again? I don't know. What should they do with the World Trade Center area anyways? Its prime Manhattan property, but it has the blood stains of over 3000 people. Maybe its ludricrous to build bigger this time around. If they just built a smaller building, whose to say that it wouldn't get bombed from the ground? Or a truck full of nitroglycerine was to drive into it? I guess its a noble thing that New York is rebuilding back the WTC, but they have to make sure that what happened to the previous one will never happen again.