Last Friday I was one of the many people who parked near the Orlando International Airport to see the President's plane, Air Force One, take off back to Washington.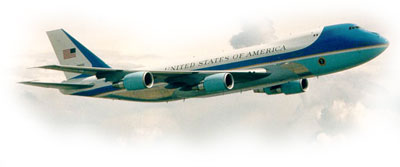 President Bush was in Orlando, Florida just for the day assisting his brother, Jeb campaigning for re-election of Florida Governer. My family and I parked up by the airport and watched Air Force One approach the runway and accumulate speed necessary for takeoff. We all watched in awe as the same plane that President Clinton and President Kennedy flew in soared directly above us. Everyone who was there for that brief moment will never forget that experience.
Southwest Airlines is now making it mandatory that "plus size" people who occupy more than one seat must pay double fare. Gadzooks! Originally, if an extra seat was available and the plane wasn't full, then a "plus size" passenger could be put into 2 two seats comfortably and pay only for one seat. Obviously this is going to be surrounded by a lot of controversy.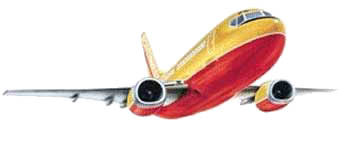 I personally think that it is kinda wrong.. but then you have to look at it from the airline industry. They have lost lots of money and are trying to figure out ways to survive. Southwest is being real bold but they might be setting a trend. If I was a "plus size" person, I'd be offended. There's no way I should be paying for 2 seats. I'm paying for me to be on the plane. And that's it. However, planes do have weight restrictions. They can't fly overloaded. (re: Singer Aaliyah's tragedy) So airlines have always been making you pay extra if your luggage exceeds their limits. Maybe people should do the same. You see, commercial airliners are designed to carry the most people in a confined space. Just like transit buses and subway trains. The people they designed for in creating these vehicles are about 6 foot and with a 32 inch waist I guess. Have you ever sat in a transit bus seat? The person next to you's arms are pretty much on top of you!
So if airlines start making "plus size" passengers pay more, then would transit buses and trains do the same? One person is occupying the same space 2 people could fit in. They might as well, right? Here's an interesting scenario to make you understand the situation better:
Say you are trying to find the next flight to Hawaii leaving tomorrow. You call your travel agent and they say that there are some standby seats left, its first come, first serve. So you have all your luggage, get to the airport the next day. When arrive at the airport, you see that you are not alone in waiting for standby as a "plus size" person is also waiting. The ticket agent says there are 2 available seats left. You sigh with relief and relax because you know you are going to be on this flight. Just then, the plus size person is taken on first because they were there before you and just as you are about to get on, the ticket agent stops you in your track and says, "I'm sorry, we're all full." Now.. if this were the case, would you just brush that off knowing that person paid for ONE seat and took yours too?
Well, I don't think so. I mean, there's got to be some sort of circumstance where if a person is really big, then they shouldn't have to pay double fare on the plane, maybe the price and a half.. or some sort of special "plus size" fee. That seems like a feasable solution.
What do you think? Vote for yourself in the CK Web Poll!


Do you know about this girl above? That's Vanessa Carleton. The current song of hers that I'm groovin' to right now is called "A Thousand Miles". What is it about her that I like? She's no Britney Spears or Beyonce Knowles.. she just seems like the girl that is really next door. I like that, and that appeals to me to buy her music.
Just like my big appreciation for the NBC TV show cast of CITY GUYS, I have this big fan following for the cast of the Steve Harvey Show. The writing and the characters are too funny. I have only been watching the syndicated reruns, but that's enough for me. I think it was originally on the WB Network, and was one of the top rated shows in that timeslot. I went to the website and it seems that it hasn't been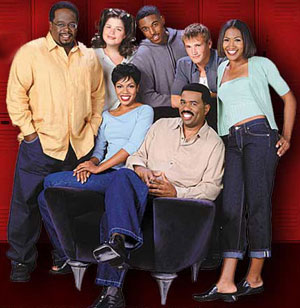 updated since the very first season. There were more characters that came along and haven't been credited. Anyways, the show pretty much revolves around 3 students and 3 school staff. My fav are the students who are just crazy. Romeo, Bullethead and Lydia. Nuff jokes. Just like a Saved By The Bell scenario, these kids have the same homeroom with Steve Harvey for like 5 seasons. There is no consistency, but that's okay.. that keeps the show timeless.
And lastly for all you classic car fans that remember that one of the most memorable and baddest muscle cars to ever hit the streets was the Pontiac GTO, then you'll be glad to hear that it is being revived in 2003. General Motors and their Australian division, Holden will be building the cars in Australia. With a V8 engine producing around 350 horsepower, it will be rear wheel drive...like it should be! According to the drawing below, it looks to me like a hyped up Grand Prix. We'll see when it comes out next year if it lives up to the hype.
| | |
| --- | --- |
| | |
| Classic Pontiac GTO (1970's) | Proposed Next GTO (2003) |
All the best,
-cK