So now I just completely rebuilt a new machine. With much more RAM and hard drive space. I already know that by the end of this year, this machine will inevitiably be outdated.
Maybe we shouldn't buy computers, instead, just lease them. Computers have NO resell value. Why do we shell out hundreds of dollars at once? Is it not smarter to just pay a little monthly lease fee and then burn all your info onto a CD so you can carry it to another machine in the future?
Just a thought..
Some of you reading this might be graduating from college or high school around this time. I remember when I graduated high school a few years ago. Wow.. the parties, the proms.. and all of the sad farewells. To those of you who are graduating, I'd like to wish you all the best of luck in life. Even after school, you never stop learning and that if you didn't already know, it is a very cold world out there. I'm sure each one of you will find that out for themself.
I have lately seen a bunch of new commercials for different soda companies advertising their drink for the big summer season. Have you seen the latest commercial from FANTA?? Oh my gosh... they have assembled 4 of the finest women to create this "pop group" called the "Fantanas". The members are Nina, Calli, Raquel and LeeLee. They are beyond gorgeous. Watching their commercial alone has me sold. I want to buy a Fanta.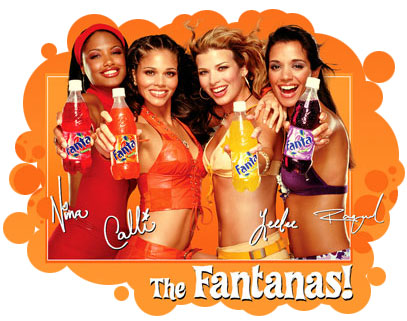 And that's not all, even Dr. Pepper is in the race using the beautiful Thalia as a spokesperson. At the Dr. Pepper website, there are lots of downloadable wallpapers where they feature celebrities from their commercials. Below is the wallpaper of Thalia.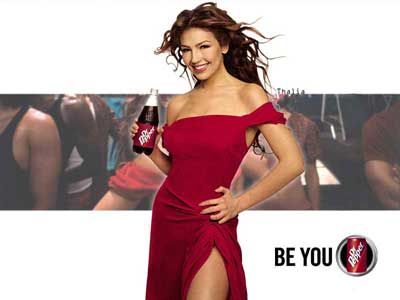 Speaking of drinks, have you seen the latest fad in alcoholic beverages? After the


huge success of Smirnoff's Ice, the other major rum and vodka companies decided to get in on the action too. Bacardi came out with the Bacardi Silver, Captain Morgan came out with the Captain Morgan Gold and even Stolichnaya came out with their own. There's even an alternative malt beverage called SKYYBLUE. I personally have tried Smirnoff's and Bacardi's drinks, but the others will be my tests for this summer! Before I let all of you run to your local bar to test these out, some of you may not be legally of age to drink these beverages. Then I would like you to try what looks to be the most questionable drink of the summer. Coca-Cola's Vanilla Coke. My first reaction is, "What the _ _ _ _!?!" Whose idea was it to create that? Wasn't the Cherry Coke a far stretch as it is? When was the last time you had something that was a vanilla flavour, and brown?? All the ice creams I eat that are vanilla are usually white. It'll be kinda weird to have a vanilla coke. It's almost an oxymoron.
All the best,
-cK