June 17 - 24, 2003
It's time again for my world famous weekly thought. The place where I tell you everything that is going on in my head and stuff thats happening with me.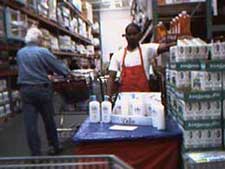 Weekends Are Spent Doing This...
cK Contemplates NYC Future
It was only one year ago this time that I was living in Orlando, Florida looking for a new job and playing with my new computer. ( June 18- 25, 2002)
A lot can happen in 12 months. Now since then, I have packed up and moved to New York City to find a better life. I have had many great experiences here, but I have not yet found the career that I'm searching for. The very first job that I got was working at Costco during the weekends to demonstrate products. It was very easy money and I figured that in time I will be able to get my weekends back to myself once I find a good job during the week. It has been 9 months since I told myself that and I'm still working there! During the week I travel 2 hours out of Long Island into the Bronx where I work at a real estate firm. I work mainly as an administrative person, but I don't really do anything. I get paid, but only enough to eat and travel back to Long Island. Well, why do I even bother, right? Before going to the Bronx, all I did was chill at home and watch tv. The day would just zip by while I stayed in a house. Going to the Bronx during the week has been the highlight of me moving here. I'm always up and doing something and I meet tonnes of new people daily. Keeping myself occupied is one of the main factors of why I have stayed here so long.
But what do I do now? I'm not doing the web design stuff I went to school for, nor am I doing anything cool and interesting in my spare time like I was when I lived in Toronto. Where can I go? Well I have had my eye on returning to Miami. The people and atmosphere is very welcoming. I can actually see myself (gasp!) settling down there. Canada, however is held close to my heart. I feel so much more at home there and would love to go back. But to do that, would mean that I failed in my quest to succeed in the United States.
I think that by the end of the summer, I will have made a final decision... and once again.. will set to leave. It was on September 25 when I left Florida to come to New York City. Maybe around the same time I will be on a plane headed for somewhere else.
Why Go See THE HULK When You Can See...DARKNESS FALLS!?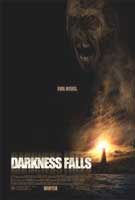 This past weekend my time was spent with a lot of cousins. I took my little cousins over to another cousins' house where we all decided to watch, DARKNESS FALLS. I can't remember when or how I heard about this movie, but I remember people telling me that it was garbage and that it was stupid. Regardless, I still wanted to see it for myself.
The movie is rated PG-13, so you know that the gore level is going to be at a minimum. My little cousins were scared watching it because the evil ghost villian in this movie is the tooth fairy. Ya, it sounds dumb, but for some reason when you watch a movie with a group of people, it just seems more entertaining. I actually did enjoy watching it. I won't buy it or plan to see it again, I just liked it once.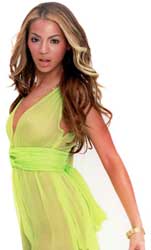 Beyonce...
cK's Crazy For Beyonce
If I still had my "Featured Female" section, this week would definitely go to Beyonce Knowles. Her latest solo album, "Dangerously In Love", has this real catchy song, "Crazy In Love". You can go and listen to it for FREE here if you haven't already heard it the 100 times they play it on the radio.
What is it about Beyonce that is so alluring? I had recently seen her perform on Saturday Night Live, and wow... she really impressed me. There was this one song she performed in a dazzling red dress. If you were not a fan before this performance, you certainly were after. She demonstrated high vocal capabilities that I think she was not able to show while restrained in a group. She now has all the room to shine on her own.
Go on, Beyonce! Take on the world! But don't forget the little house on Houston, Texas from where you came!
---
Recently, my uncle sent me the following link: http://roudoudou.w1.virgin-fr.net/bahianese.htm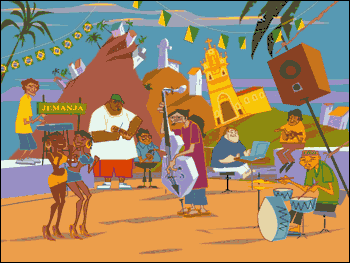 If you click on it, you will get the picture above. Make sure you turn your speakers on. This is really cool.
---
The following was sent to me by my cousin. I searched the net and found that they were created by Chris Rommell.
| | | |
| --- | --- | --- |
| | | |
| 50 Cent | Jay - Z | Vin Diesel |
Letters To cK:
Hi i was just given the presentation on bww you wrote about in your thought on nov 19-26 thought page i was wondering how did that turn out was it a hoax? did you join? do you still do it

thanks for your time
Josh
Well Josh, I didn't join at all. I felt that I would have to be selling a lot to get somewhere. I'm sure that there are people who make good money doing this work, but its not for me. The gentlemen that introduced BWW to me, I don't even talk to anymore. I guess because I didn't sign up with him, he has no reason to talk to me. I have heard how this system (and even Amway) has broken up families. People feel that they have to sell to everyone to make their living. Bottom line, its not for me. Somebody is getting rich from this business, and I still have yet to meet them.