It's time again for my world famous weekly thought. The place where I tell you everything that is going on in my head and stuff thats happening with me.
cK's Cousin Gets Married... on FRIDAY the 13th!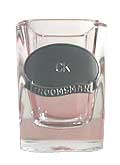 It was the big family event of the year. The wedding of my cousin Serena to her high school sweetheart, Tony. My parents flew up from Florida to be here for it. Tony had family fly up from Puerto Rico to be present as well. It was a full year in the making and it was going to be the kickoff for the summer. My role in this wedding was an usher, or groomsman. I don't know.. that's what it says on the shot glass that was given to me as a gift as you can see on the picture on the right. All I know is that I was in the wedding party. The actual wedding itself was held in a small church in Long Island. There was a small crowd present to witness the two recite their vows. It was actually quite beautiful. After the wedding, we all headed over to my aunt's house to get some last minute snacks before everyone travelled to the banquet hall.
The banquet hall was a very beautiful building, and just enough space for the people that were coming. I think it was one of the best organized facilities I have ever been to. The name of the facility was the ARIANA WATERFALL and its located in West Hempstead, Long Island. They took care of the catering, the limo, everything was included in one wedding package. Thanks to them, I think the wedding ran very smoothly.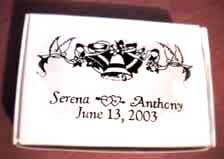 You Don't Want To Open This Box...
The wedding reception went on without any flaws. Great music, great choice - that's right, choice of foods. There was no walk-up buffet at this function! You told the waiter if you'd like either the chicken, sirloin steak or baked salmon dinner. I went with the steak and potatoes.
After the food, we all danced the night away. My bridal party partner was this real fine girl named, Jodie. (my cousin's best friend) Holy cow she looked amazing that night!! Her and I danced to salsa and reggae.We could have easily taken over the dancefloor, but the night was about the bride and her groom. We had to make sure the spotlight was always on them. The DJ was playing a dual role as an MC as well. I feel he did a great job. The partying continued up until 1am when they banquet hall had to shut down. Its too bad that it had to wrap up so early...4am sounds more reasonable! Everyone went home and there was NO afterparty! I couldn't believe it. I don't remember ever hearing such a thing! Everyone is supposed to trek to a hotel and finish the party!
Overall, it was a great wedding and I wish the new couple, Tony and Serena all the best! Don't make me an uncle too soon!
Selica Visits NYC and cK!
Just weeks after I went to visit Bermuda and see my friend, Selica, she was up in New York City on business and nearby to see me again. But the whole wedding planning and preparation really tangled up my schedule making it really difficult to make the most of the 3 days she was here. I did however, manage to drop by the hotel she was staying at on the last day she was leaving, which was also the day of the wedding!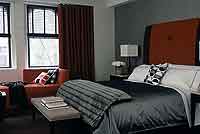 Selica's Room at the W Hotel - NYC
Selica was staying at the beautiful W Hotel - The Court. I came to visit her after getting my hair cut and trimmed in the Bronx. I go to this place called Canas. (Jerome Ave / 168th Street) I think its worth the 2 hour train/bus ride to get my hair done there. Well, I got to her hotel and she had about one hour until check out time. I had 2 hours to get back before the wedding commenced, but I couldn't live with myself if I let Selica go back to Bermuda without meeting up with her while we were in the same city! Selica braided my hair for me while we chatted a little and watched Conan O'Brien on tv. Before we knew it, our little time was done. I had to run out and catch a train back to Queens while she had a car service waiting to pick her up and take her to the airport. At least I got to see her, I hope to see her again soon with more time!
cK Goes to Club Tobago
I have always heard of this club that was a popular spot for west indian/caribbean folk, but I have never had the chance to visit it for myself. So on one random night with my cousins, I came to see what all the hype was about. My cousin, Deva went to the website (http://www.clubtobago.com) and printed free passes that allow you entry all night. My cousin and I were waiting outside for other cousins that were supposedly coming. But they never showed up. So we went in there ourselves, just at the right time too because they disallowed anymore people into the club after us.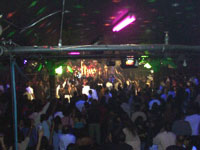 Club Tobago in Jamaica, NY
So I get into the club and was taking in the environment. The whole ceiling was covered in black lights and was painted in fashions that you would see in a glow in the dark roller skating arena. The club was packed, but still enough room to move about without having to step over people. When you walk in to your right is the one and only bar, and to your left is a food counter. If you are hungry, it appears someone's aunty is there cooking up a storm! I'll try the food next time. The place was nicely designed, and there was carpeted floors all over. I was impressed with the sound system. Usually, these types of Caribbean clubs just blare the music with your ears ringing for days later. That wasn't the case here, it was at a great and amplified level that was letting you dance without having your fingers in your ears. Also, a never before thing I seen was that this club was giving away free margaritas and dollar off tequila shots... I'm told they do this all the time! I have never heard of this in a caribbean club before.
I was chilling in the back corner in the club when this real drunk guy stumbles and sits beside me. He tells me his name is Ansel and he's from Trinidad. He lives here in New York and is a bio-chemist. Shortly after telling me this, he pretty much passed out. Poor guy. I did venture to the dance floor and was also very impressed with the general attitude of everyone. Nobody stepped on your feet and if they did accidently bump you, there was an immediate apology. Everyone gave each other dancing space. I know lots of places where people don't do that.
After the music was switched to a slower pace, I ventured back to my seat. Upon sitting there, I noticed a guy also sitting not too far from me. He looked very familiar. He looked like a guy a knew from Toronto. So I went up to him and told him that he looked real famliar and asked him if he knew me from school or something. The guy looked blank. He told me that he doesn't know me. Feeling very embarrassed and still thinking that I do know him, I asked him if he ever lived in Toronto, he told me no.. then he said, "I don't know who you are.......KELVIN." That's when I knew he knew me. His name was Dee and I haven't seen him in like 9 years. Along with him, was also a guy named Andy (aka Bogey) and they even brought my cousin, Stefan. I couldn't believe it! They all drove down from Toronto that weekend just to party. It was by luck that I met up with them. I definitely had a good time at that club, and I give it a high recommendation to visit if you are into the caribbean vibe scene.
cK's Automotive Review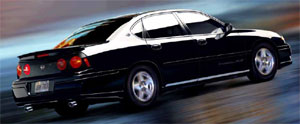 One of the most anticipated returns since 1996, has been the arrival of the Chevrolet Impala SS. It has adapted a huge cult following and was mourned when General Motors cancelled it some years ago. But they have revived it. Its back this fall and is hoping to burn up the streets and blaze the stoplight races all over the country. Its shy 20 horses and 2 cylinders that its predecessor had, but its still a huge deal compared to other competitors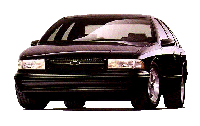 out there. This Impala SS is powered by a 240 horsepower supercharged V6 front-wheel drive engine. The previous Impala had a 260 horsepower V8 engine. Sure, the newest one will sip less fuel, but the tire smoking will be coming from the front wheels instead of the rear ones. Highway police forces all over have adopted the Impala SS engine into their cruisers, so when you drive one, you'll know exactly what the police are using to catch speeders.