July 14 - July 21, 2003

It's time again for my world famous weekly thought. The place where I tell you everything that is going on in my head and stuff thats happening with me.
| | |
| --- | --- |
| | |
| Hotel Pennsylvania | US Post Office |
| | |
| USS Intrepid | Times Sqaure |
| | |
| Guardian Angels Recruiting Station | Empire State Building |
cK Strolls Around Manhattan
I had a job interview with Greenpeace this past Thursday which was held at the Hotel Pennsylvania in Manhattan. When I arrived, they saw me and wanted me to return for an information meeting at 7pm. The time was 11am. So, I had lots of time to kill. Armed with my digital camera, I figured I'd take some shots on my walk around Manhattan on this picture perfect day. I would walk up from 42nd Street and maybe make it to the American Museum of Natural History. So as I am walking towards 9th Avenue, I see this huge Post Office. The architecture and size of this place is just amazing to take in. I had to take a pic of it. As I walked up 9th Ave, I found myself on the other side of Time Square. In the distance, I could see the Chrysler Building. Its chrome silvery top reflecting the sun's light right into my eyes. Good thing I was wearing my sunshades. As I continued to walk northwards, I stumbled across this wooden sign in the shape of a guy doing a high karate kick.It was a Guardian Angels Recruiting Station. I was thinking about going upstairs to find out more inforamation. From the pamphlet outside, they teach you free lessons of self defense, first aid and CPR. I am a little interested and may call them in the future. I continued to walk north and then as I get to 51st, I get a call from my uncle telling me to come to the office back in the Bronx because I have some business to take care of. I remembered that I still have $30 on my monthly account with ZipCar. So I called them up to reserve a Volkswagon Golf. I had to walk back to 41st Street to pick up the car. Since my reservation was for 1:30pm and it was about 12:30pm, I figured I had some time to kill. I walked down 41st street towards the River. I ended up on the piers and saw lots of boats. One particular boat caught my attention. That was the USS Intrepid that was docked there as a naval museum. Its huge and an attraction I will have to see later this summer. When my 1:30pm appointment time arrives, I picked up my ZipCar and headed back up to the Bronx. I spent my day there but had to bring the car back to Manhattan for 4:30pm. So in the Bronx I picked up my friend, Eric and we both head back down together. I get the car back for 5:30pm due to traffic and one way streets. I go back to the Hotel Pennsylvania and while I was in there, I met this girl named, Monica. Apparently, Monica is the front desk person for the tv shows - "Blind Date" and "The Fifth Wheel". Eric and I had a good conversation with her and she gave me a phone number to call if I'm interested on being one one of the shows. I kept the number for later.
So later I make it to the Greenpeace info session. I go through an interview process and I get the position. Now, lets see if I accept it. (its for fundraising, campaigning)
After that, Eric and I want to get a drink at a local bar around there. So we find The HARP BAR (132 W. 32nd St), which is located right around the corner from the Hotel Pennsylvania and down the way from Madison Square Gardens. Eric and I sit down and get a drink. Eric gets a scotch/cranberry while I ordered up a pint of Guinness. As we are ordering little appetizers to go with our drinks, we notice all these really good looking girls coming and going into the place. I finished my pint of Guinness and then wanted to experiment on a Samuel Adams lager. I was overtaken by its great taste! (yes.. beer has a good taste!) It reminded me of Alexander Keith's India Pale Ale that I used to drink in Canada, but just a lighter colour. Eric was on his second drink, and we noticed these two girls walk into the establishment. One was a tall girl with a beautiful dark complexion and shoulder length black hair. The other had dirty blond hair with a light complexion and a tongue ring. Eric and I sipped on our drinks and thought about going over and talking to them. When suddenly the light complexioned girl got up and went to the ladies room. This is when I took my chance. I noticed that the other girl was looking at the menu thinking of what to get, I zipped right on over to her and started talking to her telling her which items I already had and thought were good. She smiled and started conversing back with me. Her friend returned from the ladies room at which point Eric decided to join our little group and I introduced him along with myself. The girl with the dark complexion's name was Malinda, who is from Guyana and moved here when she was 12. I saw her to have a lot of Lauren Hill's facial features. She works for the city and tells me she comes in the HARP Bar everynow and then. Her friend's name was Roxanne. Roxanne is a native New Yorker and works at artnet.com. Eric and I enjoy one more round of drinks and then hang out with our new friends a little more. They were leaving to go to dancing while Eric and I had to get home. So we exchanged numbers and planned to see eachother again in the future.
---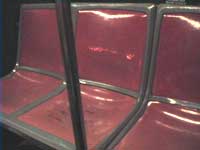 New York City Vandalism
I think I should just make a special section of the hilarious vandalism I see everyday living here in New York. There is always something that cracks me up, whether it be on a billboard, subway ad or just some writing on a public wall. Well, every Friday, I leave the Bronx and head back to Long Island for my weekend Costco job. I transfer from the E Train and get onto the Jamaica bus. I'm at the back of the bus and I notice some writing on the seat to the right of me. As I get in a little closer, I notice that with a permanent marker, someone scribbled a message to the next person who sits there. As I read it, I can't help but laugh out loud. Some vandalism is so pointless, you now the ones that say stuff like: "BLOOR STREET BOYZ RULE" or something that nobody else would even care about. Well you can see for yourself what the message that some kind person wrote: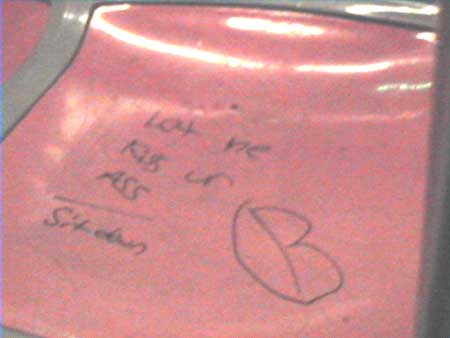 If you can't read it, it says: "Let me kiss ur @$$ - sitdown"
Notice that after the message, the person actually made some LIPS that are all puckered up! I don't know, maybe I just laugh at the littlest things. But I thought that was funny...
---
The Other Kelvin

just dont stalk' me'.. i was born in northern cali u know tha hot spot supposely anywayz im 16 years old im gonna be a senior in high school co/04. im half black and half latin, i stand up az 5'8 i weigh about 155 im a supposely 'outlaw' i dont like skoo, i ditch all the time >.< i always get high i go out party too much!! -_- i werk out sometimes lol im very lazy!! i sleep alot and i like to watch tv and eat and talk on the phone, or go outside and smoke with my neighbors ;x , fufk yea!! thats my sad life lol.
---
GHETTO PROM 2003
Some of you may have already seen the following photos, but if you haven't then get ready....its the GHETTO PROM! These pictures have been circling around the internet, and I can't believe that this prom actually happened. Apparently its of some school called Westmoor High is some US town. The following are just some of the pictures that are going around.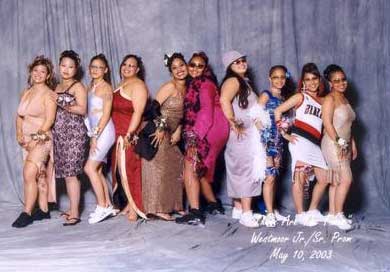 Take a good look America, these are your future Jerry Springer guests.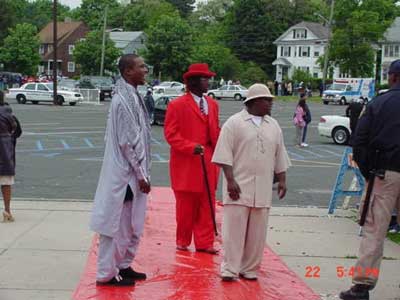 Notice that they are arriving not on red carpet, but a red plastic sheet! Also, take note of all the police cruisers in the background and even an ambulance on standby.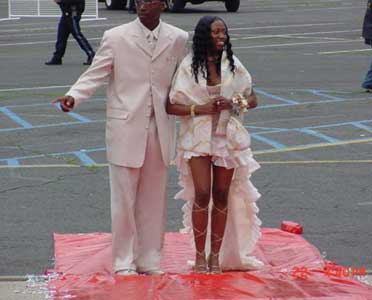 This is the worst P.Diddy and Ashanti impersonation.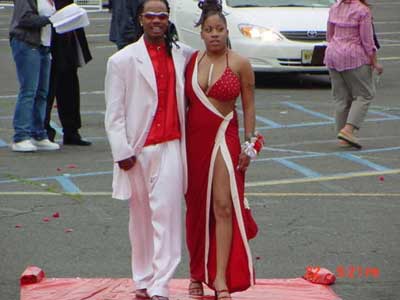 Prom King and Queen?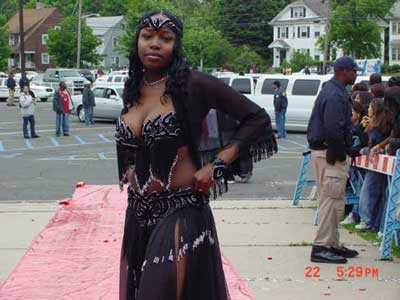 I give this ensemble an "A" for effort, but this honestly looks like something tailored for October 31st. Notice that there is an actual police barricade on the right side to keep onlookers back.
This is as ghetto as it gets.
---
T-SHIRT of the WEEK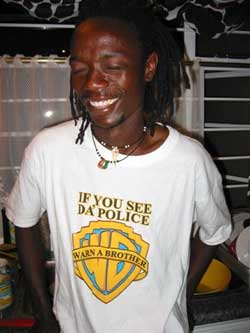 I've actually seen this T-Shirt in person before, but did this guy
have to look like Dave Chappelle with dreads?
---
If you have any questions or comments, please feel free to email me at: crazykelvin@hotmail.com