July 7 - July 14, 2003

It's time again for my world famous weekly thought. The place where I tell you everything that is going on in my head and stuff thats happening with me.
cK Meets NBA Player - Kit Rhymer!

Lately I went to go and see my good friend, Milly out in the Parkchester area of the Bronx. She took me around the area for a nice and pleasant walk. We were chilling in a park, sitting enjoying the nice evening when Milly's cell phone rang. It was her friend who just was around the corner. She invited him to come over and meet me. In the distance, I can see this tall figure appearing through the street light silhouettes. As he approached closer, I knew this was her friend. Milly got really excited, "This is my friend, 'Kit'!" When he came up to me, the 6 foot 10 inch tall Kitwana Rhymer shook my hand and welcomed me. I was in awe, the biggest guy personally knew was my pal, GABE, and he's like 6 foot 3. As the night progressed, I got to know more about the Kit that people don't see. Beyond the playa attitude and athletic frame, Kit is pretty much a ... ya... a playa. And he's damn proud of it! He'll actually be one of the first to tell you that he's all about business. ( If that business is booty, that is! ) Well, as my luck would have it, I didn't bring my camera that night. So I don't have the pictures of him when I met him. So you can look up any search engine and just type in his name, Kitwana Rhymer, and you will have lots of pics to see the cool guy I met. Oh, by the way, just for your information, Kit Rhymer played for the UMASS team and was on the Westchester Wildfire, the Washington Wizards and most recently a member of the world famous Harlem Globetrotters. Currently Kit is on the Columbus Riverdragons. He was due for knee surgery this past week. Good Luck and get well soon, KIT!
---
cK Goes To See TERMINATOR 3
For those of you who thought I went to see Legally Blonde 2, you were wrong! (I'm waiting for the DVD) I actually went with my cousin, Andrew to see T3. I saw T2 play twice in the past weeks on cable television stations, and I faintly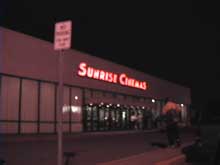 remember the first one. T3 - Rise Of The Machines was a good movie to see. It continues the ongoing story of John Conner and his destiny to win the planet back from the machines that took over it. So I went to Sunrise Cinemas in Nassau County to see this flick. I think its the most ghetto-est theatre I've been to since the one at Sheraton Mall (Jane/Wilson) in Toronto when they had one some years back. What really makes this one stand out from the previous ones I've been to was the metal detectors before you enter the theatre! That's right, METAL DETECTORS! I thought that I had to take everything out of my pockets and open up my belt only when I was getting on a plane. Nope... now its at the movie theatre too. I wasn't scared, just shocked! I was thinking about loose change I have or anything metal in my pockets that may set off the alarm. But even IF I did have something, they guy checking you is just security and not a cop. So they will just escort you out instead of pull out guns on you and arrest you. Below, I actually took some pics for everyone to see the metal detectors. I find it fascinating and I think my friends in nicer areas who have never seen this will think so too.
| | |
| --- | --- |
| | |
| Here is a girl walking towards the metal detectors | Here is a guy emptying the contents of his pockets |
I don't know what kind of trouble this cinema has had in the past, but geez, if you are going to blow something up, why a movie theatre? Maybe the metal detectors are for catching bootleggers when they bring their video cameras in. Anyways, the actual movie experience was quite good. The screen was nice and big, and the seats were spacious and clean. Everything I didn't expect! The only problem I guess was no cupholders, and oh! The small size drink was $2.75! It's like the size of the cup you get when you take a drink at a water cooler!! I complained but stupid me STILL BOUGHT the small size! I knew I wasn't going to drink more than that. Oh well... they still got more money out of me. I had a good time watching T3. Very entertaining. Could their be a T4? I can't say, but if the next installment comes out another 10 years from now when I'm 35, then geeeeez... Arnold might as well be played by a real robot!
---
cK Goes To The Parrot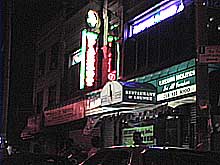 I was just planning to take it easy on Saturday night. Come home after work and go nowhere, just chill and work on my site or something. But that wasn't the case when my cousin, Jazmine, called me up and was all dressed to go out to Club Tobago when her friends all cancelled and bailed out on her. So of course, cousin cK comes to the rescue. Along with her brother, Andrew, we all decided to take drive onto Liberty Avenue and find something to do. We discover a west indian styled restuarant called, The Parrot. I get to the door, all dressed in the most beat up running shoes I have, faded black jeans and a John Lennon T-Shirt. The bouncer at the door asked for my ID and I told him that I was just going to get something to eat. So we all went up and saw the dancefloor was packed. The restaurant was sectioned off in its own area. We ordered some food and dined a little. I ordered a Bacardi Silver to go with my chicken fried rice and pepper shrimp dinner. It cost me $4.50! Can you believe that? Well, when we finished eating, we decided to hit the dancefloor a little and catch some tunes. I can't even remember who the DJ was, but he was spinning like he had something to prove rather than play for the crowd. Meaning that he'd start a song, and we'd get into it and then he'd mix it off into a totally different track making you do that awkward stop and pause... thinking how to get into the rhythm of the next song. The people dancing around us apparently didn't know how big their butts were as they bumped us from every which way. It wasn't even funny. Eventually we all decided to just leave and go home. It was a fun evening up until the dancing part. I think I'll just go back to the Parrot for Karoke Nights on Thursdays.
---

Olympus Stylus 300 - A Sham?!?!
If I hear something about a product whether it is good or not, I will tell you right here how I feel about it. Recently, my dear friend, Sophie emailed me to complain about this digital camera that she bought. The Olympus Stylus 300. After reading her email, I felt that I should share it with everyone before they go out and make the same mistake of purchasing this camera.

This has to be the most disappointing Digital camera i have ever come across.. to make matters worse, it comes from a manufacturer that is known for high quality products!! I had recently taken this camera on my trip to St Maarten. All of the photos in low light were BLURRY and UNCLEAR! how does one get a blurry photo from a digital camera! example: The result was that of someone using a 100 level roll of film which is used for bright outdoor light in a point and shoot camera in place of a 400 level roll of film which is used for low light conditions....it was as if the aperture was too slow and the flash range was too small even when the person taking the photograph was less than 3 feet away!!!!! I am so disgusted with this camera i can't even begin to describe how much of a waste of money it is... DO NOT waste valuable funds on this camera... buy another olympus (eg- Olympus D-550 zoom) and save your hard earned money for use somewhere else... the stylus model of digital camera from Olympus has disappointed me tremendously!
-Soph
Toronto, ON

If you are planning on getting a digital camera, make sure you know what you are going to do with it. If your end result is transferring your pics to be printed, you would probably want a camera with higher MegaPixels. Like maybe 4 MegaPix and up. If you are just taking pics of you and your friends and want to post it on the web or email it to friends, MegaPix don't matter too much. You can get by with a camera that has 2 MegaPixels and you'll be fine. You wouldn't want to print the pictures that are taken from that camera though, as it will be blurry or the resolution won't be as sharp.
---
BIRTHDAYS!!!!
July is a month full of birthdays. I have to send out a special happy birthday to my Aunty Jenn in Bermuda who is celebrating her birthday on the 14th of July and also my Uncle Bill whose birthday is on the 16th! Together, they are celebrating their 28th Wedding Anniversary on the 12th! Happy Birthday to my sweetie, Ruby in Vancouver who is celebrating her birthday on the 11th! Happy Birthday to my little cousin Andrea in Toronto who celebrated her birthday on July 12th.

If you have any questions or comments, please feel free to email me at: crazykelvin@hotmail.com