July 1 - July 7, 2003

It's time again for my world famous weekly thought. The place where I tell you everything that is going on in my head and stuff thats happening with me.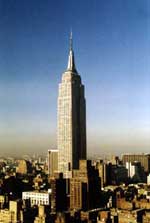 cK's Little Sister LIZA Comes To NYC!
The big news for me this past July 4th weekend was that my little sister, Angie, flew up all the way from Miami to visit New York City and see me. I couldn't wait to take her out and show her the places and things that I have discovered since moving here and also try and explore some new things together.
Wednesday Night:
I pick up Angie from JFK International Airport with my uncle's car. I was soo excited. She flew on a JetBlue flight and actually arrived 25 minutes early. It was around 11pm so I didn't want to overwhelm her with lots of stuff the first night, just go home and chill out after her long flight. So that's what we did. We ended up watching some foreign film on the IFC channel.
Thursday:
It was Angie's first day in New York City. So much to do, so much to see. The first place I took her was my uncle's office where I work during the week. I still had to go in there because I had to introduce her to my buddies. Shortly after that, we decided the first thing to go and see was the Empire State Building! So we got on the subway and rode all the way to 34th Street. I could tell Angie didn't like the subways too much, but it is the best way to get around in New York. When we arrived at the Empire State Building, we got a deal to go to the Observation Deck and also visit the SkyRide attraction that they have -- all for $20 each. I thought that wasn't bad. So, the first thing was this SkyRide Adventure thing. Its like a mini-IMAX ride where you are flying around New York City and seeing other things that make NYC such a great place. In the line up, we needed to have our pictures taken so I asked the two guys behind us if they could do it. They were glad to and started chatting with us. They were two guys from Britain who were on a US Tour hopping from city to city. Their names were Mark and Bal. They told us that they were going to this club the next night to see Paul Oakenfold perform. I told them that I have tickets to that too and will be there. It would be cool if we met up with them.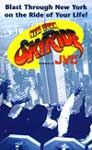 Anyways back to the ride. So ya... SkyRide! The Empire State Building Adventure Ride. It was cool. I didn't expect anything more or less, but it was a blatant advertisement to see other things in New York. That's all. After that, we head up to the Observation Deck. Wow... what a view of NYC! It was fantastic! It was a little cloudy that day, but the sun kept peeking in and out of the clouds. So we still had some nice pictures taken.
After that, we went down to the bottom level (by this time we were hungry) and found this little sushi place. So we got some Daikichi Rolls, some California Rolls and even some Sesame Chicken to go with it! MMMmmm!!! It was fantastic. Our tummies were content.
When we finished stuffing our faces, we headed back to the Bronx. I got my hair trimmed and set up for the next day's club party. So since the evening was still young, Angie and I rode the subway heading for the Village. At about 14th Street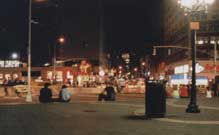 (off of the F Train), Angie told me that she needed to get off the train. So we did and when we surfaced, the first place we found was Virgin Records. They were open until 1am so we still had time to use their facilities. Since we were in the store, we decided to check out some CDs and new music. Angie ended up buying some trance compilations. When we were at the checkout counter, I found a flyer for a trance club that was happening that same night not too far from there. It was the record release party for Erick Morrillo. I had to go!! So I hung onto the flyer and put it in my bag. Angie and I walked across the street to this nice little park in Union Square where we ended up drinking 2 Corona's in brown bags that I put in my bag earlier. It was sooo ghetto, but fun at the same time.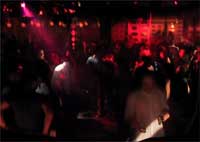 After that is when we headed out to this trance club called, Discotheque. When I came to the front, the bouncer checked my bag and found my digital video camera. He made a fuss about me not being able to video tape anything and that he doesn't have the time to babysit everyone. I couldn't believe this guy, he told me that I would have to leave the battery with him so I would assure him that I wouldn't be taping anything, even though I insisted that I was going to put my bag in coat check. So, I still ended up giving him my battery because I just wanted to go in there and dance. I got in there with the flyer that I brought and it was $35 for both of us. So, I paid it. We both got in and went straight to the bar so we could order 2 HPNOTIQs. They didn't have any. I told the bartender (this stupid guy who looked dopey) to make me a Thug Passion. He did and did it quite well for the $12 a drink that I paid him! Angie and I danced up a storm. Erick Morrillo really played some hype tracks and made the dancefloor kick. Angie was mentioning that it wasn't like the Miami clubs where everyone was dancing with glow rods and stuff, but regardless, the club vibe was cool. There was even a time I took Angie up on the stage and danced with her. It was quite fly. When the night was over, we went outside and got a bite to eat at a corner pizza store. Then took the train and headed home where we arrived at 7am.
Friday:
My uncle was quite upset with me when he found out that I came home so late. He told me that he was waiting up for meall up until 6am the next day. I felt bad. So he told me that I had to help set up the house for his Fourth of July BBQ that he was having. That was no problem, I wanted to chill out during the day anyways. So, thats what Angie and I ended up doing. Up until the BBQ began. There was a good number of people, neighbours and cousins that came out. I remember watching the fireworks on TV even though it was just a 15 minute train ride south of where we actually were. After the tv, we watched the kids on the street there in the Bronx light up the fireworks shooting them towards cars and in the air. Around 11:30pm, Angie and I got ready and headed down to the club Centro-Fly where I had bought tickets to see Paul Oakenfold perform live! Because I bought my tickets in advance courtesy of clubplanet.com, I totally avoided the huge lineup at the door and was sent to a special entrance where my total wait was under 5 minutes. That was soo cool.. it was even better than VIP line! So we go in there, this place is nuts! The bottom floor was more commercial hip hop music and dance stuff, but the real show was upstairs on the main floor. So there we went..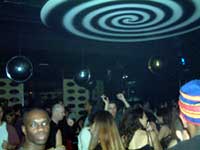 As we squeezed through the masses of people in this cool Gramercy Park Niteclub, we heard the sounds of Oakenfold spinning at the turntables. We made our way up to the bar and I asked if they had any HPNOTIQs. The sweet looking bargirl told me they didn't.. and she WISHED they did! So I told her to make something for me that tastes kinda like it. So she did, and that drink was off the chain! She did a real good job. With our drinks, Angie and I pushed our way to find a space to dance and drink a little. We found one and stayed there, where, just over party goers in front of us, was the man himself, Oakenfold. Wow! Angie was also waiting for her friend, Ali to make it up from the 2 hour drive from Philadelphia. He actually made it and met up with us. He's a cool guy, but he didn't know cK too well enough to understand that one drink is enough to keep me pumped. He insisted that I drink a tequila shot with him. So, to shut him up I did.

MISTAKE No. 1
After drinking the tequila shot, my head started spinning. All I can remember from that point on was dancing a little more, getting lost and then going to the bottom level where I later chilled out and danced some more with a girl or two.

MISTAKE No. 2
I remember Ali finding me downstairs and yelling at me for running off. I felt so bad, and I just stood there and took it. I don't remember how I felt after that, but I'm sure it has something to do with what happens next.

MISTAKE No. 3
I remember throwing up outside of the club, on the sidewalk where I was sitting. Apparently later on Ali and Angie came and told me that I was kicked out for something. But they didn't know what. I just remember the alcohol working its poison in me, making me have a rush of emotions. From anger to deep sadness. A totally horrible feeling. From this day on, I CANNOT have any tequila. I limit myself to 3 drinks max, whether it be beer or hard liquor. I have nothing to prove, just always want to have a good time, and I already know that I don't need to drink to do that!
So, we get a drive back to the Bronx, thanks to Ali and then get some rest.
Saturday:
I woke up around 10:30am and took the 4 Train straight to the office. I let Angie sleep in. The plan that day was for Angie to meet up with her uncle who lives in Brooklyn. So later on we met up and took the 4 train from the Bronx that led us right into Brooklyn. We met up with Angie's uncle on Flatbush Avenue. He was totally cool. He took us to this restaurant/pub on Montague St in Brooklyn Heights. I wasn't feeling too cool still tasting the tequila poison in my system. Angie's uncle suggested I drink a beer, he told me that it was the best remedy for how I felt. So I got a Heineken. Boy, he was right. After I drank some, I actually did begin to feel much better! After the restaurant, Angie's uncle took us for a stroll down Montague St where we would end up in the Brooklyn Heights park area by the water. THe view is the most fantastic scene of New York I have ever witnessed. You can see the skyline and the Brooklyn Bridge all together with the East River in front of you. Look to the left, and you see the Statue of Liberty. It was totally cool and a very popular spot to take pictures.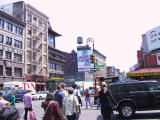 We then departed from Angie's Uncle and headed to Chinatown. Angie had to pick up some souvenirs and stuff to take back with her. She got 5 shirts for $10 and 2 New York tank tops for $10. (Total: $20) But the most fun of Chinatown is haggling down the price. So I told the lady that we'd pay $14. She said no... then I said, okay, $16. Some more haggling later, I got her to settle with us for $18. Thats still an extra $2 saved! After walking up and down, checking out bootleg CDs and DVDs for $4, we decided to take a walk to the World Trade Center site. (Ground Zero) As depressing as it was, it definitely changed a little since I was last there in October when I went with my friend, Selica. There was a lot of people there from all over the world, taking pictures as if it was a Disney attraction. Angie took some pics and then we were on our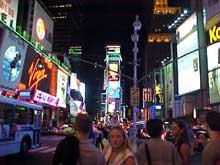 way. Next stop: Times Square. I had to show Angie this part of New York before she left. The lights, the people, the crazy stores... there's nothing like Times Square. Angie and I took some pictures, went into some touristy stores and then got on a train and headed back to the Bronx. When we got out at 176th St Station, I thought that Angie had to check out one of the small Dominican restaurant bars and get one Corona before she heads back. So we go in, and the bouncer makes me empty out my bag in search of any weapons. I thought it was ridiculous since there was only about 10 other people in there. But, I guess it WAS the Bronx, so you can't take any chances. After our Coronas, we headed back home. When we got there, nobody was home! And we were locked out! We slept on the porch for about 2 hours in the uncomfortable humidity before I started ringing the doorbell so many times that I woke up my grandmother and she came to open the door. I can't even tell you how fast I went to sleep.
Sunday:
Angie's last day. Her flight was at 3:40pm leaving from JFK, so I had to get her there for like 2:30pm. If I left at 12:00pm on the A Train, we'd make it directly there and have time. Just as I was about to leave, my uncle woke up and told me to chill out, I can use his car. So since we found that we had some new time, Angie and I went to get some food to eat. We took a walk on University Ave to look for a restaurant. As we were walking, we see a sign for 20 DE MAYO RESTAURANT. We thought, great! It looks nice. So we go in. There's like nobody there. We looked for a table and the ones we found weren't exactly cleaned yet. So when we did find one, we sat down. A girl came to assist us and asked if we would like anything. I asked her for two menus. She hesitated, but went to go and get them. When she returned with them, she told me that the restaurant has just changed ownership and right now they are still looking for a chef, and only have rice, beans, chicken and fish to eat. Cool. Oh well, as long as we get it cheap and it tastes good, I don't care. Angie wasn't pleased at all. She made me drink the Corona that I originally ordered for her and added to the one that I already ordered for myself. Later, Angie eventually just settled with the food that they had. I thought it tasted pretty good. The waitress, Wanda, really tried to make our first visit comfortable. After it was done, the bill came up to $22. I think that's decent! Right? Oh well. After that, I drove Angie to the airport and sent her on her way back to Miami.
I can't believe all the crazy things I did in the past few days. I hope that Angie had a good time. I'm still a little sad that she's gone, but I guess thats what happens when you spend so much time together with one person.
---
HOT SUMMER NIGHTS in St. Martin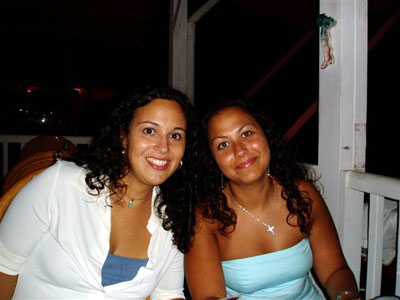 This is a pic my good friend, Sophie (right) with her friend, Patti (left) when
they went to dine at Il Nettuno italian restaurant in St. Martin.
---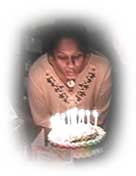 BIRTHDAYS!!!!
July is a month full of birthdays. I have to send out a special happy birthday to my friend Dana in Trinidad who celebrated her birthday on the 3rd. Happy Birthday to my friend Andrea in Toronto who celebrated her birthday on July 4th.
If you have any questions or comments, please feel free to email me at: crazykelvin@hotmail.com