Whenever I can update this page while in the PHATCAVE @ N8's unspecified *secret* location, I will. One week of crazy errands and shopping is finally done and over with. Now I move onto focusing on pre-Caribana preperations. But before I get into that, I have to comment one more time about the POPE's visit to Toronto. The photo below is an aerial shot of Sunday Mass in Toronto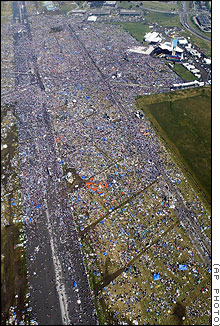 . There was close to a million people there to hear what the POPE had to say about recent allegations of priests in the news and the attacks on the Catholic Church. I wasn't there myself to hear him... I uh... I slept in. I was mad partying at the DOCKS nightclub for a "not-so-surprise" birthday party for my dear friend Selena. I had lots of fun and met some girls from HAMILTON, Ontario.
They were cool to talk with but I had them all fooled that I was a real American visiting Toronto. I wanted to see how a random group of Canadian girls would actually treat an American tourist. Well, my little experiment proved to be good. The girls really enjoyed my company and treated me very warmly. Other than the little arguments about, "You Americans are so this and that..." I felt pretty welcomed.
The Canadian patriots that represented Canada well this time was Amy, Nelsey and Susan. They took me to the dance floor and we danced for a bit. I have a few pics and I'll try to get them up very soon!!!
On Friday I was out jeans shopping with my cool friend, Sophie. We met up at FAIRVIEW Mall in Toronto and browsed all the shops we could looking for the right pair of jeans to fit her curvaceous body. I don't understand this about women, clothes shopping is the biggest chore for them. Everything they find makes them feel fat or unshapely. My friend Sophie has a VERY attractive body, but she still is unhappy of how she looks in EVERY pair of jeans we find. I can understand that a little. There is a whole bunch of documents about women living up to the social image that is portrayed for them...but after really looking around the shops with Sophie, I found out too that there really wasn't much clothes selection for her. The majority of the jeans we found were for women that were REALLY skinny. Not much actually was designed for the girl with a little booty and healthy thighs. How would that make you feel?? I would feel fat everytime I went shopping and I couldn't find clothes that fit comfortably. My clothes size is always easy for me to look for (knock on wood.) I am a perfect sample size, or "off-the-rack" as they call it. Pretty much any store I go into, they usually have my size. I guess thats one less thing to worry about.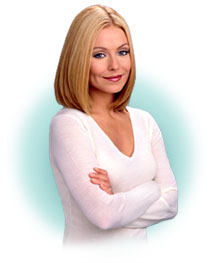 Even though my featured female for this thought is Canadian cutie, Kristen Kreuk, I still have to somehow mention Kelly Ripa. There's something about her that's so alluring. She's hot, yet cute. One of the very few MARRIED women that I still find appealing. She totally took over Kathy Lee's spot on LIVE! with Regis, she made it all her own. I can't imagine anything negative to say about her except that she's taken. Other than that, she's like the perfect specimen of the ultimate all around girl. (oops--excuse me... woman!)
Now I can't leave out Regis. Sure his other show, "Who Wants To Be A Millionaire" was a smash hit and the ABC Network just drowned it by showing it every night and bouncing it around the timeslots, but you can't blame Regis. He is still very cool. A total gentleman and great guy. Has he already got a star on the Hollywood Walk of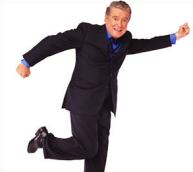 Fame yet? If he hasn't already, I nominate him!!
Okay.... I mentioned earlier that I was doing some pre-Caribana preparations.. For those who don't already know, Caribana is like "the" biggest event for Caribbean-Canadians. It's like in January, people will be like, "Oh man, Caribana is coming in 7 months, I better start working out now!" (and that's no joke!) People are preparing from last year for this event. Last year over 1.5 million people came to party and take in all the festivities. This year it may take it over 2 million with some people still sticking around after coming to see the POPE the previous weekend. My preparations include looking for all the main events. There are calypso boat cruises, pre-jams, and other events. I have to search all the main community newspapers, listen to the radion and find out where to be, what parties to go to and how much it will cost. This weekend you can easily spend $300 ---- and that's not including drinks or food and additional items like that.
There are parties where you can spend a little less, but chances are that they don't have the big name draws like you would expect at the higher key events. The less money you pay, the more likely you'll be at a venue that has more local unknown djs that are mixing CDs all night.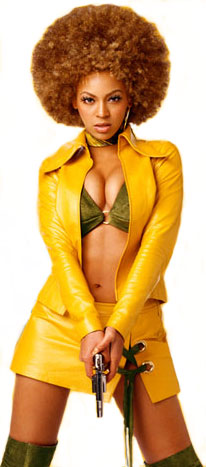 Last week I already had seen, MEN IN BLACK 2 with Will Smith and Tommy Lee Jones... but this week I saw the third edition to Austin Powers called GOLDMEMBER. I went to one of the most amazing theatres, the Paramount in downtown Toronto. They were showing this movie on the IMAX Screen! I guess thats a cool way of showing their appreciation for their hometown's own Mike Myers. (yes, he's from Toronto too)
N8 Dogg and I saw the movie, and honestly... I cried laughing. I really did. It was THAT funny. The jokes were just in the same style as the last 2 movies before it. People going to see Austin Powers already know what to expect. I had a great time and its a definite must-see whether at the movies or at home.
And as for Beyonce Knowles playing the role of Foxxy Cleopatra... wow... that's pretty much what I have to say about her.. She was absolutely gorgeous! She lit up the screen everytime she was on it. I wasn't much of a Beyonce fan before, but this movie is slowly turning me into one!