The minute I got here, I was instantly involved in a surprise 50th Birthday Party for n8's mom! This party was about 200 people from all over occupying 3 full backyards in a whole very elegant and fun atmosphere. I had lots of fun.
That was on Saturday..... the Sunday I was invited to 4 BBQs going on. I couldn't make all of them, but I did manage to make it to my 3 sisters BBQ who actually didn't know I was gonna make it. They were the same 3 girls that came to visit me in Miami. I think I took pictures but I haven't developed them yet.
The rest of the week so far has just been hectic business stuff with my parents who are also in town. I have been staying at n8's house here at nWo Toronto headquarters and n8 has been very hospitable. Thanks to him, I have been getting around and having a very comfortable place to sleep.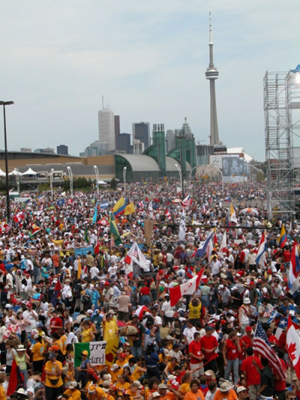 My time in Toronto looks like its going to be a highlight reel of events. Already the POPE has flown from the Vatican and is here in Toronto for World Youth Day. The city is just in awe of his presence. There are like over a million youth from all over the world here for this event. I was on the subway and you can see how they are totally out there singing songs in their native home language, just so happy. It's really inspiring. I seen a huge turnout for Brazil and Italy. Each of them chanting, "VIVA ITALIA" or "VIVA BRASILIA". Of course there were groups from the United States chanting, "USA, USA!!" but you already expect that. Its okay to do that here and be proud of where you are coming from. This Sunday the POPE will be having a 9:30am Mass. I'm not Catholic or anything, but I'm surely gonna try and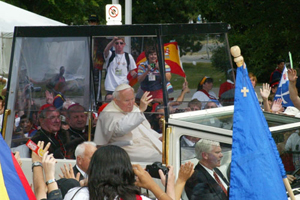 be there for that. I'm so close to seeing him, I might was well take advantage of this once in a lifetime opportunity. Would you go and see the POPE if he was in your city/town? Vote on my poll!
After this weekend, the next big thing on my agenda is preparing for the Toronto International Festival (aka Caribana) That means spending a minimum of $300 to eat, drink and get admission to all the great events and parties happening in the 2 week festival.
I had received a free movie for 2 with Famous Players Movie Theatres after earning so many points with my Royal Bank Visa Card. The actual gift pass entitled me to 2 movies along with 2 medium drinks and a popcorn. I didn't want the popcorn and wanted to trade down to anything else. A chocolate bar, nachos, anything.. I didn't care... as long as it wasn't POPCORN. I went to the counter and asked if I could have something else. Without even pausing to think the underage pimple faced girl on her summer job told me, "No, I can't do that." So I went to guest services and met some more underage pimple faced girls but witl more important name tags and they told me the same thing. All I wanted was for the person behind the counter to just punch in "one popcorn" and give me something else. It didn't matter what. So in the end I settled for the popcorn. But during my movie (Men In Black 2) the popcorn was catastrophically littered in a 20 seat radius of me. N8 DOGG dastardly emptied the bag that was heavily sprinkled with White Cheddar powder all over me and the seats. DAMN HIM! But all in all it was all fun....