[ Thought for July 9 - 12, 2002 ]
Hey CK Fans...
I have been very busy with my cousins visiting from New York City.. so I have had very little online time to share my weekly thought... but I'll catch up right now!
First off, I have to say HAPPY BIRTHDAY to Ruby (Surrey, British Columbia) and Andrea (Toronto, Ontario) and also Shani (Bermuda, West Indies) who are all celebrating their birthdays this week. All the best to you and many more to come!
Secondly, I will be experimenting with an instant message system where you can leave your brief comment right here so everyone can see without e-mailing me personally. But you still have that option.
Over the weekend, I went along with my cousins to this party going on in Orlando around the executive airport. There was some trouble getting in at first because there was strict ID and age checks at the door.. but after that was taken care of, the party seemed pretty good. There were 2 rooms. One on the inside playing hip hop/r&b and reggae, and the outside room playing calypso and soca music. I don't expect much for Orlando, but this party was okay. Good environment and it seemed like everyone was having a good time. It was $10 to get in, and for a party this size seems a bit overpriced. When I was in the parking lot going out to get another friend, 2 really hot girls stopped me while driving in their car to ask me how the party was. After they also told me how fine I looked, they invited me to come over to a club called ROXY's that is across the street charging $5 at the door. Now, if I was by myself, I would have gone with them, but since I was the main ride for my cousins and I already paid $10 to get into this party, I had to regretfully pass on it. I told them that I'd see them next week.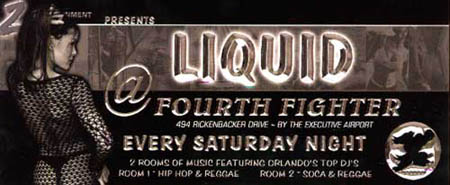 This is the flyer for the party I went to on Saturday night
I have been playing quite the tour guide here in Florida as on Monday I took my younger cousins to Walt Disney World's Magic Kingdom. The place has changed a lot since I was last there as a kid. The park is now more bigger with much more rides and areas. We only got to go around the Magic Kingdom area for the one day we were there. You really need at least a week to see the entire park.
On Tuesday I drove down with my cousins to Miami/Ft. Lauderdale. It was the first time I returned there since I moved away 2 months ago. I had to go and see my good friends, Liza and Jolene. It was nice seeing them even if it was only for 20 minutes.
On Wednesday night I had more time to go out and I took my cousins for a drive down South Beach. They seemed to enjoy it. The majority of them were way underage to hit any of my regular clubs but it was worth trying to get them in. As we were driving down the South Beach strip of Collins Avenue, we passed by a party going on the Leslie Hotel. There's always something going on there... so I knew I'd go and check that out later. As I was in the crazy cruisin traffic of Collins, I told my cousins that they might as well get out and walk and I'd park. The second they open the door >>> WHAM!!! The door strikes and guy on a bicycle and he falls off his bike. I think to myself, "OH S_ _ _!!!!!" Here comes a lawsuit or something. Conviently, a police officer was right there to my right and saw the whole thing. He asked if there was any damage to the car and my cousins said that there wasn't any. The guy on the bicycle gets up and brushes himself off. He's okay.
I still continue to drive and I find a parking spot on Washington Avenue and 8th Street under this tree. ( remember that for later ) I go outside to check the car and find that there is a scratch on the door and there is paint missing. So now I'm just angry. I'm trying to take my cousins out and show them a good time and this happens. Its nobodys fault.. but I'm still upset.

We all finally meet up back on Collins Ave and I take a walk over to the Leslie Hotel.

That night there was a party going on sponsered by SPEED Unlimited Energy Drink. I went in and the party was bumpin to DJ Holze as he played dance and trance music. Thanks to Martin from the Speed Promotional Team that gave me a free sample of the drink. It tastes really good and is refreshing. I got 2 Long Island Ice Teas for my cousins and they felt nice after. They didn't like the music and wanted to go to Club Deep. So we ventured off over there. When we got to the door at Club Deep I had to work something out with the bouncer at the door because I was with 4 minors. Regular admission was $10 for myself and $20 for the minors. So we spent a total of $80 at the door to get them in. Once in, the party was slammin! I couldn't believe how many girls were in there dancing. This night was a live-to-air broadcast on Miami's Power 96FM and also the Tweet Concert After Party. I didn't see Tweet, but I did see some other real good looking women. I danced up a storm while my cousins tried to get a drink. There was a particular girl that noticed me and asked me to dance with her. We jammed well together..Just when I was really getting into it...I was suddenly called away by one of my other cousins telling me that one of them was feeling sick. So I reach into my pocket and know that this night is soon over and I get my car keys. Before I left, I wanted to get some ice water. Not bottled water, just ICE water.. I went to the bar and they actually had the nerve to ask me for $2!! I said forget that. Club Deep lost some serious points with me there once they are charging for regular tap water for the designated drivers. Sooo BOOO them.
Anyways, I go to get my car.. and do you remember where it is? Yes.. at Washington Avenue and 8th Street under the tree. Well.. once I get to my car, I see that it was seriously attacked. By what you may ask? Well.. by bird droppings. No wonder nobody parked in that particular spot!! My car was really disgraced. Miami's humidity alone in that 2 hours I was away from the car baked the droppings into the car's paint. I was hoping for a miracle rainstorm to happen soon.
I got everyone back home and 9am the next morning I washed the car with some lemon Joy dishwashing liquid. I just had to get it out before the hot day sun arose.
Well..... that was basically the most of it.
As for my "THOUGHT", last week I said something and I had to take it out due to some controversial issues. I have a tendency to speak my mind a lot and forget about those around me. So that will no longer happen. I have lost some friends because of it, and it doesn't look like I will be forgiven anytime soon.
I'm only 24 now, and in some ways my life is flashing before my eyes. I am in a career slump. I have no job and have made no progress in the year 2002. I feel as if I am becoming a big burden on my family and that I have yet to make something of myself. There is no jobs and nothing for me to work from in Orlando. I am strongly contemplating a new life in New York City. Frankly ANYWHERE there is a job for me. Once I have a job, that will be a route to some form of minor success.
I have also been contemplating more about my social life lately. One of my good friends and former girlfriends is getting married in a year or so. She was my first love and I feel that I let her get away. She could have been "the one" but due to distance and so many other circumstances, it never became what it could have been. Well, I guess if it was meant to be, it would have, right? So this is just another learning experience in this road of life. I have accepted it, but I still can imagine what life I could have had if it was with her.
Speaking of former girlfriends, I should be seeing a good number of them once I return to Toronto in the coming weeks. If I can find a job there, I'd love to move back. But if my best friends who live there can't find steady jobs there, (and they are way more qualified than I am) how am I supposed to find a job? So, my life is a gamble right now. I am very close to paying everyone off of all my debts. Once that is completed, then I will think about just living outside of society. Maybe I need to find myself. Because right now, I have no clue who I am, or who I am supposed to be. At one time I did, in Toronto. My life in Miami just seemed like an extended vacation. Now my life here in Orlando, just seems like I'm trapped in limbo.
Well, onto next week.