January 19 - February 3, 2004
It's time again for my
world famous
weekly thought. The place where I tell you everything that is going on in my head and stuff thats happening with me.
---
Sophie Wins Super 7 Lotto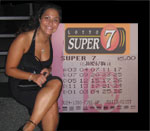 Before I talk about anything, I have to say CONGRATULATIONS to my dear friend, Sophie who won the lottery the other day. She played the SUPER 7 and even though she didn't win the big $30 Million jackpot, she still walked away with enough loot to be smiling about. Sophie played a Quick Pick selection on her birthday. The drawing for this lottery was on Jan. 30. Sophie missed just one number which would have made her $30 Million richer. How much did Sophie actually win? Well, since there were 459 other people that got 6 out of the 7 numbers right, she had to split her winnings. Sophie ended up with $2357.50. Not bad for a quick pick ticket! Don't bother trying to hit up Sophie for the money now, its already spent.
---
cK Goes To Apartment Niteclub
Since returning from my vacation in Florida, what have I been up to? January has been a very busy month for me! As soon as I got back, one of my dear friends from my days in Miami was in town and wanted to meet up with me. Her name was Rachel, and her and I used to work together. She's currently working on a nationwide tour with Verizon Wireless and was in New York for the night. She called me up and we met up in the East Village. When I met up with her, I met her friends. One of them was JAHI SUNDANCE from the Scratch Academy. He was real cool. From there he took us to Apartment Niteclub (419 W13 ST) which is hidden in the meat district of Manhattan. We went down to the lower level, and went for some drinks. Rachel and I were just chattng about where we are now and catching up on things. I remember when I was working with Rachel, I told her that she should go to Japan and take one of the temporary jobs there to work as an english teacher. She listened to me and took me up on it. She was gone for about 2 years out there and is now back here. Rachel told me that if it wasn't for me, she would have never gone to Japan because she didn't even know about the program. In a way, meeting me changed her life.
| | |
| --- | --- |
| | |
| Lower Level of APT | Outside of APT |
After a few drinks at Apartment, we all parted because they had to be on the road the next day and I had work in the morning. It was cool seeing Rachel and I hope to see her again soon when she comes back this way.
---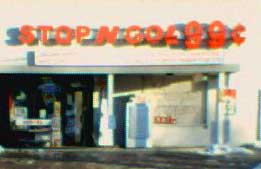 Talk About Mistaken Identity!
It was a very cold winter morning in New York. I dressed appropriately for the weather, with my goose downed jacket, ski mask to protect my face and sunglasses for my eyes. I was warm and cozy. On my way to work around 7:55am I stop into this convenience store to get an orange juice. What happened next, was something I had no idea would happen. As I walked to the fridge where the orange juice was, I didn't notice it but the rest of the customers in the store froze in their steps. Apparently, everyone there (including the man behind the counter) was thinking that I was just about to rob the place. Why? Well, because of the way I was dressed. (the ski mask, gloves, etc..) So, me being completely oblivious to the situation walks real slow to the counter, reaching into my pocket for a $5 bill that I just couldn't seem to find. Everyone in the store held their breath and paused awaiting to see what dastardly weapon I was going ot pull out. Eventually my $5 bill did come out and I walked to the counter looking at the guy behind the counter. He was completely frozen and was afraid to take my money.... and asked in a quivering voice, "A-a-are you going to rob me?" I was completely caught off guard wondering if he was kidding or not. I answered him, "No.. its just real cold outside!" Then one of the store customers wanted to play hero and got involved. A man towering 6 feet something above me wearing Army camoflauge took out a foot long knife and pointed it towards my direction saying, "I'll keep ya until the cops get here!!!" I was like, "WHAT?!!" I then cleared it up with everyone around me that I was there specifically to buy an orange juice. Anyways... I just paid for my juice, and told them that I'm just keeping warm, and I walked out of there.
---
If you have any questions or comments, please email me at crazykelvin@hotmail.com