Welcome to 2003 and my weekly thought. Where I have a lot to say about pop culture and state my world famous opinion on life.
cK's Moving To The Bronx!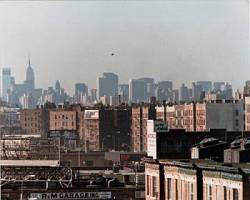 I lately got a call from my Uncle Joe in the Bronx asking me to come and work with him at his real estate office doing data entry work. I would be staying with him during the week and return to Long Island to do my weekend job at Costco. When I arrived in the Bronx, it was totally different than I had imagined. All the stuff that they portray on television about this area of New York was far from the truth. Its really a nice place. I wouldn't say its as safe and protected as some of the finer neighbourhoods in the Hamptons, but its a very busy place with all kinds of people. I'm currently working 7 days and it is affecting my sleep. Only because I am up too late enjoying my new surroundings.
Zanzibar NYC, Thai Pavillion and Bronwyn...
To celebrate my new first week of working out in the Bronx, I met up with my friend, Bronwyn after work to have dinner. I lugged all my week's worth of clothes to her place while we decided where we were gonna dine. While we were getting ready, her cousin Laura who is studying at Westpoint in upstate New York came down to see her. She also brought along her friend, Mike.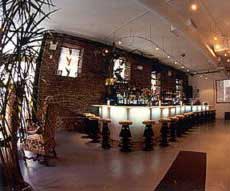 So now it was a group of four going out to eat something. We ended up going to the Thai Pavillion Restaurant in Astoria. I can't remember the last time that I had some Phad Thai noodles, so I ordered that. I don't know exactly how hungry I was, but all I remember was that the food was great! I would totally recommend eating there! After having a bite, we all went back to Bronwyn's place where we set up the pull out beds for Laura and Mike to sleep in. They had a long and exhausting day getting to New York. Bronwyn and I were still quite awake and tip toed out the apartment and took a train to Manhattan. We looked for a cool place to relax and talk a little. We ended up finding Zanzibar Lounge around Times Square. There is a Zanzibar in Toronto that I am aware of, but I have never been there to draw any similarities.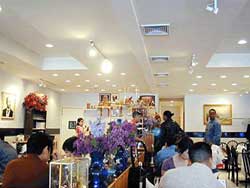 The vibe was real nice that night. Groovy music, nice lighting and crowd. Bronwyn ordered a dry martini while I had to experiment with a chocolate/coconut martini. (What!? I just wanted to see what it would taste like!) Anyways, we took our drinks to the back room and chilled out until the lights came on. They were closing the place at around 4 am -- I think. I realized that all this time, I have not yet even slept since Thursday, and in 4 hours, I have to get back up for my job at Costco... I decided to leave my clothes at Bronwyn's and take the next train leaving Penn station to get me back to Long Island so I can get a little sleep and start work at 10am. I caught the 6:15am train which brought me back to LI at 7:15am. I got virtually no sleep whatsoever... but it was worth it.
Columbia Tragedy
I got up at 9:30am so I can rush and make it to work at 10am. When I did get there, I found that every television was tuned to MSNBC. They were covering the story of the Columbia Space Shuttle that exploded and decended to the earth scattering all over Texas and Louisiana. When I saw that, I was completely crushed.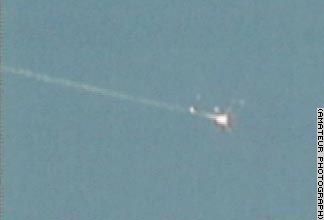 It brought back memories of when I was a kid watching the Challenger explosion live. That was terrifying. This was it all over again. The crew on the Columbia shuttle was 16 minutes away from coming home after completing a 16 day mission. Even though I was lacking so much sleep and wanted to catch a few Z's, I was wide awake glued to the televisions that were even broadcasting the NASA channel's coverage. Feeling very depressed and hurt for the families of the astronauts, I still managed to carry on my demonstration job.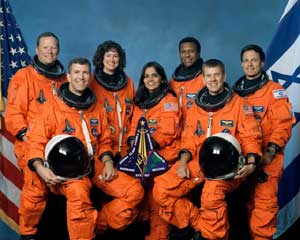 The STS-107 crew is remembered: Seated in front are Commander Rick D. Husband, Mission Specialist Kalpana Chawla and Pilot William C. McCool. Standing are Mission Specialists David M. Brown, Laurel B. Clark and Michael P. Anderson, and Payload Specialist Ilan Ramon.