[ Thought for January 21 - 28, 2003 ]
Greetings cK Fans!!
Welcome to 2003 and my weekly thought. Where I have a lot to say about pop culture and state my world famous opinion on life.
Eerie Dreams...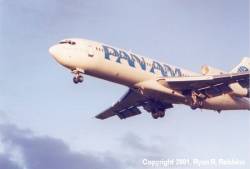 Lately I have been having some very disturbing dreams involving planes crashing. I don't know what it is, but I have had a similar dream twice. The first dream happened in December while I was vacationing in Florida. My dream felt like it took place in Ottawa or Montreal, Canada. The sky was partly cloudy with sun occasionally breaking through. I was in a street near some high rise apartment buildings. Suddenly, I hear a loud plane engine and see from south of where I am standing to my right a big jumbo jet plane with "PAN AM" marked on the side flying dangerously low. It wasn't headed towards me but it about 200 feet away. It ended up crashing right into one of the high rise apartment buildings and creating a huge fireball. I was instantly traumatized after viewing what I had just witnessed. I remember my brother was there beside me and we both ran to help. I had some strange feeling that I had to go and get my mother who was in one of the high rise buildings, but not in any that was damaged. That was the first dream. The second dream happened last week. It was very similar to the first one except for a few details. In this dream, it felt like it took place in Toronto, Canada nearby where I used to live. The sky was very overcast and seemed like it was previously raining. I was standing in front of a house and I see this huge jumbo jet headed my way. It was also flying very low and the engines were roaring while it was coming in. It flew low enough over my house for me to read the words "RONAL" on the side of the plane. After it passed out of view, within seconds, I heard two big thuds and then a big explosion. I ran around to the side of the house to see a huge fireball coming from a building about 2000 feet away from the house. I remember running to a nearby apartment building with my dad. I was barefoot and the groud was wet. Those were the two dreams. What could they possibly mean? Both had planes crashing around me into buildings. I have not seen any 9/11 footage since September. Both planes were white jumbo jets with blue lettering on the sides. I do not have any fear of flying but how can you put away such vivid images out of your head? If anyone can give me a psychological explanation for these dreams, I would gladly appreciate it!
Words To Live By
The following was sent to me via email by dasexyhuni from Toronto, Canada and I thought it was worth sharing.


WHAT I HAVE LEARNED AS I MATURED



I've learned that you cannot make someone love you. All you can do is stalk them and hope they panic and give in.

I've learned that no matter how much I care, some people are just assholes.

I've learned that it takes years to build up trust, and it only takes suspicion, not proof, to destroy it.

I've learned that you can get by on charm for about fifteen minutes. After that, you'd better have a big weenie or huge boobs.

I've learned that you shouldn't compare yourself to others - they are more screwed up than you think.

I've learned that you can keep puking long after you think you're finished.

I've learned that we are responsible for what we do, unless we are celebrities.

I've learned that regardless of how hot and steamy a relationship is at first, the passion fades, and there had better be a lot of money to take its place.

I've learned that the people you care most about in life are taken from you too soon and all the less important ones just never go away.


The Sweetest Thing...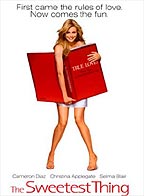 Now, I like Cameron Diaz like most guys, but after seeing her in the "The Sweetest Thing" starring opposite Christina Applegate and Selma Blair, I hope she does NOT include this movie on her resume. I think this movie is intended to be a chick-flick. I usually can handle most of them, but this one was just horrible. From the scenarios and short musical spot, this movie is really bad. I do admit that there are some funny moments, but overall, it looks like the intended audience for this movie has to be the brain dead. Christina Applegate hasn't been in anything so big since her stint on "Married...With Children". Now she returns and appears to have had so much plastic surgery that she looks like a cat. Is she really that old? Did she really need to have all that work done? As for Selma Blair, I'm still trying to figure out who her agent is. I borrowed this movie from the library that has a plethora of current or new release DVDs. When I had seen the movie trailer, I thought that the movie looked quite interesting and would be funny. I was half right about that. It's just too bad it wasn't funny.
Strike It Up!
So I was finished work on Saturday and decided to chill with Tony since I had nothing else better to do. We originally aimed to vege out and watch a movie while eating KFC and drinking heinekins. Those plans changed when Serena came home. They were invited to go out and celebrate one of their college buddy's brother's 21st birthday. I figured I'd tag along because I wanted to get out of the house. So we all ended up going to this place on Long Island called, "STRIKE". It's a bowling/go-karts/dancing venue that is geared towards the twenty something to thirty something crowd. We met up with the "Scooby Doo" gang as they referred to themselves. Emilio, Jimmy and the birthday boy himself, Sergio. There was an hour wait until the next available bowling lane opened up so we chilled in the main area that was nicely decorated in the hippest and trendy club like designs. We all got Sergio some drinks to liquor him up. This place was amazing. There was a live deejay and an indoor go kart track. It could be labelled as a bowling alley with tonnes of extras, but I would say its pretty much a hip nightclub/bar that also has go karting and bowling! The people and the vibe were fantastic. I really enjoyed myself. When it was our time to bowl, we had a riot of a time watching the then drunken Sergio hit more pins than us who were sober. I ended my game with a lousy 76 or so, but I finished in second place! After the fun night out with the guys (and one girl), we made our way up to the exit. Tony and I checked out the dancing lounge that had a few hot girls dancing to 40 something year old guys who had absolutely NO GAME. I danced a little just to get it out of my system and then made my way to the exit. At the actual exit, there is a big glass window that overlooks the dancefloor. I was dancing facing the glass when this really hot girl looked up at me dancing and pointed to me. She smiled. Tony and Serena was beside me when she all of a sudden pulled her top down *flashing* us! I was in total shock! I wanted to go back down there and handle my business but the whole group was leaving! If I drove myself, I definitely would have stayed. But that's what happens when you have to depend on another ride.

After, we all went to the Omega Inn Diner to eat some food and relax. The food was quite quick and real good. I ordered a 6 oz beefburger combo with some root beer to wash it down. It was good, I can't say much about the TWO onion rings that came with the meal, they were umm.. different. Anyways, all in all it was good. Everyone piled together their monies and I went to handle the bill. I met the owner and for some odd reason, he asked if I spoke Greek. I told him that I didn't and that I used to speak a little that I learned in Canada at the Toronto Greek Festival. He then told me that he is a Greek citizen, Canadian citizen and American citizen. Then he started speaking french to me telling me that he used to live in Montreal. Wouldn't you know it? I understood him and even spoke back to him in french. It was a cool refresher for those classes I took all those years. I had a great time and I hope to go back to "STRIKE" soon!
All the best,
-cK

If you would like to have your question, comment or thought posted, please e-mail me at crazykelvin@hotmail.com.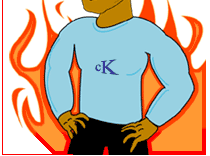 cK's Featured Female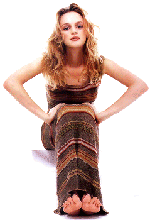 Heather Graham
Birth Name: Heather Joan Graham
From: Milwaukee, Wisconsin
Born: January 29, 1970



The Backstory: Graham first discovered acting as a teenager, when she starred as Dorothy in her school's stage production of The Wizard of Oz. After graduation, she moved to Los Angeles and landed her first role opposite Corey Haim in the DMV-dud, License to Drive (1989). However, her follow up film with Matt Dillon, Drugstore Cowboy (1989) was a much greater critical success.

Family Ties:
Father: FBI agent
Mother: Teacher, author
Sister: Aimee Graham, actress

Famous Flings:
Heath Ledger actor
Ed Burns, actor
Stephen Hopkins, director
Elias Koteas, actor
James Woods, actor
Kyle MacLachlan, actor
Adam Ant, musician, actor

Notable Quotable: "At first, I wasn't going to say anything, but then, who cares? Lots of people go to therapy. In some ways it helps more than acting class. You realize why you operate in certain ways."

Et Cetera: As a teenager, Heather passed on the lead role in Heathers because her parents didn't approve of the foul language. Graham finished two years at UCLA as an English major before dropping out to make her name in acting. Graham does yoga regularly and likes to meditate twice a day for 20 minutes.


Last Week's
Poll Results
Do You Think cK Should Continue This Poll?
Yes -50%
No -50%
Stop This One, Make a New One -0%
Total votes: 4
Quote of the Week



"Heavens To Murgatroyd!!"


-my friend, Bronwyn's exclamation


Did You Miss Last Week's Thought?

click here for archives