Welcome to 2003 and my weekly thought. Where I have a lot to say about pop culture and state my world famous opinion on life.

Blubber Capital of the U.S. is...
The numbers are in, and its official! The Fattest City In The United States for 2003 for a third year in a row is...

(( drumroll ))

Houston, Texas



The cities following are: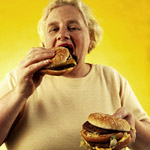 2. Chicago, Illinois
3. Detroit, Michigan
4. Philadelphia, Pennsylvania
5. St. Louis, Missouri
6. Cleveland, Ohio
7. Atlanta, Georgia
8. Columbus, Ohio
9. Dallas, Texas
10. Charlotte, North Carolina

Curious as to find out which were the top "fittest" cities for 2003? Well here is the list:

The Top 10 Fittest U.S. Cities:

1. Honolulu, Hawaii
2. Seattle, Washington
3. San Francisco, California
4. Colorado Springs, Colorado
5. San Diego, California
6. Portland, Oregon
7. Denver, Colorado
8. Virginia Beach, Virginia
9. Tucson, Arizona
10. Sacramento, California

The information was researched by Men's Fitness Magazine. To arrive at its findings, Men's Fitness evaluated the nation's 50 largest cities between July 2002 and September 2002. Cities were assessed in 16 commensurate categories, using data specific to each city. The categories were selected as indicators, risk factors, or relevant environmental factors affecting fitness, obesity, and health. Sample categories included: fruit and vegetable consumption; sports participation; smoking rates; drinking, air, and water quality; length of commute; availability of parks/open spaces; and percentage of overweight/sedentary residents.

PORSCHE-IT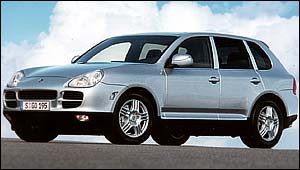 Okay, I don't know exactly to say about the world when PORSCHE, ya.. the german exotic sports car company, decides to create a SPORT UTILITY VEHICLE. Whose idea was that?!?! Any why?! Who is the yuppie whose gonna drive a 450 horsepower elevated station wagon to pick up some groceries? Even if, why? Its ugly! I would rather buy a Pontiac Aztec. Yes, I said Aztek! Apparently this SUV will go to 60 m.p.h. in about 5.5 seconds. Do you really need to go that fast in something so ugly? I understand if you have the money and all, but wouldn't you want to do that in a more classier vehicle, say.. like a Kia Spectra? Good greif. I would really like to have an interview with a person who recently purchased this Porsche.
The World's Largest Woman
The following photos were sent to me via email from one of my friends. These pictures are of the World's Largest Woman who is from Holland.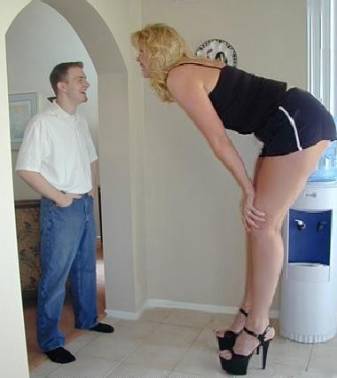 I didn't get any information on her exact height or shoe size when it was sent. From the photos, it appears like she is somewhere around 7 feet tall, maybe even more! If anyone does know more info on her, please send me the stats! This amazon of a woman towers over the guy in the photo, but would she still date him? To be honest, I'd date her! I wouldn't let some height get in the way of what could be a real meaningful and wonderful relationship!

| | |
| --- | --- |
| | |
Life After Helen
I knew the day would come when I could finally say to myself that I am over the biggest crush of my life. That realization came to me in December when I was just relaxing in Florida. The infamous Helen, the girl that had given me the most pleasure and also the most pain, is happily dating a guy. And for some odd reason, I am actually quite content with it. I feel free and absolutely no need to try and get her back. Let her go and enjoy the memory that was. Helen and I still remain good friends, but our intentions of ever getting back together have gone out with the last millenium.

So what am I doing now with my social life? Well... not really dating. That isn't my objective here in New York. Sure I am going out with lots of friends and partying it up around when I can, but remaining single is keeping me free from many problems. I can't say that I am going to stay single forever, there is a day when I will meet Ms. Right, but until then, I still have a lot of soul searching and travelling to do. Now where's that mapbook?
New York Adventures version 1.0
This past weekend I headed out to New Jersey to see a family friend's daughter's 12th Birthday Party. (*sigh*) I remember what is what like to be twelve. Just on the verge of becoming a teen, but still not quite one. Those were some fun years. Anyways, at the little family get-together, my Uncle Joe brought along a friend of his named, Bronwyn. The poor girl stood out like a white icing rose on a chocolate cake. This party was mainly filled with indo-caribbean music and food. I sat beside the red headed girl since she looked interesting and also about my age. Bronwyn moved out to New York from Reno, Nevada to teach. She was once a commodities trader and got tired of it regardless of making a huge paycheck. Later in the evening, my other cousins were trying to show her how to belly dance, and how to rotate her waistline in a high beats per minute track. I have to say, Bronwyn did a very good job for her first time. After that, I was demonstrating to her how to dance to reggae music. How to dip and listen to the rhythm. Don't be fooled, Bronwyn is a trained classical dancer! She is an expert ballerina and probably out dance me, but I was just showing her the basics of west indian dancing.

After a fun night, her and I exchanged numbers when we found out that neither of us had a buddy to explore New York with. So the first expedition was for me to take the Long Island Rail Road and travel over an hour by train to meet up with Bronwyn in Queens. From there she took me for an introductionary tour through her neighbourhood and then we took a subway to get some sushi from Monster Sushi in Manhattan. That time we took to get to know more about each other and eat some Philadelphia Rolls. We ate the shared item that was #114 but I can't remember the exact name. (Nigiri - something) After leaving the sushi joint, we decided to go and check out a movie. So we got on the red line of the subway and headed towards Lincoln Center. On our way, we were passing 50th Street Station. The station's tile work was all silhouettes of "Alice In Wonderland" but there was also a silhouette of a "Humpty Dumpty" figure and even a "Willy Wonka" figure. As Bronwyn and I were discussing why would they choose this particular station for the tile work, a girl sitting beside her on the train butted into our conversation and told us that all the extra characters are in the second installment of "Alice In Wonderland" written by Louis Carroll. Apparently, this girl had written some intensive term paper on Louis Carroll and knew all about it. What were the odds?!?! As for why the 50th Street Station was decorated with Louis Carroll's characters still remains unknown to us at this time, but we are researching this as we speak.

Bronwyn and I got off at the Lincoln Center stop and walked over to the Tower Records store that was having a 4 day 25% off sale. Bronwyn went upstairs to the Jazz section while I was on the main floor listening to some new club trance music. After sampling a CD that I chose not to buy, I went upstairs to find Bronwyn. When I did get up there, I found her talking with an older guy named, Chris. Chris had this "intelligent" look to him sporting un-designer spectacles wearing casual atire and carrying a box of CDs in a brown shopping bag that he recently purchased. As I introduced myself, we all got into conversations about jazz music and artists. Chris mentioned that he met Leonard Cohen in the late 70's in Kansas City. Bronwyn is a huge Cohen fan, and mentioned to me that she'd do things to him if she ever met him. Even if he is about 80! Well, after Bronwyn picked up some CDs, we said "goodbye" to Chris and headed over to the Lowes Cinema. We tried to catch the next film that was playing at 9pm. The next one was, "The Quiet American" starring Micheal Caine and Brendan Fraser. When I got into the theatre, I was unimpressed with the selection of food, screen size and seating capacity. All of that aside, we did manage to get some nice seats thanks to a generous group of individuals. The movie itself was quite powerful. I was trying to contain my harsh coughing with the large Coke that I bought. It worked for the time being. I only heard one whisper from Bronwyn during the movie and it was her saying, "He reminds me of my dad..." while she was looking at Michael Caine's character. After the movie, Bronwyn remained still. She was emotionally drained and didn't appear to have touched the regular sized Coke that I bought for her. Her cheeks were dampened from tears. I was so worried but she assured me that the movie was very sad. I could see that. The movie was sad, so I relaxed a little. Just the whole idea of a fun time with Kelvin then ending with tears doesn't fit right with me. I felt somewhat guilty. Maybe if we had seen a comedy... Anyways, she was back to herself later once we got on the train. I gave her a big hug and it seemed to help. Poor girl. We departed as I headed to Penn Station while she was going towards the number 7 train. We text messaged eachother on our phones until we got home. It seems like I can finally being to explore New York City!