Welcome to 2003 and my weekly thought. Where I have a lot to say about pop culture and state my world famous opinion on life.
cK Has Moved To The Bronx!
I have been real busy with work and have not been able to update every Tuesday as I usually do. If you have time, you can read the last 2 weeks of Weekly Thoughts. January 28 to Feb. 4 and January 21-28.
Coming To Toronto... 02/12/03
Prior to me coming to Toronto for a week, all I could think about was my return to the "T Dot". So nothing in New York really happened. I got on an American Airlines flight from LaGuardia Airport on Wednesday from tickets that I purchased on Expedia.com at a fairly decent price. The flight was very quick between Toronto and New York. When I arrived in Toronto, my cell phone got a text message saying: "Welcome to Canada! Enjoy your stay!" I thought that was the coolest thing!
So I got off the plane and waited in the baggage area for my luggage. 10 minutes pass, no luggage. 20 minutes pass, no luggage. I was seeing other people from other flights coming in after me, and getting their luggage. So eventually a voice came over the public address speaker saying, "For those passengers who are arriving on American Airlines from LaGuardia, the plane is having trouble opening the cargo door so retriveving the luggage will be delayed. My ride, n8 calls me asking me where I am. I told him the situation and he waited patiently until I called him back to tell him what was going on. So there I am waiting... and then all of a sudden an airline representative approaches me and asks, "...are you from the flight from LaGuardia?" I was like, "ya!" She then gives me a form to fill out and says, "We might not be able to get you your luggage at this time, so we might have to ship it to you." I was like, "oh great." What a wonderful beginning. I have no clothes, nothing!!! I still decided to wait around 20 more minutes. My patience paid off as they did manage to open the cargo hold and get our luggage out. I went through customs and met this really attractive customs officer. She looked through my stuff, greeted me with a smile and let me be on my way. I met n8 outside and we were on our way.
N8 vs. cK II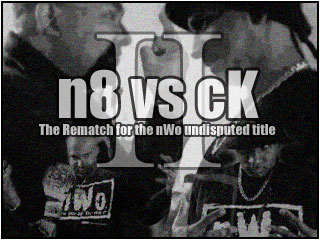 So I get back to nWo Toronto headquarters. Little did I know that I would be repeating the main event of a year ago when we went to see Wrestlemania at the Toronto SkyDome. N8 suprise attacked me and challenged me to a Hardcore Duel for the Undisputed nWo Title. I just came to have fun in Toronto. I didn't want to go over a match that I was cheated out of last year. But maybe I can redeem myself and take advantage of this new opportunity. Just when we were just about to rumble, my friend Shelley calls us and invites us to go bowling with her and the gang. N8 used his webcam to capture some moments while visiting the PHATcave below.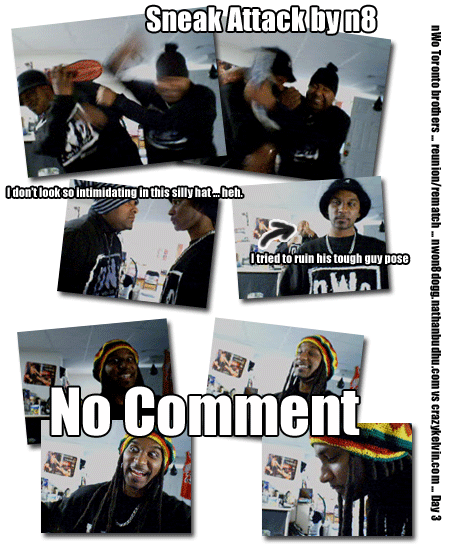 ::PLANETBOWL with the Malton Crew and other Surprise Guests::


N8 and I were on our way to go bowling when we thought about picking up our good friend and Caribana 2002 dance partner, SOCALOCO. We also spun by the home of The Big Black Machine. He actually decided to come out with us! So we all meet up at the bowlerama around 10:30pm. We met up with Andrea, Veda, Lori, Kenny, Larry, Gino and of course, Shelley. Even though I bowled twice in the last 4 months, my game was pathetic. I was just happy to be playing with everyone having a great time. Sure I slipped many a time while setting up for that strike, but hey, its all part of the game, right?!?
cK's Valentine's Day
My February 14th was spent running miscellaneous errands around Toronto. The evening was supposed to be spent with my special *valentine*, but she had to work late. Instead, I met up with my good friend, Sophie at Casey's in the Yorkdale Mall. N8 Dogg was there too and we all had some real fun just yacking it up. It was far from romantic. It was just another day on a calender. It was really just 3 friends having a good time eating calamari and drinking fine Canadian Ale. (Alexander Keiths) I had to have some Stella Artois. Silly me, I could get that in the 'States. I can't get Alex Keiths down south. Just when we were about to eat, I saw something scurry along the floor behind N8.

I got up and pointed at it. Sophie and N8 turned around and both freaked. N8 calmly reminded us why he was just ordering drinks rather than getting food. Poor Sophie got all paranoid. She didn't want to eat anymore and N8 was just adding more kerosene to the flame bothering her more and more about how much rat is in the food. I didn't care. I ate my calamari even though it now completely looked like something else that was deep fried! We still managed to put the little scurrying mouse or rat or whatever it was behind us and enjoy our evening.

Sophie departed from us and we were planning to see a movie with her later in the evening. But plans fell through. After waiting a while, N8 and I decided to go to Playdium (aka SegaCity) in Mississauga. We got there at midnight and stayed there until it closed. We played unlimited games for $25. The place was virtually empty so there was no lineups at all! It was great. Playing car racing games, fighting games and super table hockey, the one game that we spent the most time was this "shoot-em-up" game from Sega called "House Of The Dead 2". A very graphic and horrifying game not intended for kids, consisted of shooting a whole bunch of zombies and trying to save innocent people. It was fun, but had it not been for the unlimited play, I think we'd have ditched that game the first time our credits ran out.
cK Meets the Latest Member of the nWo Toronto Family
After a day of NOT getting to the flea market, but getting new shoes at Yorkdale Mall, N8 and I were able to stop by RAGING BULL's and Rachel's house to see their little newborn, Ruby. I brought a nice little outfit I picked up in New York for her. You start to feel old when you see your friends' having children and doing all these "adult" things that you didn't even think about only a few years ago. I turn 25 next week and I still haven't even met a woman I could have children with. (well..maybe I have!!) I wish CJ and Rachel all the best with their new baby. She's a little sweetheart that will be a blessing to be around.
FETE at Tropical Zone Tequila Lounge!
Saturday Night the main plan was to go to the Dr. Jay Fete called "Doh Cry Ah Leavin" being held at Tropical Zone in Toronto. Every year, they close the doors at 9pm because from that point on it exceeds the capacity. So the word is always come EARLY! What time do you think we got there? 10:30!!! Now, on a regular club going night, that is very good time, but this party starts early and goes real late into the next day. The lineup was huge. People were locked outside waiting to get in. Now, it was myself, N8, Shelley and my long time friend who I haven't seen in years, Randy. While we were contemplating what to do, there was a guy walking to all the cars lined up outside the venue handing out flyers about an "overflow" party happening at the Tequila Lounge. With the flyer, everyone gets $5 off the admission price. So we decided to head down there and party it up. We got to Tequila Lounge and met a lot of people who couldn't bother waiting out in the cold. The music was good and the vibe was nice. I can't say it was as hype as the party at Tropical Zone, because I didn't even break a sweat dancing. But it had to do. At least I was having fun with good friends. After the party shut down sometime after 3am. We went to Shelley's house with some Burger King and watched the first parts of the video from her trip to visit me in Miami last year. Randy and N8 fell asleep while Shelley and I were reminiscing of the crazy moments. I eventually told Shelley that I'll see the rest later and take everyone home. I left Shelley's at 7am and arrived home at 8am Sunday morning. Eeek.. so much for going to church!
cK's REAL Valentines Day!!!
The next day I woke up 4 hours later around 12:30pm. This was the day that N8 and I were supposed to go to the Toronto Auto Show. After the auto show, I was supposed to meet my friend, Fiona for a romantic dinner at 7:30pm. Poor N8 slept and slept. He eventually got up around 3pm. By the time we even left the house to head out to the Auto Show, it was 6:30pm! I told N8 he might as well just drop me at the subway station so I can meet up with Fiona downtown. So that's what I did. Fiona and I arranged to meet up at an intersection in Toronto. So I called her cellphone from a payphone and she told me to look out for her white car. I saw it and walked right up to it. I opened the door and sat down in the car, took one look at her and gave her a big hug. I then directed her to the fancy restaurant where we would be going to. Usually this is where I plug the name of the place where I went, but in this case - I'm keeping it a secret. So we get to the place. We got a nice table, had a nice waiter, the place was candlelit, soft music and very romantic atmosphere. I tell you this, Fiona looked absolutely stunning. I mean gorgeous! To me, a 12 on a scale from one to ten! I don't know what I was feeling with her, but that night, she was my valentine. We ordered a few drinks and asked for calamari. But the waiter said they were not serving that tonight. So we got Hong Kong Spring Rolls. Honestly, I wasn't hungry, but I wanted to treat Fiona to anything she wanted. Her and I talked about so much. It was really laid back and probably the first time ever where we actually got to speak without dancing right after or running off with other friends. If there was any big highlight of my short visit to Toronto, this was definitely it.
One Day in Rexdale
I had a to see my dentist for a checkup at 3:00pm in Rexdale, the area of Toronto where I grew up. It was there where I went to see Pearl-Leah and Darcy just for a little bit because of time constraints. N8 lent me his car to do whatever I had to do that day. After seeing Pearl-Leah, I got into N8's car and it was snowing heavily. People were crashing everywhere. I decided to lay low because it was rush hour and I didn't want to risk anything. Around the corner from where I was, I went to visit a girl I haven't seen since I was 6 years old!! That's right. Her name was Nisha, and I bumped into her brother, Rishi 3 years ago at the Canadian National Exhibition. Unfortunately, Nisha and her family have no recollection of me whatsoever, but they were so nice. They still treated me to merlot wine and some real nice chicken and rice dinner. We talked about a lot of things, and I had a great time with them. Its people like them that remind me there are still a lot of good people out there.

After them, I quickly went to see my friend, Moe who was celebrating her 25th birthday that day. We talked a little and she gave me my doubles to pictures she took when she visited me in Miami 2 years ago. She looked real cute and was getting ready to go out with her boyfriend later that night. It was nice seeing her, even though it was for 20 minutes.

After seeing Moe, I went to visit my cousins where they fed me again. We watched the conclusion of Joe Millionaire. It wasn't really shocking, but we all were entertained. After that, I watched a little of the 20/20 Micheal Jackson interview. I don't know if this documentary did more harm than good for Micheal. You can take it anyway you want it. He is a little weird, but I think the reporter was biased and was aiming to hurt Micheal in this.
cK's Last Day In Toronto (this time around)
It's a Toronto tradition for me to see a movie while there. I don't see movies in the United States because frankly, the theatres are crap. So N8 wanted to see Kangaroo Jack.

I don't know why, but he knew I was the only one who would go and see it with him. So I went. The movie would have been great just on video, but it was a riot. Entertaining. Later that day, Shelley called me and wanted to see a movie one more time with the rest of the Malton crew. So we all arranged to meet up at Yorkdale to see Daredevil. I wasn't too excited about watching Ben Affleck play this character, but by the end of the movie, I am convinced he played it well. He did a great job. Anyways, that was my last group event in Toronto. I had such a blast and can't wait to come back. I am constantly asked by my friends, "When are you moving back?" I tell them soon, but I've been saying that for years. I do want to come back. This is the only place I feel "at home". I just have to find a little of myself first before I can do that.