Alright, I know I am a bit late in putting in my Weekly Thought.. but I was virtually away from my computer all the time. I was always out dancing or touring Miami with my sisters from Toronto: Shelley, Lori and Andrea..
So since I explained that, let's get right into my Weekly Thought:
Let's just say that I have had the most AMAZING birthday I've ever had! I have to thank each and everyone who showed up at the 1st Invitational CrazyKelvin.com Miami BBQ/Pool Party! The weather was amazing and totally worked out for all that came.
Besides that, lets get into what exactly happened this past week when my sisters flew down to Miami to see me and explore this beautiful city.
Day One - Thursday
Shelley and Lori fly into Fort Lauderdale Airport and me and the Tazemaster greet them. I drove them around for an initial tour of Miami and then we got to my place. We got prepared for going out that evening. I knew that we were gonna hit the South Beach clubs, because there is always something going on there. Around 11pm to 12am we went out to the SOBE Strip and walked past some clubs. We came up to this club called "LEVEL". It seemed so dead on the outside, but the security bouncers had seen that I had arrived with 2 beautiful ladies and granted all of us free admission. We weren't too sure about it, since maybe it might be dead inside. So we still went in to look because that wouldn't hurt. When we got inside, there was a decent sized crowd. The music was good too. Shelley went around to see if she could get a guy to buy her a drink......and to make a long story short, 30 minutes later, Shelley was dancing on top the bar getting me and Lori free drinks all night long! The night was unbelievable from that moment on. The bouncers were totally giving us V.I.P. access (special shout out to Rick) and so were the bartenders (shout out to Bob). If this was anything like how the rest of the week was gonna be, this trip to Miami for these girls was going to be something very memorable. After Level, we hit another club called "TWIST". It had great music, but it wasn't our scene. We left 7 minutes later. We then went to a club called Crobar. It was really big and quite beautiful. Within 30 minutes, the club was closing and turning all the house lights on. So we called it a night.
Day Two - Friday
Friday was a day of shopping a little and going to Sawgrass Mills Mall in Fort Lauderdale. This mall is HUGE. I know that there are some big malls in Canada, but geeeezz... this place was really big. After a full day of walking and shopping, Shelley, Lori and I went back home to prepare for our second night of clubbing. There were many choices for Friday. We could hit the Madhouse, Club Deco Drive, Club Level again or even Crobar. But before hitting the clubs, we had to pick up the 3rd member of the group, Andrea, who was arriving into Fort Lauderdale Airport at 10pm. Andrea arrived around that time and we were already dressed to jam. Since Club Deco Drive was right around the Airport, we decided to hit that. Club Deco Drive was free for everyone before 12:45am. On our way walking to Deco Drive, right beside that club was another club. There was a gentleman outside handing out cards and saying that ladies drink free from 12am to 1am. Shelley and I looked and each other. (the time was just after 12am) We decided to get a few drinks for free in this club and then head out to Deco Drive right after. In this club, within 45 Minutes of getting off the airplane, Andrea had gotten a dinner invitation from some guy. I think Shelley got a wedding proposal the night before -- oh yes.. I remember now... even before we got into club Level on the street, some guy actually was so taken by her beauty, he asked her to marry him. (of course she said no) Anyways, we head out to Club Deco Drive and get in for free. This club was really nice. There were 2 floors. One room playing reggae and the main room playing calypso. True say, that the general crowd there wasn't really jamming as much as I would see at a Madhouse crowd. But the music was hype. My 3 sisters and I were dancing up a storm. There were even some costumed dancing performers who came and danced by us all night because we seemed like the only action in that place! After leaving that club, we drove down to South Beach to a place called Club Spin. Our bouncer friend Rick was working the door and told us that we'd be in if we came a bit earlier. The promoter was charging us $20 each to get in. The party crowd did not look like it was worth it, so we called it a night.
Day 3 - Saturday
Saturday was a day where all of us drove up to the Thunderbird SWAP SHOP Flea Market to see what deals they had. The weather was overcast and we were uncertain if it would continue into the next day for the BBQ. After the full shopping day, we came back home to my place and took in the hot tub. Yes...... the hot tub. It was real relaxing. We just took it in and mellowed out. That was one of the main reasons my sisters came down. Later that night my cousins drove down from Tampa and Orlando for the BBQ/Pool Party the next day. Mark, Ryan, Richard, Terry, and SHADOWMAN. Yes.. that's what we call him. An obnoxious, stereotype of the current downgrade of society. They all came to my place and trashed it. Literally. That night, My sisters and I went over to Club Space. The previous night, a guy on the street told us that it would be free and that it was also an open bar. So when we got to the door, the bouncer said that Armand Van Helden is playing tonight and its $20 per person. I asked him that I thought it was free tonight, he then directed me to the other line and told me to say the words "Sobe" and "Uprising". So we did that. And to our surprise we were in the club, and yes.... FREE DRINKS! Club Space is huge. I mean HUGE. There were lots of dance/trance rooms and then there was a hip hop room. That's where we parked for the night. We definately had a great time and left quite happy. When leaving, my cousins drove up to where we were walking and picked us up. When I got home, I found that my television stand's glass door was smashed. There was bits of glass everywhere. Apparently when I left, these guys did something and "accidently" broke it. Were there any drugs involved? yes. That night, a total of 10 people slept comfortably in my studio apartment.
Day 4 - Sunday
Yes.. the big day of the BBQ/Pool Party!
The weather was definately great. Everyone showed up and it was a success. Thanks to the following people who came out and helped:
Shelley, Lori, Andrea
Liza, Jolene, Brian, Ron, Tommy, Dan and Shevon
Mark, Ryan, Richard, Jonny, Terry, Shalimar
Carlos, Jose, Garvey and the nice family BBQ'ing beside us.
It's just too bad I didn't get much pictures of that event. But I did get it on video.

We had a live DJ with full club speakers jammin' on the pool deck. Enough noise to get me noise complaints 3 times from other tenants of the building at 3pm in the day. The rest of the day was pretty chill. We all just called it a day and got some rest that night.
Day 5 - Monday
Why is it that I can't remember what happened on Monday? Lori, Andrea or Shelley.. please e-mail me and tell me what happened! I think it was Monday night where there was a free jam going on at Club Level once again. But this was the Jill Tracey Fashion Show as well. When we arrived at the club, we met the same bartenders and security who showed us such a good time the first night. While we were videotaping, right behind us, was John Witherspoon! (Pops from the Wayans Bros. and Ice Cube's dad in Friday) All of the girls got to meet him and he also met me! When posing for pics with me, he did his act! (bang!bang!bang!) It was hilarious. This definately proved that you can meet almost anyone in Miami. Later that night we saw Fat Joe and the Terror Squad. We even heard that Janet Jackson was in the house. We danced and had a great time that night then came home to chill out.
Day 6 - Tuesday
Tuesday was a full beach day. We all drove down to South Beach and packed a cooler and brought along some grilled chicken from Pollo Tropical. After sunning ourselves for hours, we finally went into the water to take lots of pics and frolic. It was great. To Lori and Andrea, it was the trip's highlight. After coming off the beach, we all took a walk down the South Beach strip and looked at places that we might go for dinner the next night. When we went home, we all relaxed for a bit because we planned to go out somewhere. But a whole day at the beach kept us in chill mode and put Shelley to sleep. Lori and Andrea went down to the jazz lounge in my building where my friend Garvey gave them a personal show and seranaded them. When I came down, I missed it but we had a good time chatting.
Day 7 - Wednesday into Thursday
This was the final day of the vacation. We took a walk downtown to do some shopping and also went to Miami Bayside. When we got hungry, all throughout the food courts we kept on getting free samples of foods at each food stand. We got so many that we practically didn't have to buy anything. But we still ended up getting something. When we got back to my place, we got dressed to go back to the South Beach strip to dine out and eat dinner. We stopped at Mango's restaurant. A really bright and big latin dance club that you could NOT possibly miss. We ate there and then later went inside to dance after we ate. I planned for us to drive up to Fort Lauderdale to go dancing at Voodoo Lounge because Ladies drink for free all night. But while walking on the strip, a guy came up to us and gave us free passes to this place called Tanja. He told us with those passes, it was free for all of us and free drinks. So I decided not to go to Voodoo. When we got over to Tanja,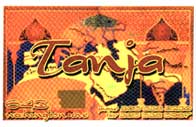 the guy at the door let us in with no problems. Inside this really tiny club thats comparable to the size of a quickie mart, there was virtually nobody. This club was ghetto. (don't let the outside appearance fool you) When Shelley went to the bar for her "free drink", the bartender said that she had to have a wristband for free drinks. So Shelley went back to the front and got a wristband. When she returned to the bar, the bartender told her that she has the wrong coloured wristband. She brought this to my attention and we decided to bounce from that point. When we were exiting, Shelley made it known to the entire street how garbage the club was. When we got to the car, the manager (Hugo) rushed to the car and tried to invite her back in, and apoligized repeatedly. He then told her that all of us would have free drinks for the rest of the night. So, we took him up on that. After jamming for about another hour, the club closed up. We got back in the car and vowed not to sleep tonight. We drove around for another hour and then went back home. When we got home around 5am, we waited until 6am when the hot tub opened up. We all got out there and chilled with champagne to toast the great week and my birthday as well. At around 7am we got up to watch the sun rise in the east. This was a first for me. I'm always coming home when the sun rises, but to actually watch it as it first peeks up from the horizon is something truly majestic! We chilled in the hot tub, took some more pictures and then we got back up to the apartment and the girls started to pack their luggage. Shortly after that, I then drove them to the airport. It was indeed a very sad thing for me to do. But we all have lives that we have to get back to.
* Thanks girls, for bringing so much fun down here in Miami. I look forward to the next time we all see eachother *
All the best,
-cK
"i don't understand why u would go back to the club.. i would have left.. If the place is dead.. and the bartender is giving u crap about wristbands.. its a **** place to be! First of all what is this crap about wristbands?? Hello.. if the place is dead.. then the only people that are there are the people that got the tix to get the free admission and drinks! What a load of crap.. if i was there.. the only way the manager would have got me to step back into his club.. was if he gave me a year's VIP and even then.. i don't know.. Dead club's VIP?????????? Nevermind.. i would have gone to the Voodoo Lounge.. we have one here in Van.. and it kicks ass!"

-Ruby
Surrey, B.C.

"...I can't believe you mentioned the dinner invitation! That was funny. I guess it's part of the story for Friday night. The SHADOWMAN reference made me laugh out loud, and all your recap needs is a few pictures and a wav file of "BEAST"! On Monday, we took the "people mover" and went shopping around the city. Lori also got the modelling offer that night, and the Toronto Media Group was out in full force! Maybe that's another secret between us, like the champagne. Wednesday was the miseducation of Crazy Kelvin and crew when we visited the museums."

-Andrea
Toronto, Ontario

"Eh Budday"

Guy, I can't believe you were able to condense our entire vacation like that. You're pretty skilled still! Tru say, it would've been more like a novel if you did include EVERYTHING. I have to tell you something very "camera moment" that happened on our way home. We were walking towards the gate for our departing flight, and we were reminiscing about me at the beach, bending over for pictures! Right there, in the middle of the airport, whilst walking towards the gate, bags in our hands, we all stopped in mid-walk, in sync, and bent over like we were posing for a group picture, with our batties all cock out!!!!!! Truly a kodak moment, I wish we had it on camera! "BEACH! BEAST!"

"Yeah yeah, T-dot representin' baby"

-Shelley
Windsor, Ontario

If you would like to have your question, comment or thought posted, please e-mail me at crazykelvin@hotmail.com.