Welcome to 2003 and my weekly thought, I wish you all a very prosperous and happy new year!
cK's Holiday Adventures
I have so much to catch up on. Before I left for Florida for the holidays, my dear friend, Mona was moving back to London, England. I had to travel up to Danbury, Connecticut to see her one last time while she was here in the North America. On my 5 hour day travel to get to where she was by train, I met this guy at the final station. He was an international student from Ghana. After a little conversation, we both found out each of us was getting on a plane the coming Sunday to visit their parents. His being in Ghana, mine being in Florida. After a little wait, I met up with Mona and we had our little evening adventure at the Danbury Fair Mall. It was quite packed due to all the last minute Christmas shoppers. I can't get into all the details, but both of us had a blast together. Oh! I have to thank Mona for buying me a combo number 9 at McDonald's. That was real nice of her!
The Sunday I flew out on a plane with JetBlue to Orlando, Florida. I got the middle seat between to cute girls that kept to themselves. The girl on my right wanted to catch some Zzz's while the girl on my left was very caught up watching Animal Planet. I flipped some channels and found a basketball game between my hometown Toronto Raptors against the Los Angeles Lakers! The only downfall was that it was on Telemundo meaning it was all being commentated in Spanish. Oh well. I definitely admit, it was a very amazing game to watch. There were so many times I was jumping out of my seat with excitement. Eventually in overtime, the Raptor's valiant effort still could not earn them a win as they lost. A little disappointed, I noticed the girl on my left giggling constantly watching Animal Planet. The girl on my right was also giggling a little too watching the same thing. I decided to see what all the fun was about. The channel was doing the year's highlights of their show's, "The Jeff Corwin Experience". Everyone, I tell you this, if you have not already seen this show, I suggest you set your vcr to record it. It is hilarious. Unlike any "animal" show you've seen. It's a little like the Crocodile Hunter, but this guy is on a different trip. He's just a regular guy that knows a lot about animals and stuff, and boy he likes to explore. A definite must see. I was laughing soo hard watching this. Our entire row was laughing out loud with each other. I'll never forget that.
So I arrive in Orlando and spent a very quiet Christmas with my parents. I really enjoyed that. Most of my time in Orlando was very laid back, I also met my friend, Marlon who just happened to have a close relative within blocks of where my parents live. After chillin' with my parents for a week, it was time to spend some time in Miami where I can see my friends and bring in the new year.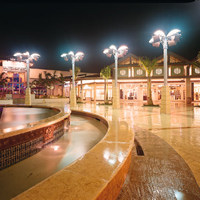 The Falls, Miami

I drove the infamous Impala LS down the Florida Turnpike and straight into Miami. I met up with Kevin where we decided to take a walk to the mall. The mall we went to was called the Falls. Its like this ritzy outdoor mall with a really nice waterfalls in the middle of it. This type of mall could only exist in the Florida climate. Well, after our little walk and stuff, we were trying to find the right party for tonight's New Year's Eve get together with all my friends. Marlon called up and told us all to meet up at the Hollywood Beach Resort where there was this off-the-chain reggae jam. So after I went to pick up my lil' sister, Liza and cousin Jolene. Jolene later backed out and made plans elsewhere. That was too bad. Anyways we get to the party at we have a blast. We got free champagne and the music was great! We certainly had a great time. If I had a digital camera, I would have had nuff pics to show on here. I had a disposable camera and I haven't developed the film as of yet. After dropping Liza home, Kevin and I went to Denny's and ate some food. We all got home around 3am. The next day, Kevin and I went over to Liza's house where she made breakfast for us. The food was amazing. I wish I could eat like that everyday! Since not much stores were open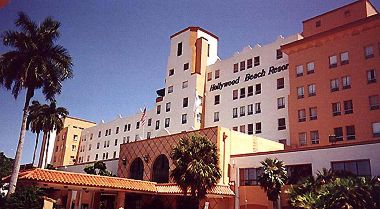 Hollywood Beach Resort

on Jan. 1, the whole bunch of us decided to go to Marlon's and chill out. We ended up watching Dragonball Z and eating Subway subs and using the remaining film on my disposable camera. Later in the evening we left and I dropped Liza home. I slept at Kevin's place and then departed for Orlando the next morning. As I was leaving for Orlando, I decided to stop by my old Miami apartment. It was amazing how things have changed. I went in to see my old property managers and they told me to "move back!" Oh, how I would love to if only I had a good job to come back to.

Even though my trip to Miami was very short, I had an amazing time. I can't wait until I go back. I drove back to Orlando and left the next morning on a plane back to cold New York. It was such an adjustment to get on a plane in such warm weather and then get out and be welcomed by gloomy gray skies.

FINALLY...cK's Weekly Thought!!
Well I guess the main thing to do on New Year's Eve is to look back at all your acheivements and accomplishments of the year. I can say that in 2002, I lived in 3 cities. (Miami, Orlando and New York) I also had memorable returns to Toronto for Caribana and meeting up with ex girlfriends. I think I had a good year, just that I wasn't as successful financially as previous years.

I am currently living in New York and have been here for 5 months. Next month in February, it will be half a year that I've been here. I have seen many things in NYC and people too. But I still have to find a job that keeps me happy here. If I don't by the end of next month, I am re-evaluating my progress here and may think to move elsewhere. Possibly back to Toronto or even Miami. My dream would be to live in Toronto for 6 months of the year and live the other six in Miami. I think that in all my touring and living in all these cities with a whole bunch of jobs, I could in fact open up my own business. But what? I don't think I would do something in web design, I'm soooo burnt out of it. A consulting firm for web media? Possibly! I have 6 years experience in that! I also know the right people to get any job done... hmmm.. so what am I waiting for? I guess capital. I need money to start up a company, and that is something I don't have right now.

So it looks like I have to find a decent job, then save money earned from that job towards opening my own business. Sounds impossible? Maybe, but I'll stay positive.

More and more as I talk to New Yorkers, I am finding less hope to stay here. At Costco, they laid off a huge number of employees, Verizon here cut 10,000 jobs recently and the New York Mayor is cutting down NYPD. Come on now, if there is anything this city needs, it is the police. If I thought I was safe before, I better think twice. Job security is scarce and the market is really bad. Plus, the US is planning to go to WAR in 2 months! That's NEVER good for the economy. So, if there is a war... I know that New York isn't exactly the safest place to be. Even Toronto is way too close to the American border and most likely will feel some effects if there was a nuclear blast on US soil. Would Florida be attacked? The worst scenario is that an opposing country would attack the entire eastern coast, therefore hitting anywhere I hide in Florida.

Besides all the talk on war and job issues, next month I turn a quarter-century. 25 years old. I can't believe it. I'm OLD. I still feel like I'm 19. What happened?? What happened between 19 to 24?? What did I do with my life? Have I wasted it? If I wasn't living all out before, now I'm gonna do anything and everything I can to live life to the fullest. Forget about how much money I make or didn't make, I want to see and travel anywhere. Eat crazy foods and do stuff that I told myself I wouldn't before. So when I recap my year at the end of 2003, I can look back and smile saying it was a great year.