August 25 - September 1, 2003

It's time again for my world famous weekly thought. The place where I tell you everything that is going on in my head and stuff thats happening with me.

Labor Day Weekend Jump Start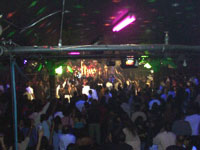 Club Tobago - Queens, NY


It was the Labor Day Weekend in New York City. Last year this same time I was in Orlando and was just making the decision to move to NYC. I don't even think I celebrated the holiday because I wasn't working at all. This year however, I have so much people to party with and explore the festivities going on here. The Labor Day Friday came. (Aug.29) My cousin, Jazmine, invited me to go to Club Tobago where we'd dance up a storm. I had no idea what was in store there, but from my time there before, I figured I'd have a good time. When we get to the club around 12am, the line up was huge. While I was waiting in line, I meet my friend, Vinny, who I know from the Bronx. He told me that he'd meet me in the club later. After I pass the security check, we find that the cover charge was $12 before midnight, $20 after. Oh well, so I pay the jacked admission price and go in. My cousin goes on to meet some of her friends while I get a Guinness Stout and chill by myself as the DJ plays.

Rikki Jai and Double D
Around 12:30am, famous calypsonian Rikki Jai and his partner "Double D" take the stage and open up the show that was going on that night. I'm not sure if they were originally scheduled to be a part of the show, they were not on the flyer, but huge stars like that I guess get to do whatever they want! They sing a few songs to warm up the crowd. That they certainly did. Later in the night, they started giving away free glow sticks and Trinidad or Guyana flags. I ran up to the front of the stage and stuck my hand out hoping that they would pass me a free glow stick. But, by the time I got there, they stopped handing them out. This really attractive woman to my left saw what had happened and was kind enough to give me one of the 7 glow sticks she had. I stayed there by the stage and danced by myself when the music played. All of a sudden, as I am dancing, this beautiful girl dressed in black with light skin, short curly hair and a cute smile approaches me and starts to dance. I thought that this was nice. Then she started dancing closer... and closer... and closer! So close to me that a breeze couldn't pass between us. Then her 3 other friends came along and started dancing with me too. I guess they liked the way I moved or something. Some other guys saw what kind of action I was getting and tried to get a piece of it. They were out of luck when these girls rejected them and danced even more closer to me! The night went on and on with me not even getting a chance to run and get a bottled water. I had this one girl glued to me. I wasn't going to let go because I was having so much fun. I remember "Double D" coming down to the dancefloor and I was able to talk to him for a little. He was really cool. Eventually, the music's pace died down. Around 4am, the DJ slows the tempo and the house lights slowly begin to come on. I had to go... I said goodbye to my fun dance partners and went home to sleep.
---
cK's Zippin In an '03 Volkswagon Beetle Convertible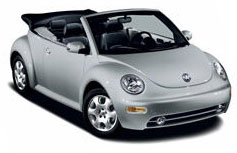 With my ZipCar monthly membership, I can rent any car that they carry. So since I didn't get use any of the cars that I was entitled to this whole month, I thought that I should just rent one before the month is over. I chose the Labor Day Saturday to rent a VW Beetle Convertible. When I picked it up, I was first confused on how to open the top. Its tricky if you don't read the manual. The car was in Reflex Silver paint and had black leather trim. I had the top of the line model with the 6 Speed Automatic/TipTronic Transmission. The same stuff found in Porsches. So my cousins, Andrew and Jazmine come along for a ride with me. We decided to drive out of Manhattan and head for a spin to Brooklyn around the Eastern Parkway where we could catch an early glimpse of the West Indian Labor Day Parade route. I found the car had great pickup, nice speed and drove really smoothly. So many heads turned as we drove around with the top down. As we got onto Flatbush Avenue in Brooklyn, the streets were crowded with cars and traffic. Our choice of cruising ride was top notch as the car's sound system easily carried distance because there was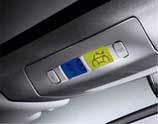 no car roof. After driving this car for about 3 hours, I immediately fell in love with it. Would I buy this car? Certainly. But it would not be my main vehicle to get around. The trunk space is very minimal. My carry on luggage alone would have trouble squeezing in there. Other than that, the car is spectacular. This car is very nimble and because of its tiny size, easy to park. Some of the cool features I liked was the display above the mirror when the roof was coming down or going up. It had a little digital beetle with the roof animated going up or down. I have to admit I was a little sad bringing the care back. This is a car I would rent again and look forward to saving up for the $21,025 US price tag for the base model.
Pics That I Took

Side View

Front View

cK Drive Pose

Andrew Drive Pose
---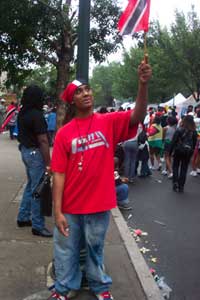 Andrew Showing His Colors
First Time At New York's Labor Day Parade
In May, I was at the Bermuda Carnival. In early August, I didn't make it to the Caribana Parade in Toronto, but I did go to a lot of the afterparties and Caribana events. Now, this past Labor Day was my first time in New York to see their Carnival. It is officially called the 'West Indian American Labor Day Parade'. I heard that it was huge, but I had no idea. The parade route goes down the Eastern Parkway in Brooklyn. Its not exactly a highway, but a really big stretch of road with four lanes. Being my first time, I wanted to go with my family. So I went with my cousins, Jazmine and Andrew. My uncle lent me his black Hyundai Tiburon to drive to Brooklyn, where I parked at a relative's house near Avenue H. From there we were given a quick ride up Utica Avenue towards the Eastern Parkway where the parade started. When we were let out, we walked up Utica in the rain where lots of people were walking in the parade with umbrellas. The rain wasn't coming down hard, it was just drizzling. I wasn't going to let that bother me, I came here to party and a little few drops was not going to make me turn back and go home now. So we walk towards the loud music coming from the trucks on the Eastern Parkway. Loud calypso and reggae blasted through the streets as carnival people wearing their home island's colors and waving their flags in the air celebrating the big day. I always have a whistle to blow and make noise, but today in the rush of getting here, I totally forgot it. So I had to buy one for a $1. That was a good deal as some people were charging $3 for them. I know that when I want to buy a flag at Toronto's Caribana, they ask for $5 for it... and that's the small flag! Here, you could get that same small flag for a dollar. That was real cheap! So we are walking and walking in along the southern side of the Eastern Parkway trying to find a float that was playing some good calypso and then follow it. To our surprise, we found 4 of the Haitian trucks blasting the creole calypso. As much as it was nice to dance to, we still wanted some good carnival tunes to jump up and wave with.
So we continued walking, and walking. After walking so much, I got hungry. Well, there was so much food there I wanted to try something! So what better to buy that's cheap and easy to eat on the go? A Jamaican Beef Patty. So I stopped by this one stall where I saw a dozen patties in an oven. I asked for one. That cost $2.00! The lady there made me wait for about 4 minutes, telling me that the patty had to heat up. Like a fool, I stood there. I should have just left. But I waited. Then she gave me the patty.. I bit into it and it was ICE COLD in the middle. I gave it back to her and she put it back in to heat up. Or so I thought. She gave it back to me 5 minutes later and it was the same result. I went over this about 2 more times until I just gave up. My cousin Andrew already paid her so I had to keep it. On the other side of her table, a guy was roasting corn in this big bbq barrel. I told him my situation and I asked if I can heat up my cold patties. He put them in there with the corn for about 4 minutes and then gave it to me. It was finally warm! After going through so much trouble, it was still the worst beef patty I have EVER tasted. I don't want to blame the Golden Krust Bakery for it, but who can I blame? Their name is on the beef patty!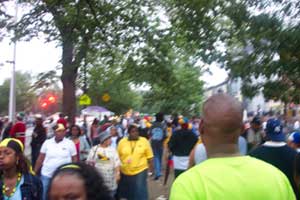 Walking Down Eastern Parkway
We carry on walking around. By now its getting pointless. We have to find a float to follow or we are gonna waste our day here. So we cross to the northern side of the parkway and walk up looking for a float. We find ourselves at the Brooklyn Museum - which is the end of the parade route. So we walk down heading towards Utica. Again we see about 4 of the Haitian floats. There was one reggae float that we saw, but we wanted to hear some good soca! I can hear reggae on the radio, the calypso is what this parade is all about. So we are walking and then we see the END of the parade! The garbage clean up crew follows right at the end cleaning up. Oh boy.... its over. It was about 6pm and things were wrapping up. We spent 90% of the time squeezing through people and walking. Actually, I still had fun even though I didn't break a sweat! Maybe its because I wasn't dancing at all!?!?!? As we walked with the masses of people that were heading home, I saw 4 people walking above the crowds. Well, they were on stilts. They were wearing flags from different island nations. I stopped and took a picture of them. ( you can see that below ) We got to Utica Avenue and waited for a dollar van so we could get back to the car. We waited a good 30 minutes, maybe more.
| | |
| --- | --- |
| | |
| Walking Tall Above The Crowd | Cleanup Begins After Parade |
As we were waiting, we were thinking about what we were going to eat. Then, all of a sudden this guy came up to my cousin, Jazmine and invited her and all of us to a free post-parade house party with free drinks and food. It sounded too good to be true so we thought we'd head out there after we picked up the car. The party was located not to far from the parade route on a street called Montgomery. So after we caught a dollar van, we got back to the car. I had no map with me so I had to wing it looking for Montgomery in between Brooklyn and New York Avenues.... in the rain! I eventually did,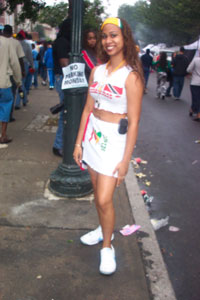 cK's Cuz Jazmine Who Is Callalloo

and I found parking too! So we go up to the address. It was about 8pm and I didn't hear any real loud music or anything indicating that there was a party. I did see 2 girls sitting on the front porch just with an exhausted look. I went to the door and saw the guy that invited us out. His name was Rob. He offered me food and drinks. (non alcholic) When I walked into the kitchen, I met this girl named Nikki. She was there to make sure I didn't take the food myself. She brought it out for me. Shawn was there cooking it and a more older lady named Dee was just there to make sure everything was going okay. With my plate of food and pineapple soda, I walked out to the front porch where I met 4 other girls who were in New York for the parade from Washington D.C. They were really cool, but it was obvious that they were exhausted. After a little chatter with them, they were asking on how to get to the nearest train station. They had to get to 42nd Street to return to Washington that night. They left. I stuck around and Rob showed me the basement area where the DJ set up and they had lots of dancing space. Apparently we arrived too early, and more people were coming later. The basement was empty, and it was raining. As much as I didn't think anyone was coming, there was a good number of them that did show up around 9. Problem was that it was all guys. I'm sure that more females were coming, but I didn't have all that time to wait. Jazmine was starting classes the next day and she had to be home in good time. So I waited a little.. danced for a bit.. then let Rob know that I was heading out. If there were some hunies there at that moment, maybe I would have stuck around for 10 more minutes. I thanked Rob for inviting me and for his hospitality. Then we all got in the car and started driving to get back. As we headed towards Flatbush Ave. we were going through this one street where they were having a party in the street! It was crazy! People from opposite sides of their street look like they were having this dance off. I drove right into it and everyone came up to the car. I honked my horn to go along with the partying. Carnival people started cheering louder and blew on whistles beat on drums with more excitement that I acknowledged their party. I soooo wanted to park and get out to join them, but I had to get my cousins home. There was easily 500 people outside. So that was it. That was my first Labor Day Parade. I have always heard about it, but this is the first time I did it. I had a great time. Next year, I'll be on a float!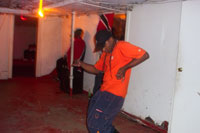 cK At The Basement Party
Digital Pictures Taken By Jaz's Kodak LS443

This is the best digital camera I have ever used. The pictures came out so clear and the functionality of the camera was excellent. Sleek and stylish, this is a good buy for someone looking for a good digital camera.

MSRP: $399.95

If you have any questions or comments, please feel free to email me at: crazykelvin@hotmail.com