August 18 - August 25, 2003

It's time again for my world famous weekly thought. The place where I tell you everything that is going on in my head and stuff thats happening with me.

Mars Twinkling In The Night Sky

Gazing At the Big Red Planet
What's that up in the sky? Is it a plane? A star? A Meteor? Well many of you might have been looking up at the night sky lately and wondering what is that really bright star shining up there. It can't be the North Star because its twinkling with a red flicker. Then what can it be? Its MARS, and its the closest it has been to the Earth in 59,519 years. The best view of it will be is on the morning of August 27th at exactly 5:51am (EST). Astronomy specialty stores are reporting telescope sales soaring and not being able to keep up with the recent surge of demand. After quickly checking out telescope prices on scientificsonline.com ranging from $99.00 to over $600.00, I knew that I wouldn't be getting one anytime soon. Looks like I will just be relying on my naked eye.
---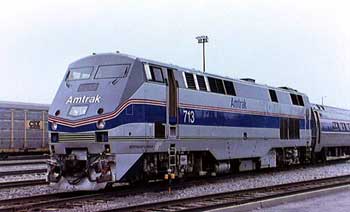 New York to Toronto With Amtrak: $75.00
cK's First Amtrak Experience
I recently had to go to Toronto for business. I usually always fly or sometimes even take a bus. I have never taken the train before. This time around, I decided that I would. This being my first time on an Amtrak train, I didn't know what to expect. The booking procedure on Amtrak.com was very simple. I booked myself on a train in less than 10 minutes. All I had now to figure out was how was it going to be like? Did they serve food on the train? How many stops does it make? I was going to find out soon enough. My train left Penn Station in New York at 7:15am. I was boarding at 7am with lots of other people. I was hoping that I would get a window seat. I guess its a free for all. When I got into the train, I found a seat beside a window, put my bags in the overhead and sat down. The seats were very comfortable. There was lots of room to stretch out and I even had an outlet to plug my laptop (if I had one) in!!! I plugged my phone in it so it would stay charged. The train left Penn Station promptly at 7:15am. I didn't sleep the night before, so I figured that I'd catch up on rest during the 12 hour voyage. I wasn't sure if there was going to be a person coming around offering drinks or snacks, so I kinda stayed up to see if that happened. It didn't. In trains they have cafe cars. I was warned about those and their high prices on microwaved food. So I just stuck with the 3 bottles of water I packed. The trip was very nice. I got some sleep, but still wanted to take in the beautiful scenery along the trip. Before I knew it, we were already in Niagara Falls, New York. The train travels right alongside the gorge and goes over the Niagara Rapids crossing into Canada. A Canadian Customs Agent boarded the train and asked me for my ID. It was so different. I remained seated, I didn't have to go through all that follow the line of intimidation I go through when I do the customs check when riding on a bus or flying with a plane. Well, of course I was the only guy that the agent actually asked to open their bags and show him what was inside. But that was okay, I have nothing to hide. After everyone on the train finished speaking with Customs, the train continued onto Toronto. The train arrived around 7:44pm. The trip was painless, but I was still exhausted because I didn't have a pillow to sleep comfortably. I guess when you buy a plane ticket, you are paying for convenience and how fast you arrive. The train ride was very comfortable but arrives 10 hours later than the plane would. If I have the time, I would definitely take the train again.
---
cK's 6 Hour Non-Stop Drive To New York
I arrived in Toronto by train, but conveniently my friend and her mother were going to New York the same Friday after my business meeting. So I asked them if I could hitch a ride with them, and they invited me along. They were headed for Brooklyn, New York. I was getting back to Long Island, a 20 minute drive from where they were going. My friend drives for about 3 hours, just enough once we get passed the US border. She stopped at one of the first rest stops and I take over to drive. I was hoping to catch some Zzz's on the ride, but that didn't happen as I was driving! Anyways, I drove the long haul of six hours straight in their Pontiac van. I enjoyed driving the long distance, but couldn't wait to get home to sleep. The drive was very tiresome, I have been up since 7:30am the day before and it was about 5:00am when we were in New Jersey looking at the New York skyline in the distance. I drove all the way to where they were staying in Brooklyn and got them there safely. I was assuming that they would go inside, freshen up and give me a ride to where I was staying in New York. Apparently, that wasn't the case. Instead of the 20 minute drive I was hoping for, I was brushed off to go and use the subway home. I still don't know how to react today. I was sooo tired, and I had to transit my way home. I got on a subway at 5:30am and arrived in Long Island just after 8am. Not to mention that I had to work at 10am! I did appreciate the ride getting to New York, but I was led to believe that I would be given a drop to where I was. Even getting dropped in Queens would have cut my transit ride home down to an hour! Well, I'm back. I've caught up on my rest and am just looking forward to my flight to Florida in the coming weeks.
If you have any questions or comments, please feel free to email me at: crazykelvin@hotmail.com