Last week I was talking about my amazing trip to Toronto and I couldn't mention everything, just some of the key moments... but I forgot to even put the main story of how eventually got back to Florida! This was totally crazy...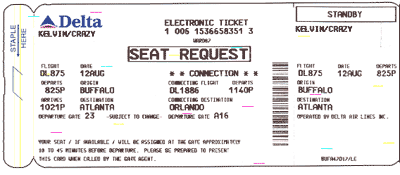 This was the standby ticket issued to CrazyKelvin
I was "supposed" to be on a flight leaving from Buffalo-Niagara International Airport at 5:25pm heading to a connecting flight in Atlanta at around 8:25pm. This is what happened:
I got the Greyhound bus leaving from Toronto Bus Terminal at 12:30pm and was scheduled to arrive in Buffalo at 3:40pm. I gave myself an extra hour (4:40pm) just in case there were any hold ups at the US Customs border for the entire bus.. and I would still have some time to make it on time to the airport.
The bus at customs was held up until 4:55pm. I arrived at the Buffalo Bus Terminal and got onto the next Airport Shuttle Bus at 5:00pm. I arrived at the airport at around 5:10pm -- this whole time I thought that my flight was leaving at 5:45pm and I might have some time left... When I got to the Delta Airlines counter, I showed the "check-in" girl my ticket and told her I was going to Atlanta. She typed a little bit on her computer in front of her and looked up at me and said, "I'm sorry, your flight already left..." I was in a slight bit of disbelief for a minute.. how could my 5:45pm flight be gone already?? Then she showed me my ticket and it stated my flight was for 5:25pm. I remained calm and sighed.. I asked her, "what are my options, what can I do now?" She said she'd put me as a standby on the next flight leaving at 8:25pm. I was relieved.. that there was at least some form of hope that I may get home in time. My luggage was also very OVER the limit with 4 weeks of CrazyKelvin outfits. But the nice girl told me directly, "I'm not going to weigh this.. but you do know that there is a charge for overweight baggage?" I was expecting to take out my card and pay some more money, but she totally let me off!! Not only was Delta putting me on the next flight without charging me, they are taking my super heavy luggage without that charge either!!! WOW!! THANKS DELTA!!!

So eventually, I get home. I don't think that the rest of the story is interesting from here on, so I'll save you that extra babble.
Definitely, it was virtually my official beverage of my Summer Toronto Trip 2002 -- Lipton Brisk Iced Tea. N8 Dogg introduced it to me a while ago and I've been hooked since. I was never much of an "iced tea" guy, I'd usually opt out for the Coca Cola or the Lemonade. But this Lipton Brisk was a real thirst quencher for sure. Throughout Caribana, the Taste on the Danforth Greek Festival, the movies and all the other crazy activities, this drink got me through the hot and humid days of partying in Toronto.
Since I am on the topic of beverages, did I mention already how much I really enjoy Vanilla Coke? Have you tried it yet? Tell me in my weekly poll. I tried it when I got to Toronto and, as a guy who likes the taste of Coca Cola, but not the odd aftertaste, this new product is amazingly refreshing. If you drank Coca Cola before, you know what I'm talking about. There is this aftertaste once it goes down, that makes you kind of regret drinking it in the first place. So you drink more of the sweet Coke to wash out that aftertaste and the cycle continues. Vanilla Coke has a (get this) Vanilla flavour. Who woulda thought? Anyways, its the same taste of Coca Cola, but then the sweet aftertaste of Vanilla. Amazing... I think so and I would totally do a commercial for them.
As of late, since I'm home a lot in Orlando, I have been watching BBC America on my cable channels. I have been totally taken up with the programming. Its so addictive. No, I haven't been watching the comedies or the British Pop Chart Sensations.. what I have been watching are these total home makeover shows. They are like Jenny Jones Makeovers, but these people come over to your house and completely redo them for you. Like mobile interior decorators who have to completely transform an area or room in a limited time frame. (like 2 or 3 days)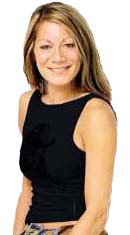 The first show I have been watching is called "CHANGING ROOMS". I'm told that its similar to a show on TLC called "Trading Spaces". I haven't seen that one yet, but I'm sure its just as good. Here's what the show's description says on the BBC Website:
"Two sets of neighbors swap keys to transform a room in each other's home. With only two days and a set budget, it's a tough job. Fortunately, the novices have the services of a top interior designer and an expert handyman. The only condition is that they're not allowed back into their own house – until the moment of truth."
One of the reasons I'm even watching it is because of one of the people who works on the houses -- Anna Ryder Richardson. Wow... a former model who now does interior decorating, Anna brings sunshine to all the homes she helps renovate. Her bubbly and cute personality bring so much excitement to home decorating. I love watching her -- not because she looks almost like my friend, Glycerine -- but she's just fun to watch. I recommend you check your local listings and see if you see what I see in her. (hee hee - you can already guess who will be next week's featured female)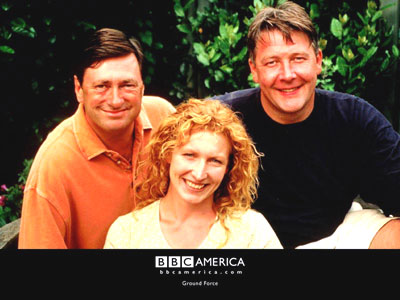 From left to right are Alan, Charlie and Tommy... Ya, they look like typical Brits, but trust me, they are very creative and totally hilarious. They are on the show called "GROUND FORCE". That show is a total makeover for a garden or a backyard that is just lacking. They will roll up there having a timeline of 2 days and then getting right to work. Alan is the brains behind the task, designing and laying out what the area is going to turn into. Charlie (who seems to almost never wear a bra) is the gardening and flower person of hte team. Tommy is the brawn of the group who will take care of the carpentry and cement work. They are a great team and if you can check your local listings, they are totally worth watching!!
Have you noticed I like saying the word -- "Totally"?
Well - I give Orlando, Florida 2 more weeks until I give up on finding a job here. This is getting ridiculous. If I get no replies in the remaining time, I am moving my show to New York City. I'm sure many of my fans in New York will be pleased. Well, make sure you set some time aside for me when I do come up. Because cK is gonna take the BIG APPLE by storm! Well.. I'll get in line behind the thousands of people who said that.